Pope Francis wants to make sure every Mass is accessible and people with disabilities can always receive the sacraments.
International Day of Persons with Disabilities
In 2019, for the International Day of Persons with Disabilities, Pope Francis noted that we can be ministers not just ministered to. He said, "It is necessary to care for and accompany persons with disabilities in every condition of life… and to make way alongside them and to "anoint" them with dignity for an active participation in the civil and ecclesial community." Also, Pope Francis showed compassion when an autistic girl ran onto the stage during an audience.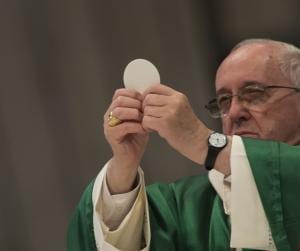 This year for the International Day of Persons with Disabilities, Pope Francis focused on our right to the sacraments. Catholic News Agency summarized it:
"Before all else, I strongly reaffirm the right of persons with disabilities to receive the sacraments, like all other members of the Church," he said in a message for the International Day of Persons with Disabilities Dec. 3.

"All liturgical celebrations in the parish should be accessible" to the disabled, he continued, "so that, together with their brothers and sisters, each of them can deepen, celebrate, and live their faith."

"I reiterate the need to make available suitable and accessible means for handing on the faith," he said. "No one should be excluded from the grace of these sacraments."

Francis emphasized that, by virtue of their baptism, disabled people are called to missionary discipleship just as much as every other baptized person. He encouraged parishes to include them not only as "recipients" of pastoral ministry, but also as "active subjects." […]

Though it takes effort to fully include everyone, according to their own gifts and talents, he said "the active participation of people with disabilities in the work of catechesis can greatly enrich the life of the whole parish."

"Precisely because they have been grafted onto Christ in baptism," Francis wrote, "they share with him, in their own particular way, the priestly, prophetic, and royal mission of evangelizing through, with and in the Church."
How to Include Us
I have repeatedly covered the need to include autistics in Mass and the sacraments. Thus, I will just link to info here rather than repeat thousands of words. First, an extensive study showed that we struggle in the church. Second, several examples showed a lack of general formation in how autistic children were denied First Communion, kicked out of a family baptism, or Evensong. Third, I wrote an extensive guide on why we should give autistic Catholics first Communion. Related to that, I reviewed an adaptive first Communion preparation kit and I analyzed a case where First Communion was delayed. Forth, I've written about some practical ideas for working with pastors, including autistics in the liturgy and small groups, and dealing with sensory issues at Mass. Fifth, I've covered how to help autistics with the sacrament of confession. Finally, I've given a few interviews on topics related to this (1, 2, 3, 4, 5, 6, 7, 8, 9).
Hopefully, between the words of Pope Francis and me, we can find a way to better include those with disabilities, especially autistics, in the liturgy.
Note: I get paid very little for these blogs (ads give me a fraction of a cent per view) and during these trying times, covid is making our community budget tighter so donating via Patreon is much appreciated. Thank you.