Yule and the Holiday Season can be celebrated hundreds of different ways. I asked some of the writers here at Patheos Pagan how they celebrate the Winter Solstice (and I do really wish I had an Australian writer!) and got a variety of answers. However you celebrate, have a blessed Yule!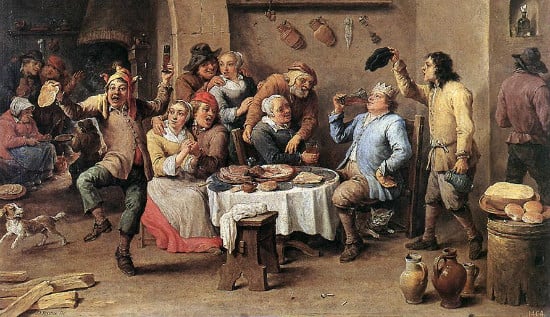 Catharine Buck Clarenbach (Nature's Path): My wife and I will celebrate the day with no electric light from the morning of the 22nd to the morning of the 23rd. We attend to the sun in the early part of the day, watching the sunrise. Then, around 3, as the light is just beginning to wane, we light the house with red and white candles.
We cook by candlelight that night (and usually make snickerdoodles–yum!), have a quiet family dinner lit by the warmth of the flickering flames, and spend some time in magic, divination, and contemplation. We go to bed in deep darkness. The mindfulness required not to turn on lights, especially first thing in the morning, is considerable. And that mindfulness is only part of the fruitful reflection of the day. (Is this the kind of thing you have in mind?)
Karen Clark (Path of She) With my family, we do a fusion Yule celebration, centered around food. We light the Menorah, talk about the pagan mysteries of the darkest night and miracle of light, and feast on turkey and latkas. In my pagan community, we do ritual work with the Dark Goddess and the mysteries of darkness and light, and death and rebirth.
Jason Mankey (Raise the Horns): For me Yuletide isn't a day, it's a season. There's an "open circle" Yule ritual usually pretty early in the month (generally at the same time as the Big 10 Championship Football game, Go Michigan State!), and then a coven ritual on the Friday closest to solstice. Coven Yule is always fun and comes complete with Secret Bafana (like Secret Santa but with a gift-giving Witch!), and this year we will be doing a Yule Ritual with our Gardneiran coven too! So there's three Yule rituals.
I decorate for the Holidays like a crazy person, so our house looks like Christmas just threw up in it. Speaking of Christmas we still celebrate that too, my wife and I both having grown up in households that honored the holiday. On Christmas Eve we usually visit the local UU Church in San Jose to sing politically correct Christmas carols and then we unwrap presents the next morning. It all ends for me the first week of January post-New Year's.
Sable Aradia (Between the Shadows) The family gets together for dinner on Yule Eve, followed by a circle to honor the Holly and Oak Kings (whom we see as brothers or lovers taking turns at sharing power,) the Goddess as a truly Triple Goddess (Crone of Winter, Mother of the Sun, Maiden of the Returning Light), and the coming Sun King. Sometimes we chant and sing Solstice carols. We hold our ritual in the kitchen with all the lights extinguished save one candle on the hearth.
Then when the kids go to bed, we set out the presents and the stockings, just like we did for Christmas when we were small. I go out at midnight (or just before I go to bed) to ponder the beauty of the Longest Night and the stars and the cosmos. I quietly honour the deities of the dark and the stars (including the Star Goddess) and watch for signs or portents; then go to bed. When we get up we open the stockings, then eat breakfast. Usually about that time the sun comes up, so we go out and blow my sacred horn, made from a bull's horn, to hail the return of the Sun King. Sometimes we also chant. Then we open the presents and spend the day eating baking and the leftovers of last night's dinner, dispersing at around dinnertime.
Alyxander M Folmer
(
Wyrd Words
): Light a fire. Exchange books. Leave a shot of scotch out for Odin. Eat Chinese food. Go to the movies.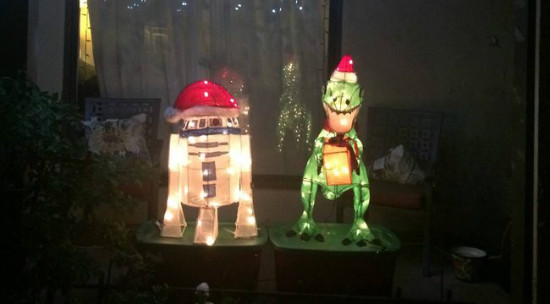 Rua Lupa (Paths Through the Forest): Our household is generally quiet this time of year mostly because we travel to gather with family. But leading up can be hectic – not because of Christmas Shopping, but because we're making gifts. If I make something its typically 100% natural, be it a toy make out of needle felted local alpaca, or linen hand dyed and sewn into something functional. For the adults I usually put together a gift basket of things that are locally made on the island I live on – a jar of honey, handmade soap, locally grown and milled flour, etc. Things they cannot get themselves that will be used and as I find out which things they like best, I make sure I resupply them with it next time.
What little decorating I do around my home is putting up paper cut stars to celebrate the night sky, and jingle bells – which are not only fun sounding but harken back to when they were mandatory for sleigh travel to hear people come and go. Something I had the pleasure of experiencing with my Pere Pere's sleigh rides through the forest trails when I was little, so its for those memories as well. My side of the family has a seasonal tradition of going out into the forest and having a family bonfire – weather permitting.
Now that I'm the adult I am one of those who snowshoes out to where we're going to having it and start the fire. Later to have my trail followed by the snowmobile with logs to make a decent fire for gathering around. I am hoping to grow this tradition with my own family by adding a traditional aboriginal Give Away custom to this bonfire – which is to layout unwrapped gifts around the fire and each individual can take a turn at going around and picking up what they'd like. Something that I like far better than other gift exchanges because people know what they are getting and you know that they like it. It helps to provide more than one thing so that no one is left with whatever no one else wanted, and you get the bonus of being able to go around twice. Some typically well accepted gifts are mittens, journals, craft supplies (paints, threads, fabric, etc.), and toys.
One Thing I always do every year is have a Nox Tree – which is decorating a tree outside with foodstuffs for our nocturnal neighbors on the longest night of the year. Where I am that usually ends up being the white-tailed deer, and if there are any left overs the birds end up enjoying it come day. It becomes a fun family event to go out and look for signs of who visited during the night."
David "Dash" Kees (Editor at Agora): You know, reading these, I just realized something: I don't do holidays. Not ours, not theirs, not the federal holidays. I even skipped my own birthday this year (really, both my wife and I forgot it – until my mom called, I had no idea).
Happy Solstice!