I have never been exactly sure what "the best" means in relation to a website like Patheos Pagan. Does it mean the most viewed posts of the year? Favorite articles of the editor? Or perhaps it's a suggestion of engagement, such as which articles sparked the most conversations, rebuttals, and comments?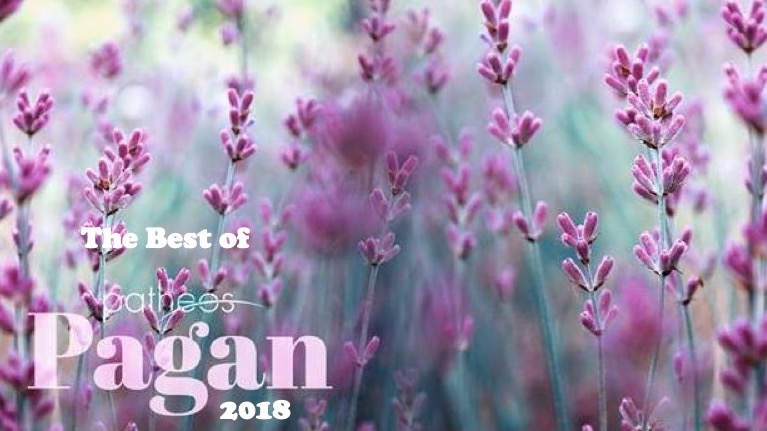 For this particular "Best of" column I went with some of the most viewed articles from our most read blogs in 2018, but decided to exclude holiday posts to give this particular "best of" article a more timeless feel. Instead of arranging articles by which were most read, the order is entirely random.
This list was harder to put together than ones I've done in years past because a lot of new blogs have debuted here on Patheos Pagan in 2018, and it's been our biggest year ever in terms of traffic. That last one means a lot to me, and I'll admit I'm getting a little teary eyed about it. I'm so proud of the work that's been shared here over the years, and even more proud of our writers, many of whom have graduated to writing books for major publishers as well as writing online.
Patheos Pagan is more than the people who write here too. It's everyone who stops by to read and/or comment on an article obviously, but it's also all of you who shares our posts on social media, or talk about them with your coven or at some sort of Pagan gathering. Most of us wouldn't be writing if you weren't reading! Thanks so much for taking us into your homes, or at least the screens of your cellphones.
Thanks a bunch!! And Happy 2019!
Did You Think the Gods Were Lying?
By John Beckett at Under the Ancient Oaks

Year in and year out John Beckett is one of the most read authors at Patheos Pagan. Some of that is because John is the most disciplined and consistent writer here, but most of it's just because John is just such a fabulous communicator whose articles appeal to a wide cross-section of the Pagan world.
Things I Wish I'd Known As a New Witch
By Morgan Daimler at Irish-American Witchcraft via The Agora

Having Morgan here at Patheos Pagan is a true blessing. From articles about the Fair Folk to deity to everyday Witchcraft, Morgan writes about all of it, and does so in an accessible yet still informed sort of way.
13 Types of Toxic Witches: How to Recognize and Deal With Them
By Cyndi Brannen at Keeping Her Keys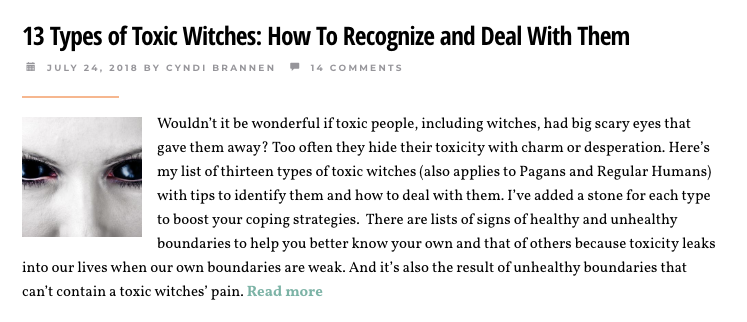 One of the most timely and important articles published on this site was also one of its most read! In just over a year Cyndi has become one of the most read authors ever at Patheos Pagan. Weaving together magick, history, devotion, ritual, Hekate, and practical Witchcraft, Keeping Her Keys has become a must read blog.
Bay Leaf Magic: Burn and Banish

There are two awesome things worth mentioning when it comes to this article. The first is that it was published in December, and to become one of 2018's most popular post in a matter of weeks is a pretty big accomplishment. The second is that it features practical stuff, and I think it's easy to forget just how many people want to read about WITCH STUFF, instead of arguing over how many angels fit onto the head of a pin. Astrea is also just a kick-ass writer, if she wrote an article about phonebooks I would read it.
A Witch Interprets 'God Is A Woman' by Ariana Grande
By Mat Auryn at For Puck's Sake

Pop-culture related articles always do well at Patheos Pagan, so it's not a surprise to see this here, but Mat's blog is about more than pop-culture. It's full of interviews, book reviews, practical Witchcraft, and great history stuff. It's also the best named blog here at Patheos Pagan, and it's not even close (though I'll admit a big fondness for "Keeping Her Keys" as a blog name too). Sometimes I find myself mumbling "Oh for Puck's sake" when I don't want to curse in public.
Black Witches Talk Back: An Open Letter to the Atlantic
By Lilith Dorsey at Voodoo Universe

As Witchcraft has become the "in thing" of 2018 a lot of reporters have gotten a lot of stuff wrong, but luckily we have people like Lilith Dorsey around to set things straight. As commenter Papa Legba wrote "This is the type of information/education I'd like to see more of in regards to this and other similar subject areas" and I whole heartedly agree, and I'd like to note it's something Lilith has been doing since she started writing.
4 Things People Confuse in Witchcraft That Drive Me Crazy
By Laura Tempest Zakroff at A Modern Traditional Witch

As someone who co-write a book with Tempest about altars, I'll admit I still freak out every time I write that word down because I'm convinced I'm going to get it confused with alter. But remember it takes energy to alter (change) something, which is how to keep these two words right in one's head. Also the idea that people confuse the great Doreen Valiente with Doreen Virtue makes me want to cry. Tempest is one of my favorite people in the entire world, and also one of the hardest working. Her next book, Weave the Liminal, will be out in a matter of days and you should most certainly pick it up!
Toxic Positivity Culture: Why Pagans, Polytheists, & Occultists Should Guard Against It
By Scarlet Magdalene at Tea Addicted Witch

One of the best things about many of Scarlet's articles is that they continually piss off a little sub-section of the Pagan Community that has trouble coming to terms with their own bad behavior. That her articles hit those kind of nerves means she's doing a lot of things right! Scarlet's blog was the first new blog at Patheos Pagan of 2018 and she's been writing great pieces about Witchcraft, Hellenic practice, and the greater Pagan Community ever since.
How to Avoid Being Burned at the Stake: A Guide for Pagan Leadership
By Heron Michelle at Witch On Fire

I remember when Heron sent me a private message asking me to review this post because she thought it might be too snarky. I responded with something along the lines of "this is brilliant!" and it might be my favorite post written on Patheos Pagan in 2018. Being a leader in today's Pagan Community means having a target on your back, and getting a lot of thankless work. Heron writes about that experience with humor and honesty and the end result is something special.
The 25 Most Influential Living Pagans
By Jason Mankey at Raise the Horns

And I think we saved the worst for last. This is one of mine and I knew it would be contentious when I wrote it, but I didn't expect some of the backlash it received. The opinions on the list are mine and mine alone, and were meant to be a starting point when it comes to discussion, not an endpoint. I probably should have known better, lists always get people riled up, but are rarely worth the energy expended on them.
Thanks for reading in 2018!