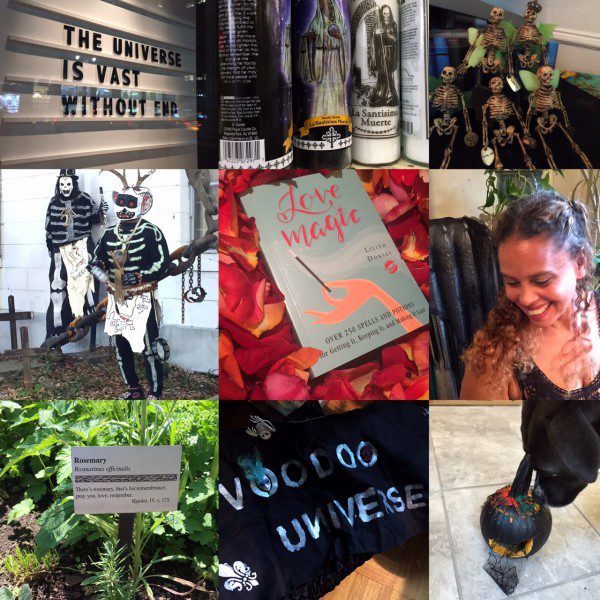 Join me in celebrating 500 posts here on this blog Voodoo Universe. I have done my best to explore all the dark and deep corners of the Voodoo Universe for the truth and beauty of Afro-Diasporan religious traditions.
Food
Food is one of the simplest and also the most powerful ways we can honor and access our spirituality. Food is life, literally. These beliefs cause me to share some of my most treasured recipes here on this blog, and in my African-American Ritual Cookbook. Recently I've been combining my love of food and tarot with the Tarot Every Witch Way : Food video series. We livestream every Sunday night on my Facebook Page , but if you miss us you can catch up on the Youtube Channel. If you haven't heard me ask before, here it is again. I would love to hear your favorite recipes relating to tarot and spirituality, what's cooking with you ? Please share in the comments below.
Divination
From the very beginning of the blog Voodoo Universe I have done my best to include real life psychics and occult author interviews here. Our divination space station series has asked them the important question like how they got started, do they have a yes/no method they recommend, and more. Maybe you know some of these fantastic folks, maybe you would like to. Read them for yourself and don't forget to share :
I'm always looking for new folks to interview, so please email me voodoouniverse@yahoo.com if you are interested.
Hoodoo, Conjure, Voodoo, and Voudou
In the past decade or so many people's attention has turned towards the world of Hoodoo and Conjure. Like most things these days the lines are getting blurred. In a move for clarity I created this infographic. Obviously things are more complex than can be explained in a simple and small picture, but hopefully it's a start. I did an interview earlier this year where I explained the difference to my host and she replied "well then why doesn't everyone self-initiate into Hoodoo. " Nevertheless and ever the more, things are not as simple as that.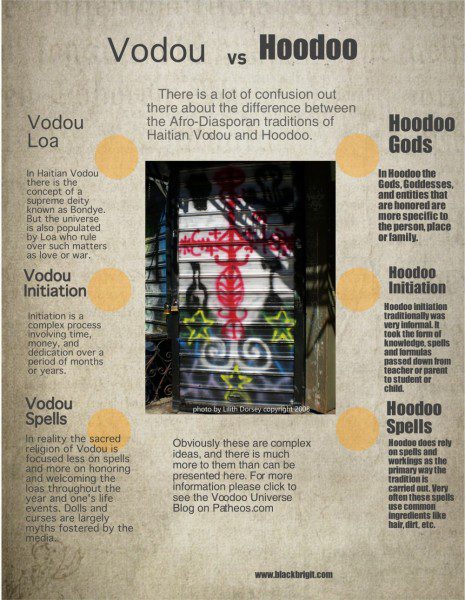 Love Magic
There have been many new developments here on this blog, and one of the ones I am most excited about it the recent publication of my book Love Magic. It wasn't an easy book to write, and very often I get questions about ethics and responsibility. This is because people are conditioned to think real love magic is about control and loss of free will. From what have seen and experienced nothing is farther from the truth. People who approach love with an open mind and an open heart are the ones who are the most successful. True love begins at home with self love, and gratitude for the love we cultivate in every aspect of our lives. The over 250 spells included in Love Magic cover all aspects of love.
The Dead
One of our mottoes here at Voodoo Universe is ancestors first, last, and always. It has always been part of our mission to help people connect with and give tribute to their beloved dead. Over the years we have had many posts focusing on the ancestors, please check out some of the ones you may have missed.
Plum Pork Roast Recipe for the Ancestors – The following is a harvest recipe, suitable for the fall, when we celebrate the fruits of our labor and the coming of the darkness. Plums are known to bring protection from the ancestors and also the answering of prayers.
Ancestor Poem Number 11 – Join us as we turn it up to 11 , like in Spinal Tap.
Easy Psychic Methods for Finding Unknown Ancestors – I had a teacher once tell me most people don't even know the names of all 4 of their grandparents. She then proceeded to poll the class and prove she was right. Whatever the reason, most of us have ancestors whose names were lost in the seas of time. Here are some simple ways to find out more.
Thanks for reading everyone ! I couldn't have done it without you, your likes, and your shares ! Here's to the next 500 posts !