As I've expanded my Youtube channel I have come into contact with a new audience. The majority of my viewers are in India and the second most viewers are in the UAE. So through the comments I'm getting a much closer look at the way Muslims and other non-Hindus in India view Hinduism. I must admit I find it quite shocking.
The challenges facing Hindus in the U.S. are very different from those facing Hindus in India. Here in America Hindus make up less than 4% of the population so not much is known about Hinduism. Many people either don't know any Hindus or don't realize that they do. Since Hindus don't proselytize, even those with Hindu friends may not know much about its philosophy and practice. Still, educated liberals tend to view Hinduism favorably, recognizing that it is a religion with a long history of peace and kindness. Those who are not attached to the idea of the "one true path" usually like and respect Hinduism
But what I hear from non-Hindus in areas where Hinduism is well entrenched? That it is uncivilized, tribal, barbaric, uncouth. One Muslim told me that he respects every religion on Earth…except Hinduism. Here's another example: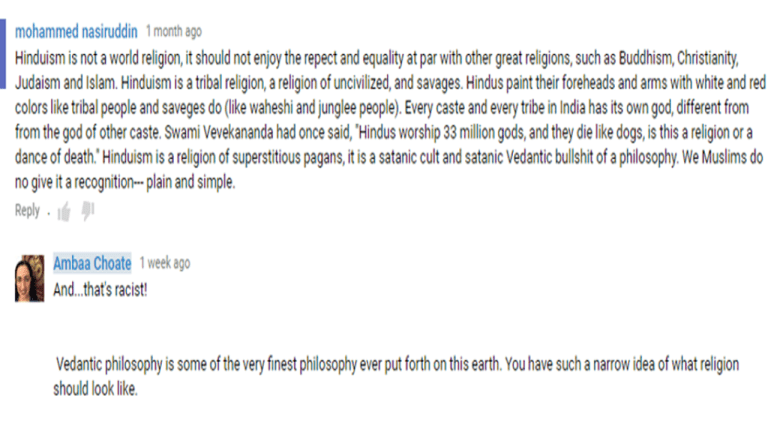 I am so stunned and saddened to see this prejudice. (Also Swami Vivekananda was Hindu and said many wonderful things about Hindu practices. I don't believe for a second that he ever said that)
Hinduism has some of the most elegant philosophy ever put forward by any human in history. It has philosophies and practices that the West has been recognizing for a few centuries as having tremendous value. Westerners such as Ram Das have seen Hinduism's greatness and helped bring its gifts to a wider audience.
For the very basics you've got the concept of karma, meditation, yoga, the knowledge that we are all connected, more personal responsibility than any other religion, the value placed on self-control and controlling one's mind and emotions, the power of the present moment. It also values diversity and encourages new thought, exploration, and discoveries. without Hinduism many of the world's most beloved spiritual practices would not exist.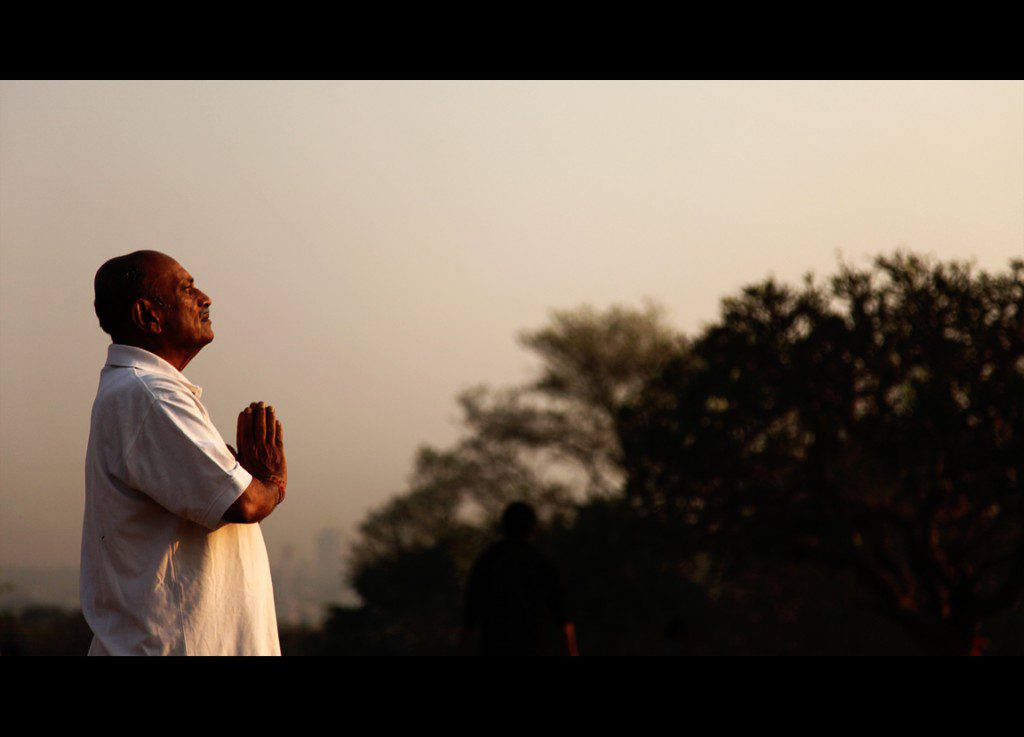 Yet it is dismissed, it's practitioners made fun of and in many cases harassed until they abandon it for an Abrahamic faith.
No wonder Hindus in India are struggling with a lack of pride and young people not learning and continuing traditions. Being one of the oldest (perhaps the oldest) religion in the world is an amazing feat to me, but many people now want modern everything. It seems many don't know how Hinduism grows and expands to continue to keep up with everything we learn in the world.
I hope that the awe with which the West has seen Hinduism will be reflected back to the East
. I hope that Hinduism can gain the respect that it richly deserves.
The Abrahamic religions have set up a zero-sum game.
They have declared that there is only one correct path (which one it is they cannot agree on, of course). In order to maintain that worldview followers of Abrahamic faiths have to discredit and smear Hinduism. They have to lie about it and prevent people from discovering its greatness.
It doesn't have to be that way. The world is not as people in Abrahamic religions want us to believe it is. It is not a world of "my way or the highway." It is not a world of "bow down to this one petty, jealous God or else you'll be beaten, burned, and punished for all eternity." It is not a world of "don't you dare question anything, that's what faith is for."
Hinduism can help the world grow.
It encourages peace, interconnectedness, and respecting diversity. We need more of the Hindu worldview. It is time for people to set aside the racist cliches and assumptions they have about Hinduism and allow themselves to see its beauty and greatness.
How do Hindus view other religions? We respect them and all we want in return is to be given that same respect back.
New to Hinduism? Learn more here:
Your First Visit to a Hindu Temple
—-
Thank you to my wonderful Patreon supporters…
Brian Hanechak
Amit Agarwal
(views expressed here are mine alone and do not reflect opinions of my supporters. Links within the text may be affiliate links, meaning that if you purchase something I get a small commission for recommending it. I only recommend things I truly believe in)