Over at my personal blog, I've annually sifted through year-end "best of" lists of books in order to suggest Christmas gifts for my readers to give the history lovers in their lives. This year I'm going to relocate that tradition to Anxious Bench, accompanying each book recommendation with an AB post that follows up on the book's theme in some way.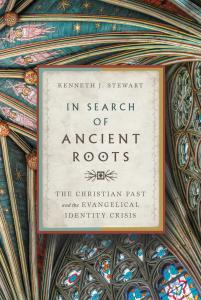 Kenneth J. Stewart, In Search of Ancient Roots: The Christian Past and Evangelical Identity (IVP Academic)
"Kenneth Stewart demonstrates that evangelical Christianity is far older than the modern evangelical movement—in fact, as old as the faith itself" (The Gospel Coalition 2017 Book Award for History & Biography).
For a very different take on the meaning of evangelicalism, read Tim Gloege's July 2017 call for historians to "recalibrate the 'evangelical paradigm.'"
Lynn Cohick and Amy Brown Hughes, Christian Women in the Patristic World (Baker Academic)
"This book opens the door to a room full of women who deserve a place at the table with the men whose stories have been told. There is here good historical sketch, solid theological awareness, and an eye on the influence each women can have in the church today. What a delightful read" (Scot McKnight — Jesus Creed 2017 Honorable Mention for Book of the Year).
After you've read Cohick and Hughes, move on to some of Beth's many posts on Christian women in the medieval world — e.g., the one this past September on "The Medieval Counsel of Biblical Womanhood."
Christopher de Hamel, Meetings with Remarkable Manuscripts: Twelve Journeys into the Medieval World (Penguin Random House)
"With the mind of a scholar, the eye of a curator, and the writing of a storyteller, De Hamel opens the door to what might seem a dull and dusty chamber, revealing it instead to be a busy ballroom of stories, artwork, and books and words that quietly nudge history in different directions" (Jonathan Homrighausen — Englewood Review of Books Best of 2017 Selection).
Herman Selderhuis, Martin Luther: A Spiritual Biography (Crossway)
"Selderhuis captures Luther's spiritual and intellectual complexity but still helps his audience know Luther as more than merely the symbol of a great movement. His biography serves as a dock from which we may embark on further consideration of the Reformation, rather than as a ship that carries us to a final destination" (John Wilsey — Christianity Today 2018 History/Biography Book of the Year).
Among our many posts on the 500th anniversary of Luther's 95 Theses, I'll be so bold as to suggest my own suggestions for how we should remember the Reformation.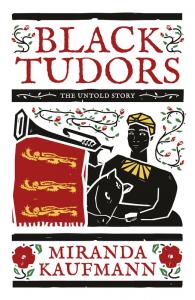 Miranda Kaufmann, Black Tudors: The Untold Story (Oneworld)
"The 16th-century Tudor world was dominated by religious schisms: Henry VIII looking for an heir, Catholic Mary, Queen of Scots losing her head, Elizabeth facing a Catholic Spanish armada… All this is familiar, and white. Miranda Kaufmann's achievement… is to add racial diversity to the picture" (Anthony Sattin — The Guardian Best History Books of 2017)
Jonathan Israel, The Expanding Blaze: How the American Revolution Ignited the World, 1775-1848 (Princeton University Press)
"A leading historian of the Enlightenment explores the widely differing philosophies that led to the American and French revolutions and their social, cultural, and ideological impacts on the world" (Kirkus Reviews Best American History Books of 2017).
After Independence Day this summer, David reminded us why John Wesley opposed the American Revolution.
Peter Manseau, The Apparitionists: A Tale of Phantoms, Fraud, Photography, and the Man Who Captured Lincoln's Ghost (Houghton Mifflin Harcourt)
"A rare work of historical nonfiction that is both studious and just plain entertaining, Manseau's book focuses on the 1869 trial for fraud of William H. Mumler, a spirit photographer whose portraits of ghostly loved ones hovering near mortal sitters captivated a nation still recovering from the Civil War and obsessed with intimations of the afterlife" (Publishers Weekly Best Books 2017).
A novel about Lincoln and the afterlife prompted Agnes to write about purgatory and Protestantism this past May.
Caroline Fraser, Prairie Fires: The American Dreams of Laura Ingalls Wilder (Macmillan)
"Exhaustively researched and passionately written, this book refreshes and revitalizes our understanding of Western American history, giving space to the stories of Native Americans displaced from the tribal lands by white settlers like the Ingalls family as well as to the travails of homesteaders, farmers and everyone else who rushed to the West to extract its often elusive riches" (New York Times 10 Best Books of 2017).
I'm not sure this blog has ever posted anything about one of my kids' favorite authors, but we have had several pieces on the American West — including John's post in January 2017 on the desecration and collection of Native American corpses.
Timothy B. Tyson, The Blood of Emmett Till (Simon & Schuster)
"Tyson clears away the myths that have accumulated over the decades and restores the immediacy of this quintessentially American tragedy" (Washington Post 2017 Notable Work of Nonfiction)
Dig into our archives a bit, and you'll find John reviewing Carolyn Renée Dupont's book on American evangelicals' response to the Civil Right Movement.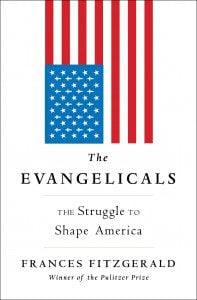 Frances FitzGerald, The Evangelicals: The Struggle to Shape America (Simon & Schuster)
"FitzGerald's fair-minded history focuses on the doctrinal and political issues that have concerned white conservative Protestants since they abandoned their traditional separation from the world and merged with the Republican Party" (New York Times Notable Book of 2017).
As a journalist, FitzGerald leaned on the work of historians like George Marsden… who shared his own thoughts on the state of evangelicalism in a guest-post last week.
John Wigger, PTL: The Rise and Fall of Jim and Tammy Faye Bakker's Evangelical Empire (Oxford University Press)
"PTL is both a work of first-rate scholarship and a cautionary tale; because of the latter, it deserves a wide reading, not only among scholars of American Christianity but also among pastors and other ministry leaders" (Nathan Finn — Christianity Today 2018 History/Biography Award of Merit).
Read the author himself, a visitor to the Bench this past July.
Amy Goldstein, Janesville: An American Story (Simon & Schuster)
"Goldstein writes about the impact on the small Wisconsin factory city of the title when General Motors closes a plant there" (New York Times Notable Book of 2017).
It's a very different scale of story, but if you missed it the first time, read Tal's reflection on the closing of his grandfather's and father's store in Tuscaloosa, Alabama.
Souad Mekhennet, I Was Told to Come Alone: My Journey Behind the Lines of Jihad (Henry Holt & Co.)
"In her memoir of 15 years of covering jihadists, journalist Mekhennet sets out to answer a perennial question: Why do they hate us? As a Muslim woman and brave, resourceful reporter who speaks English, German, French and Arabic, Mekhennet seems well-suited to the task" (Washington Post Best Books of 2017).
This year I've had a chance to invite guest-posts by three of my Bethel colleagues who study Islam and interfaith relations: Amy Poppinga in January, and Marion Larson and Sara Shady last month.
Masha Gessen, The Future Is History: How Totalitarianism Reclaimed Russia (Riverhead Books)
"Writing with the verve and empathy of a novel and the depth and perspective of an intellectual history, Masha Gessen diagnoses Russian society with 'recurrent totalitarianism,' a chronic disease that was once in remission, but has lately resurged" (2017 National Book Award for Nonfiction).
Back in 2015, David considered the response of Russian evangelicals to Vladimir Putin's regime.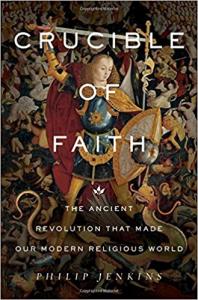 Finally, do consider giving your friends and family copies of the books that current and former Anxious Bench contributors have put out this year:
Happy shopping, happier reading, and merry Christmas!