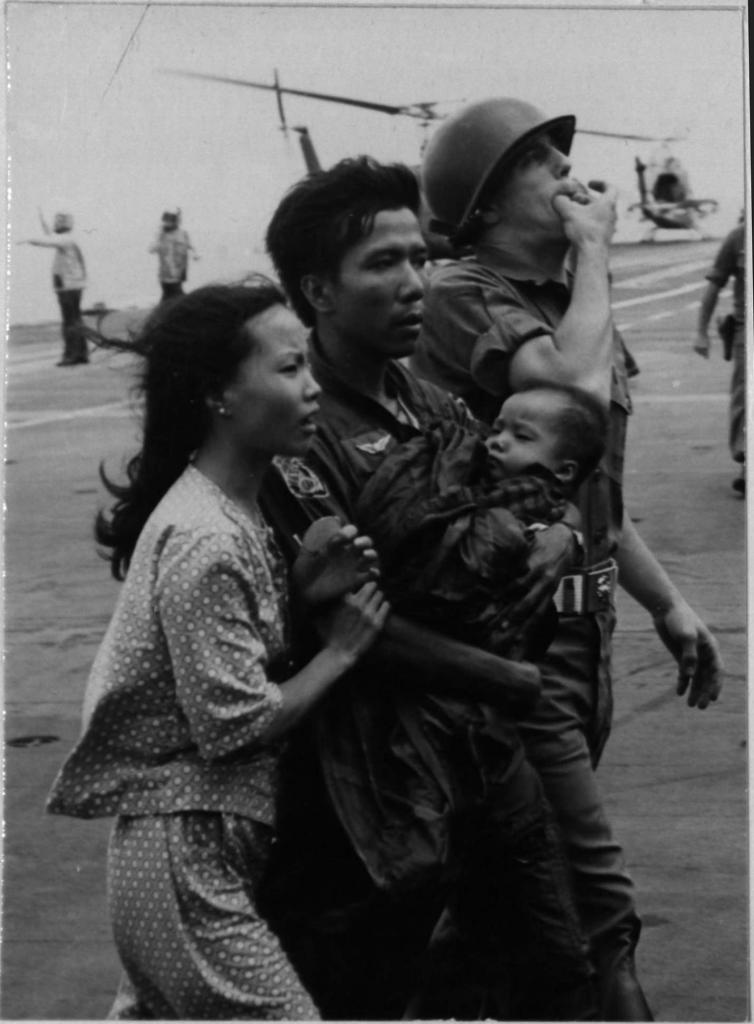 Chaotic scenes of people surrounding military aircraft and hoping desperately to be evacuated: this is what we saw on our television screens last week. It is also what Kathleen, a woman in Saint Paul, Minnesota, witnessed 46 years ago. It was the spring of 1975, and she was recovering from surgery in the hospital when the news broke: Saigon had been captured. She recalled,
I'm watching the TV in my room, and here [are] these people, you know, scrambling under the helicopters…I'm thinking, I have people coming in changing my sheets, giving me a drink of water, medicine, whatever I wanted. You know, I got totally out of my self-pity party and just said, 'When I get well, we're going to find a way that someone can stay here.'
Kathleen kept her promise, and as soon as she was able, she got to work. She contacted the International Institute, a local affiliate of one of the voluntary agencies that works with the U.S. government to resettle refugees. She organized a refugee sponsorship committee at her congregation, Dayton Avenue Presbyterian Church, which formed partnerships with two other local congregations, Macalester-Plymouth Church and House of Hope Church. She recruited volunteers, raised money, and set up a new home for a Southeast Asian refugee family. And less than a year later, on February 17, 1976, she traveled to the airport to meet the Vang family, the first group of Hmong refugees resettled in the Twin Cities.
Resting in her hospital room, Kathleen could have chosen to turn off the television and turn away from the upsetting images coming from Vietnam—but she chose not to. Instead, she chose to see and, more importantly, to do something. The cumulative effect of thousands of similar acts of compassion must not be overlooked. In Kathleen's case, the family that she resettled was the first of hundreds of thousands of Hmong people who migrated to Minnesota and made the state home to a thriving Hmong American community. And her church's sponsorship committee was one of hundreds of local efforts across the country to welcome Southeast Asian refugees in the wake of the Vietnam War. Ultimately, the resettlement of one million Southeast Asian refugees was possible because individuals like Kathleen made the crucial decision not to ignore the harrowing events in Vietnam. Kathleen looked at the helicopters filled with people desperate to leave. She saw Vietnamese refugees as humans of worth and dignity. And, just as important, she saw herself as somebody who could possibly do something to alleviate their pain.
The resettlement of Southeast Asian refugees was far from easy. It was both logistically and politically complicated, and Kathleen and other like-minded Americans faced significant opposition. As the historian Carl Bon Tempo argued in Americans at the Gate, it is something of a miracle that Southeast Asian refugees were admitted for resettlement at all.
Throughout U.S. history, refugee resettlement has never been a popular undertaking. In January 1939, for example, a Gallup poll found that only 30 percent of Americans surveyed said that the U.S. should resettle Jewish refugees; 61 percent said that it should not. Similarly, a Gallup poll conducted in May 1975, just one month after the fall of Saigon, found that only 36 percent of Americans surveyed favored the resettlement of Southeast Asian refugees, while 54 percent of Americans surveyed opposed it. Those who objected to resettling Southeast Asian refugees articulated a number of concerns: that refugees would be an economic burden, that they posed a national security threat, and that they would bring tropical diseases. The opposition sometimes boiled down to plain racism. At a high school near Niceville, Florida, located by the military-run refugee reception center at Eglin Air Force base, anti-refugee students even considered establishing a "gook klux klan." In the Twin Cities, where Kathleen worked, Southeast Asian refugees found themselves targeted in acts of verbal harassment, vandalism, and violence.
And yet despite this opposition, many refugee advocates insisted on doing what they could to ensure that the U.S. would aid and resettle Southeast Asian refugees. In Washington, D.C., they met with key government officials to lobby for increasing the number of refugees admitted to the U.S. In military-run refugee camps at Camp Pendleton and Fort Chaffee, they helped provide food and clothing for refugees being processed for resettlement. And in cities and towns across the country, volunteers organized efforts to sponsor refugees, as Kathleen and her church did, and provided critical manpower and material resources to support a wide range of projects critical to the resettlement mission: teaching English, supporting job placement efforts, aiding refugees in the face of anti-refugee hostility, and, eventually, helping refugees sponsor and resettle their own relatives.
The motivations behind the effort to admit and resettle Southeast Asian refugees varied. Some people, like Kathleen, were driven by deep humanitarian concern. Others acted out of a sense of loyalty to the Southeast Asian soldiers who had allied with the U.S. military. (Then, as now, members of the military worried about the fates of the people who had worked alongside them during the war, and they played an important part in advocating for refugee admissions.) Still others had staunchly opposed the Vietnam War and saw the resettlement effort as a way for the U.S. to do penance for a war that was sinful and wrong. "It may sound improbable at first that sponsoring a refugee will earn you God's forgiveness," said Joseph Aurele-Plourde, the Archbishop of the Roman Catholic Archdiocese of Ottawa, in 1979. "But we do have some sins to be forgiven as a nation. We ought to help the refugees now so we'll have the forgiveness of God to help us through troubles we may have in the future."
Indeed, religion was an important element in the resettlement effort in two crucial ways. First, religious institutions were and continue to be integral to the public-private refugee resettlement system in the U.S. Concerned individuals like Kathleen often aided and resettled refugees by working through faith-based voluntary agencies, congregations, and church-affiliated charities. Most of the major resettlement agencies in the U.S. are faith-based, and the majority of Southeast Asian refugees were resettled by religious organizations.
Second, religious convictions often animated resettlement work, which churches and volunteers often pursued as a profound expression of their faith. The story of Maryann, a pastor's wife and a volunteer with Lutheran Immigration and Refugee Service (LIRS), reveals the centrality of faith in Christian refugee resettlement efforts. In the spring of 1975, Maryann arrived at Marine Corps Base Camp Pendleton, where she was part of a corps of volunteers that helped to receive over a hundred thousand Vietnamese refugees airlifted from staging areas in the Pacific.
Maryann described the work of resettlement as an exhilarating religious awakening. Until she and her husband arrived at Camp Pendleton, Maryann said that they had wondered, "What does Christ look like?" It was in the refugees, she explained in an article she wrote for the LIRS Bulletin, that she and her husband truly "saw the face of Christ." For her, the daily work of feeding the hungry and comforting the grief-stricken was a holy encounter with Jesus.
Maryann hoped that her story would encourage other Lutherans to contribute to the resettlement effort. In making her case, she described refugee resettlement as an act of religious ministry. "You are the ones who can minister to these 'Christs' through our love and assistance," she said. "…A thrilling experience awaits you as you share your gifts from the hand of a loving Father with others of his creation. You are his hands and heart in ministry, in holy spirit, [that] lives and moves to call, gather, enlighten and sanctify." Refugee resettlement, ultimately, was not merely an opportunity for Christians to share their gifts with refugees. Rather, refugees themselves were gifts to Christians. "Christ ministered to me also through these people," Maryann said.[1]
In the current moment, there are numerous crises that demand Americans' attention: the resurgence of Covid-19 cases, the multiple catastrophes associated with climate change, and the fragility of our democratic institutions, our economic prosperity, and our social fabric. Given the number of calamities we face, it may be tempting to turn away from the images coming out of Afghanistan, to feel numb to the ongoing horrors of the world, and to do nothing or say nothing out of a sense of helplessness. But we need more people to respond as Kathleen did. We need Americans to rise to meet the needs of the current moment by serving, organizing, and advocating. We need Americans to refuse to look away and, instead, to take responsibility.
To be sure, the evacuation efforts in Afghanistan can feel distant and complex to most Americans, but there are many things that people can do to help here in the U.S. First, people can support organizations that are experienced in serving refugees from Afghanistan and elsewhere around the world. Many refugee advocacy organizations and voluntary agencies are accepting donations and recruiting volunteers. (Princeton's Religion and Resettlement Project, for which I serve as a senior advisor, created this map of refugee resettlement agencies, which can help you find a resettlement organization near you.) These organizations not only address the immediate needs of refugees as they are evacuated and resettled in the U.S., but they also attend to refugees' long-term needs. Even when the evacuation from Afghanistan comes to a close and the images of Kabul airport no longer make the evening news, Afghan refugees will still need support as they adjust to life in the U.S.
Supporting these organizations also matters because the institutional infrastructure of refugee resettlement needs rapid rebuilding. When the Trump administration cut refugee admissions by 85%, over 100 resettlement organizations were forced to close. Supporting these organizations will not only make a difference for refugees from Afghanistan in the near term, but will also restore the organizations' capacity to resettle people who are fleeing violence and persecution in other parts of the world.
Second, we need to make active efforts to foster a culture that welcomes refugees. On this matter, American Christians would be wise to dedicate time and effort to talk to their own communities about refugee issues. As the examples of Kathleen and Maryann show, American Christians have proven themselves to be among the most dedicated supporters of refugee resettlement. However, certain Christian groups have expressed strong opposition. A 2018 Pew survey, for example, found that 68% of white evangelicals believed that the U.S. government does not have a responsibility to accept refugees, with only 25% believing that the U.S. government does have a responsibility to do so. (In contrast, 63% of Black Protestants and 51% of Americans overall believed that the U.S. government has a responsibility to accept refugees.) That white evangelical Protestants were so opposed to refugee resettlement and that Black Protestants were so supportive suggest that stances on refugees may be shaped as much by race as by religion. To this point, Marcia Morgan, associate professor of philosophy at Muhlenberg College and author of Care Ethics and the Refugee Crisis, argued that anti-refugee attitudes owe to "the deadly combination of Christian fundamentalism and white nationalism emboldened by the Trump administration."
That said, some of the work done at the grassroots level shows that careful efforts to build coalitions and engage in local concerns can change minds, even as immigration and refugee issues remain highly polarizing. Take, for example, the work of Canopy of Northwest Arkansas, a refugee resettlement agency started in 2016 in Fayetteville, Arkansas. "We knew that in order to be successful, we had to get the whole community involved and on board—and in a deep red state, that meant we needed the buy-in of our neighbors across the political spectrum," said Emily Linn, former executive director of Canopy. Canopy made a concerted effort to seek the support of members of the business and military communities, and they also reached out to local faith leaders, with whom they emphasized shared moral commitments. During a period when the number of refugees resettled in the U.S. declined overall, Canopy resettled 200 refugees from a dozen countries, and Gov. Asa Hutchinson, who had opposed refugee resettlement in 2015, declared his support for refugee resettlement in 2019.
Finally, as Americans confront the humanitarian disaster unfolding in Afghanistan and attempt to find a way forward, we would benefit from taking a moment to reflect on our past—in particular, on the moments when the U.S. chose to do right by the people who were uprooted from the countries where Americans had waged war. As Viet Thanh Nguyen, author of The Sympathizer and a scholar of war and memory at the University of Southern California, wrote last week,
History is happening again, and again as tragedy and farce. The wars in Vietnam and Afghanistan happened as a result of American hubris, and in both cases Americans mostly focused on the political costs of war for them. But in each case, the Vietnamese (and Laotians, Cambodians and Hmong), and now the Afghans, have paid the much greater toll in human suffering. In April 1975, the United States recognized its moral responsibility and evacuated about 130,000 Vietnamese people, and then accepted hundreds of thousands more from Vietnam, Laos and Cambodia in subsequent decades. This is what must happen now, and anything short of such a vision of responsibility and hospitality will compound the American failure in Afghanistan.

Joe Biden, a senator in 1975, surely remembers that the majority of Americans did not want to accept Southeast Asian refugees. Nevertheless, Congress did the right thing, and the subsequent flourishing of Southeast Asian American communities throughout the United States has shown the wisdom of that moral decision. While the politics of these two moments in America's flawed wars differ, the morality does not. Tens of thousands of Afghans believed in the American promise of ushering in freedom, democracy and an open, tolerant society. And now, they're stuck. For Afghans, the war hasn't ended simply because we, the United States, declared it to be over.
What we do now at this critical moment matters, and by "we," I mean all Americans in all positions of society, from national leaders like President Biden to local church organizers like Kathleen. We can choose to keep our promises, act with integrity, and lead with compassion. We can choose to talk to our neighbors and church members, organize our communities, and foster a climate of hospitality and welcome. We can choose not to turn away. We can choose not to turn Afghan refugees away.
[1] Maryann Lund, "What Does Christ Look Like?" LIRS Bulletin, Standing Committee, Protocol, Minutes, January 8-9, 1976, Lutheran Council in the U.S.A., Department of Immigration and Refugee Service, 10/1, Evangelical Lutheran Church of America Archive.