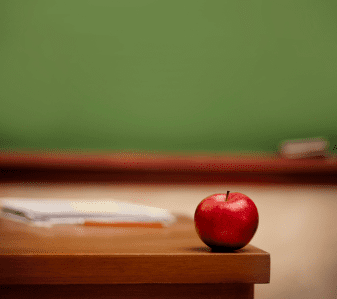 Some people have taken my appreciation of hard working business builders to mean that I don't appreciate people like teachers and other government employees. This is not the case! Teachers are some of the most valuable people in our country. In fact, I just learned of a fun way to thank them.
Walden Media is giving a different teacher a $500 dollar gift card every day from July 24th to September 20th! All you have to do is go to their Teachers Rock Facebook page and submit your own nomination. (Walden wants you to tweet your favorite teacher's name with the hashtag #TeachersRock. I'm going to go this after I post this blog! If any of you do that, please tag @BristolsBlog so I can see them too! Apparently, Walden arranged that these tweets will show up on a bill board in Times Square! Plus, CBS is having a huge concert with Carrie Underwood, Josh Groban, and Garth Brooks next Friday night. Apparently, they will post the best tweets to a screen while Josh is singing!)
I'll go first. I had many good teachers. One of my favorites was my high school freshman/sophomore English teacher, Mr. Howell. He taught us to read between the lines of books and to really get the true meaning. He also nurtured us creatively by encouraging us to even paint pictures in our writing. (I hope he's proud enough of me for my New York Times best selling book "Not Afraid of Life" to overlook the fact that I had no paintings in there!)
Thank you, Mr. Howell, for teaching and inspiring so many students.
Who's next? Tweet the name of your favorite teacher (and why if you can squeeze it in there!) with the hashtag #TeachersRock!
As back-to-school approaches, what better way to spend your 140 Twitter characters?
On a Totally Unrelated Note:

Do you want to be a part of my DWTS All Stars journey? Then, e-mail me so I can add you to my mailing list. (My address is BristolsBlog @ gmail.com, without the space! Make sure to use the subject line: DWTS.) I'd love to give you the latest up-to-the-minute reports about the show!
Also, follow me on Facebook and Twitter!
You might also enjoy these articles on the Faith and Family Channel: