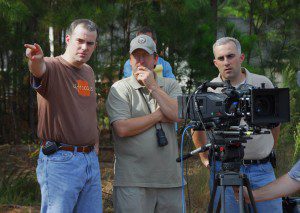 In my review of God's Not Dead, I made a point of contrasting the "Christian ghetto" approach of that film with the more open-minded "Christian niche" approach of films like the ones made by Alex and Stephen Kendrick (Flywheel, Facing the Giants, Fireproof and Courageous).
So I figured it might be good to round up the various articles that I have written about the Kendricks and their films; the list includes two op-ed pieces, a review, and several interviews with the filmmakers and their collaborators.
I first became aware of the Kendricks when their second film, Facing the Giants, became the focus of a big controversy in the summer of 2006. (Ironically, even though the Kendricks themselves have not engaged the "culture war" within their films, they owe their national profile to a "culture war" skirmish of sorts.)
The film was rated PG, allegedly for its religious themes, and this prompted a whole lot of outrage from people who were unaware that plenty of family films — as well as films that have explicitly political or religious agendas — tend to get that rating.
So the first article of mine that mentioned one of the Kendricks' films was 'Much ado about movie ratings,' which I wrote for ChristianWeek in July 2006.
The second was 'Contemporary Christian cinema needs talented, prophetic artists,' a film column I wrote for the November 2006 issue of BC Christian News. In it, I looked at how studios were beginning to support independent Christian films like Love's Abiding Joy, One Night with the King and, yes, Facing the Giants.
At that time, I had not actually seen Facing the Giants for myself, because it was not distributed theatrically in Canada. But I got to watch a screener and interview Alex Kendrick for BC Christian News in January 2007, prior to the film's DVD release, and I found both that the film was not quite as bad as I'd feared, and that Kendrick himself was a reasonable guy and eager to get better at what he was doing.
After that came a flurry of articles between June and September 2008, leading up to the release of the Kendricks' third film, Fireproof. These included:
The Kendricks have produced only one more film since then, Courageous (2011), but I was on my blogging and reviewing hiatus at the time, so I didn't cover that one.
I do note, however, that Alex Kendrick — who not only directed all four films and co-wrote them with his brother Stephen but acted in them as well — will be playing a pastor in the "faith-based" comedy Mom's Night Out, which opens May 9.
Also, last year the Kendricks set up a new production company that is separate from the church where they made their first four films. They are currently casting their fifth film, which they hope to shoot this year. They have not yet announced its title.