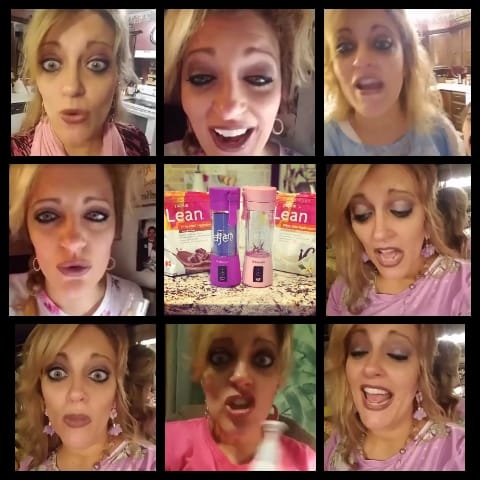 Last week we looked at the fact that Zsuzsanna Anderson, the wife of hate pastor Steven Anderson of Faithful Word Baptist Church sure seems to be strictly controlling every bite of food her kids eat. Almost to a very unhealthy point. She took the drastic action of putting locks on the refrigerators, freezers and some of the cabinets at her home, stating in a video it is to keep the teens out of the family food.
Zsu shared another of her weekly shopping trips and the menu of meals for this last week. It's impressive how cheaply she manages to feed their brood, that is until you realize two things.
1. – If you look at her weekly menu you will see that these are meals that are almost entirely high carbohydrate foods. It's a lot cheaper to feed carb-heavy rather than a balanced mix of foods like recommended by the USDA Food Service program. I get it. This is why many public and private schools refuse to take part in the food program. It's sometimes expensive to met the nutritional goals.
Great way to set someone up as pre-diabetic, or to make them insulin resistant.
You know what else is expensive? Only eating organic. That is quite costly and the benefit has not been completely established yet on all items. She'd do better to skip the organics and reduce the amount of carbs she's feeding
2. That this is a severely restricted and controlled diet that does not factor in differing issues like older teens needing more calories, while she and Steven need less. In all Quiverfull families there seems to be the thing that Daddy eats whatever he wants in whatever quantities he deems fit, even being plump while the kids look like scarecrows.
Which leads me to the Turpin and Rodrigues families. There's been a great deal said in the media about the Turpin parents eating pies and other calorie dense foods in front of the children to taunt them. A cruel starvation. But more than control it seemed to be about punishment.
But what about all those other Quiverfull families? I may not like what the Duggars fed their family on the shows, but no one looked emaciated or starved, and there was not a lock on the fridge that we could tell. I get that when you have to come up with meals for a MLB-sized family things like nutrition might occasionally go out the window, you just want to get food on the table for the hungry crowd.
There always seems to be weirdness around food in many Quiverfull families, not just the Turpins or Andersons. Someone on Reddit had these observations to say comparing the Turpin family to the Rodrigues family.
I commented on another post that I get "Turpin Vibes" from the Rodrigues Family. The more I think about it, the more similar they seem. Obviously there are some major differences, but there are sadly a lot of similarities.

•The Turpin Family originally hailed from West Virginia. The Rodrigues family currently live there.

•Both families have 13 children.

•David is the first name of the patriarch of both families.

•Both had awfully bizarre Vow Renewal ceremonies with all of their children in the wedding party, and had them up on YouTube (Turpins have probably since been removed). With the whole Elvis thing though, Turpins were probably worse than the Rods.

•Both moved around a lot – possibly to evade CPS scrutiny. The Rods in their RV and the Turpins from WV, to a couple of different locations in Texas and then later to California.

•Both JRod and Louise Turpin were teenagers when they married their 20-something husband's.

•The oldest boy in both families is the only one to have attended any college; although Timothy Rod is far better off than Turpin Son #1, as Timothy got to go across country, whereas Louise took and picked up her son every day.

•Almost all of the children in both families are emaciated.

•But it is clear that the Dads never missed a meal.

•The "baby" in both families is the only one that appears healthy. In the Turpin case, the baby girl was the only one not suffering from malnutrition.

•Louise Turpin reportedly told people that she wanted her family to get their own reality TV show. The way JRod parades her family around, stalking the Duggars and semi-famous Fundies associated with them, it is easy to assume that she has the same deluded goal.

•Louise Turpin and her husband used restraints on their children as a form of control and discipline. While we don't have proof that the Rods do the same, we do know that they are fans of, and acquainted with the Pearls, masters of the infamous blanket training method, and we also have proof of the RV's "baby cage".

•Both families homeschool

•Neighbors of the Turpin family (after the arrests were made) recall the Turpin children digging through trash for food scraps. JRod herself once made a comment that her children got the ice cream container out of the trash so that none was wasted.

•The times that the Turpin family did post on social media, were when they were traveling with their kids and trying to look somewhat normal- Disney trips, Grand Canyon, etc. JRod posts to social media a lot more, obviously, but it is always the same kind of "trying to be impressive" attention grabbing attempt at portraying a "perfect" family.

•While David Turpin was apparently an engineer (i.e more qualified than David Rod), it seems he had bankruptcies and financial troubles – like the Rods, he seemed to have difficulty financially supporting his family.

•The oldest Turpin daughters supposedly only had the equivalent of a 3rd Grade education. The youngest children had little to none; yet all could recite huge passages from the Bible. JRod too, seems to focus more on Bible education than core subjects. Also, I can't imagine her really successfully giving them all a well rounded academic education in the RV, or anywhere else for that matter. We also suspect that Timothy may have flunked out, and didn't just move colleges because of finances. This suggests a subpar foundation.

•There's a juxtaposition between being Fundie and worldly in both families. The Turpins did Disney, Vegas, Elvis, etc, all while claiming to be Fundie… The Rods have their 1989 streetwalker makeup and circa 1991 teased hair.

Of course, they aren't exactly alike. The Turpins ended up almost entirely shutting themselves off from the world whereas Jill still seeks attention (and grifts) online for her family. She also seems to still be close to her family, while Louise was estranged from hers (due to childhood abuse). Also, the Turpins didn't seem interested in marrying off any of their Children- a priority for the Rods.
Good catch Redditor! There is a great deal of overlap between the two families.
If you're not familiar with the Rodrigues family we generally don't take much of a look at them. They live in West Virginia and spend many a long day traveling around working the revival and low level conference circuits. They hanker to be the Duggars, following the Duggars and more famous Quiverfull families around. Jill is constantly posting videos and photos of her family. Very small potatoes.
What is noteworthy and interesting about them, besides the fact that it's another dull-looking patriarch married to an over the top woman, is Jill Rodrigues Facebook videos featuring Plexus and her hair and makeup. Poor David seems to be just another dull doggie in Dockers while his wife Jill has the kind of energy usually only obtainable from Adderal. Must be all the Plexus.
They have a large brood of children, children that appear on their blog and in their Facebook feed looking emaciated while father David clearly has never met a meal he didn't like.  I don't know if the Rodrigues family is practicing the same level of food control as the Andersons and many others but I would bet the bus that they are.
This extreme control of over the issues of feeding their children seems to be pretty pervasive in Quiverfull. Worth watching in all of these families.
---
Stay in touch! Like No Longer Quivering on Facebook:
If this is your first time visiting NLQ please read our Welcome page and our Comment Policy! Commenting here means you agree to abide by our policies.
Copyright notice: If you use any content from NLQ, including any of our research or Quoting Quiverfull quotes, please give us credit and a link back to this site. All original content is owned by No Longer Quivering and Patheos.com
Read our hate mail at Jerks 4 Jesus
Check out today's NLQ News at NLQ Newspaper
Contact NLQ at SuzanneNLQ@gmail.com
Comments open below
NLQ Recommended Reading …
I Fired God by Jocelyn Zichtermann