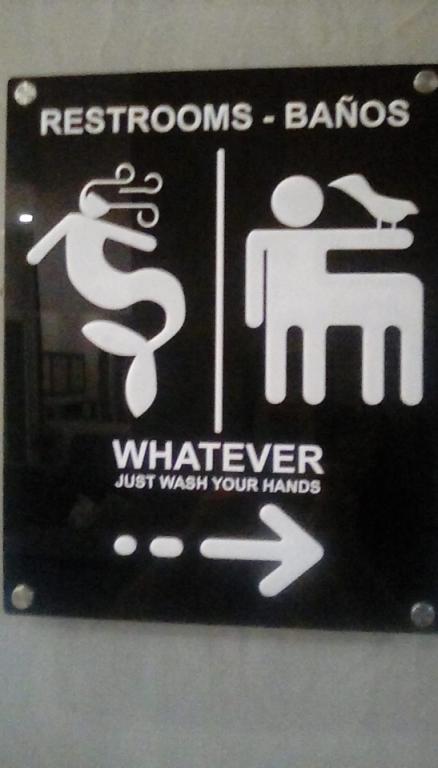 When I was gagging last week over Larry Solomon of Biblical Gender Roles tried futilely to prove that men own women I was completely blind to the almost worse piece he'd written "Appeasement is Never an Option for Christian Husbands" It's MGTOW marriage advice with Larry Solomon. It is the second post on his site, just under the disgusting misguided attempts to own wives.
I didn't come up with the MGTOW in this. Larry, like the good little substandard beta troll he is, started mentioning the MGTOW guys early on in this bit. Sounds like a bit of hit hoeing for more hits.
What this is happens to be a long email that Larry the Hairy Man received from a stranger named Mark. Mark is complaining about his long time wife, who does seem somewhat childish in his recitation of her wrongs. She is unsatisfied with their marriage, has pulled some immature stunts like tearing up the house if he says no to something. The typical Larry complaint of no sex. Plus the church backs her, not him, during marriage counseling.
I have to question if the email is genuine. Larry seems to be completely unaware that some people consider it great sport to bait him with awful fake emails just to see what he'll come up with. One thing I did notice in this letter. The husband never once said that he loved his wife, or had any positive feelings about her. It's all his annoyance that she's not his sex robot, or whimpering slave. This is not marriage, this is a parent – child, or master – slave relationship grounded in inequality. There is no loving kindness, no sacrificial love, nothing to do with mercy.
First Larry states how many MGTOW unhappy marriage emails he's flooded with, mentioning MGTOW over and over again. Then he tries to say what the feminist perspective would be on this letter:
The Christian feminists reading Mark's story will come away with another lesson. In their view Mark just needs to go back to where he was before he discovered what the Bible says about the roles of husbands and wives. He needs to just do what his wife said and work on his "communication style" and "hear her" better. And of course, his wife mentioned the Christian feminist and humanists' favorite word which is CONSENT. And when all else fails, Mark should just fall back into the appeasement mode with his wife, because after all "Happy Wife" = "Happy Life" right?
Not necessarily, Mr. Trollishness. This Christian Feminist sees some fault on both sides. This is the kind of outcome you get when you marry too young, when the balance of financial power and personal power is simply too one sided. He's miserable. She is miserable. Instead of communicating needs in love, and efforts on the part of both partners to improve the marriage you get tantrums and sulking. Neither of these folks has any business being married! Likely both came into the relationship with unrealistic expectations without knowing themselves or each other that well. Recipe for bad marriage!
Consent in marriage is important. Not just sexual consent but consent in all areas. A few examples. My husband has and rides a motorcycle. I don't necessarily like it, but he has my consent to ride it if he likes. On the other side we had a recent disagreement where he wanted to rent our house out during an upcoming U.S. trip. We could not agree, there was no consensus and no consent going on there. He dropped the idea after hearing from myself and a pile of realtor friends as unfeasible. Marriage does mean agreement on most things, consent to do certain things.
Larry, as usual, spends reams of words to tell this guy that he has a few options. He urges Mark to use 'Discipline' of many times against his wife, including cutting off any and all finances, yes, financial abuse. Which is a crime in many jurisdictions now.
What makes me laugh is Larry's self righteous mewling that Mark should just up sticks and go to the park for a few hours to 'punish' his argumentative wife. Which is not entirely bad advice. Taking a time out and disengaging during a disagreement is sometimes needed to later reach an unemotional consensus. But the notion of punishing a wife by withdrawal of a husband is just laughable. I know many, including myself, that might think "Thank goodness! Yeah, yeah, take yourself out of here away from me and I'll have a nice relaxing afternoon" reaching for a book and a tall glass of iced tea.
And one other thing I would like to add. You need to be VERY consistent in your disciplinary approach with your wife just as you need to be very consistent in your disciplinary approach with your children. So, the approach is, you rebuke her and she fails to repent and just keeps arguing with you then you walk away and engage in the silent treatment. If she becomes violent you leave the home for a few hours or even for the evening.

This consistent behavior toward her will result in one of three actions on her part:

She will completely change her behavior.
She will file for divorce.
She will at least stop the raging so you won't leave.
What Larry does not consider is that when you are dealing with very immature people it might just escalate the bad behavior on both sides. Someone that routinely destroys possessions and the house will likely get worse. In this case divorce might be the best thing for everyone involved. Mark can mail order a super submissive bride from overseas, and his wife can move forward and, hopefully, grow into a fully mature woman.
Please do not take marriage advice from Larry. His words lead only to misery and divorce. Plus Larry is not anyone worth emulating at all, he's substandard in every way, which we saw when his name and location was exposed. He's so so lower middle class average in every way. Clearly he has no real power in his life, and has to take out his toxic ideas of control out on a disabled wife and cowed children. Don't be like Larry.
People tend to thrive and grow when they have personal autonomy and agency, being much happier and content, than being treated constantly as a lesser being. Just say no to Larry.
What is typical is that the real harmful toxicity is in the commentary. Posting a few of the worst.
Dave M obviously has no idea what daycare costs are:
ANM1
Be prepared to go scorched earth – a chance at happiness is worth the cost. Happiness without her if that ends up being what it is. An example of what not to put up with in marriage for your children if it comes to it. Be prepared to explain to her what the cost will be is she wants divorce. Explain to her that she will have to go to work. Explain to her that her life will be much harder if this direction is chosen. Explain to her that she will no longer have you to work for her, to help her, to provision for her. Explain to her that if she goes this direction there are no do overs and that there is a very high chance she will have to bear you giving your love, resources, and gifts to another woman.
It could be a good thing she does not work. You can control the finances when you are the one making the money. Your name is on that paycheck, not hers. Open an account in your name only and have you payment check deposited there. Take control. The new word is NO, until she is working toward improvement. Not you are working with so and so and she has to please them. She has to please you, her husband, period. if you aren't seeing improvement no matter what anyone else things, the answer for anything is a NO.
Financial abuse ahoy!
Most of the men are urging Mark to start recording his wife all the time and go scorched earth replete with financial abuse.
And we end with toxic insane patriarch and Lori Alexander derriere licker Trey
Abuse to the glory of Christ? Oh man, Trey needs Bible lessons I think.
---
Stay in touch! Like No Longer Quivering on Facebook:
If this is your first time visiting NLQ please read our Welcome page and our Comment Policy! Commenting here means you agree to abide by our policies.
Copyright notice: If you use any content from NLQ, including any of our research or Quoting Quiverfull quotes, please give us credit and a link back to this site. All original content is owned by No Longer Quivering and Patheos.com
Read our hate mail at Jerks 4 Jesus
Check out today's NLQ News at NLQ Newspaper
Contact NLQ at SuzanneNLQ@gmail.com
Comments open below
NLQ Recommended Reading …
I Fired God by Jocelyn Zichtermann