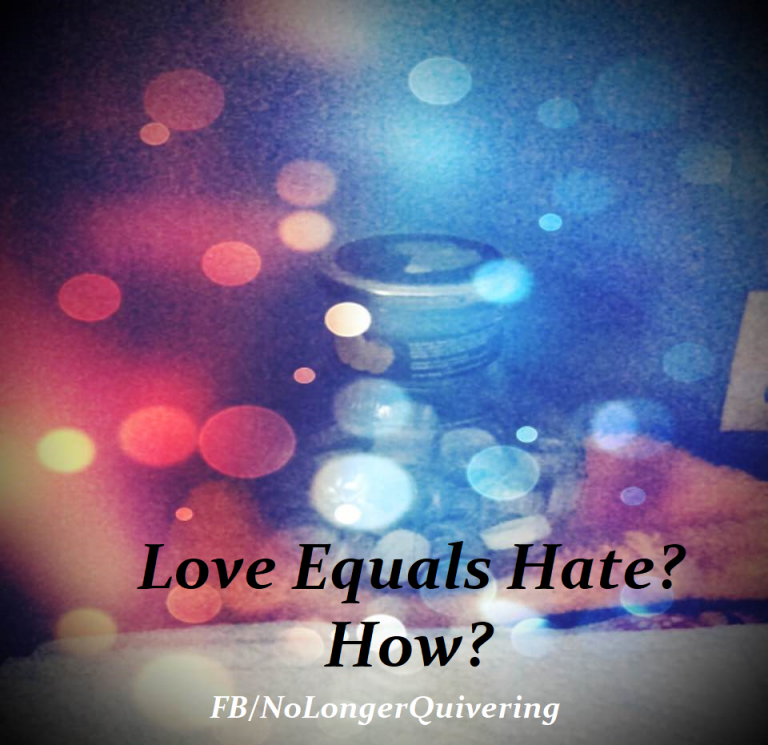 Or sin. Love, or sex equals sin exactly how?
We've talked about sex this week so much I'm beginning to feel like a burgeoning sexologist. But it's only fitting considering how much in Quiverfull, Evangelicalism and Fundamentalism that boils down to sex. Sex is the subtle secret subtext in religion, tangled up with power and control.
People in religion have all sorts of odd ideas about sex too. Religion just complicates the matter so much, wrecking marriages, throwing guilt and shame on that which is blameless.
I remember back during my years in Quiverfull going to a woman's conference where sex turned out to be a major topic. It started when one of the ladies we were riding to the conference with asked our group for advice. Her husband wanted sex daily, she did not, so he had been masturbating every morning and had come to her to tell her he thought masturbation was a sin. He was demanding daily sex to keep from the sin of masturbation.
At that time I kept quiet, saying nothing about believing masturbation was no sin. But the other ladies chimed in with suggestions, and stories from their own lives. Later my best friend pulled me aside to tell me how shocked she was that we all loved sex with our husbands. She'd merely tolerated it.
We talked, and I encouraged her to be more open to it, to think differently about sex, about the intimacy, closeness and bonding that occurs when you are open and vulnerable to your husband. She had problems  because she's suffered sexual abuse at the hands of a loved one. Things did improve for her, thankfully, because being married and thinking sex is a sinful chore would be about the worst thing I could imagine.
Then several days ago we were discussing Larry Solomon of Biblical Gender Roles ideas on finding a bride, and choosing self love while you wait. This comment popped up and I thought for sure, at first, that this must be a sarcastic parody of fundytown. Until I looked at the commenter's profile and discovered she was a conservative Christian and it looks likely she was deadly serious about every word. If this lady is a troll, and she may well be, she's cleverly got the fundy-speak down perfectly.
Sex was created by God for procreation only. I did my good Christian duty and gave my husband three beautiful children but thankfully never had any wicked sinful pleasure while doing the filthy dirty deed. Anybody who masturbates must be killed. Praise Jesus!
Some of her comments on Breitbart and other conservative websites are chilling. But that's not what we are concerned with. It's this notion that all sex and sexual pleasure are evil and for procreation only. This likely kills more marriages in Evangelicalism than anything but money fights.
Even if it turns to be a clever troll this is something we must talk about because you know somewhere out there someone does think this way.
That's not even what the Bible has to say about sex at all. If you read Solomon's Song of Songs in the Bible it is clear that this is about two lovers, which is in reality what married couples should be, lovers and friends, someone you cannot wait to be with sexually, at least some of the time.
1 Solomon's Song of Songs.

She[a]

2 Let him kiss me with the kisses of his mouth—
    for your love is more delightful than wine.
3 Pleasing is the fragrance of your perfumes;
    your name is like perfume poured out.
    No wonder the young women love you!
4 Take me away with you—let us hurry!
    Let the king bring me into his chambers.
Does this sound like
'man on top, lights off, get it over with quick'
sex strictly for procreation? It's beautiful poetry, sure, but it speaks of a reality between lovers.
It hints at the mutual pleasures, shared intimacies and a deepening bond. It shows an example of what mutual passions and great sex looks like.
Even conservative and traditional Christian organizations like Got Questions.org recognize the need of couples to have mutually pleasurable sex lives.
Most men want their partners to have as much pleasure in bed as they are. There is nothing more of an ego boost for a man than knowing you desire him in bed, and that he can give you oceans of pleasure.  If marriage is a sacred bond, like many claim, then how much more tight of a bond will there be with great sex?
Another point I have to agree with sad sick Larry on. A man getting no sex at all might be tempted to stray. In relationships where there is little bond, or sexual contact, a man will turn to other things, and sometimes other people to fulfill that need. Porn, internet emotional affairs, and sometimes real affairs. Not always, but I think a  lack of a decent sex life in marriage sets you up for these temptations, which can lead to even bigger problems.
I'm not talking about those normal times when you might refrain from sex, when you are ill, exhausted or going through a tough time. I'm talking the every day walk that is marriage. Great sex is going to make what's good even better.
Killing people who indulge in Onanism just means the majority of the world's population would be executed, and nobody wants that!
Please do  not settle for this, gentle commenter! There are good counselors and books out there that will help. Please don't short yourself from one of the greatest shared experiences out there, mutually satisfying sex. Talk to your partner about this too! Get his input, you might be surprised to find that he does not feel like your sex life is good either, and longs to have the intimacy and closeness of a mutual encounter. Be your husband's lover.
Don't settle for pity sex either! Lori Alexander of The Transformed Wife advises ladies to do ten minutes and lube when the husband wants sex, with no thought or mention of pleasure. How sad for her that she also does not experience pleasure.
---
Stay in touch! Like No Longer Quivering on Facebook:
If this is your first time visiting NLQ please read our Welcome page and our Comment Policy! Commenting here means you agree to abide by our policies.
Copyright notice: If you use any content from NLQ, including any of our research or Quoting Quiverfull quotes, please give us credit and a link back to this site. All original content is owned by No Longer Quivering and Patheos.com
Read our hate mail at Jerks 4 Jesus
Check out today's NLQ News at NLQ Newspaper
Contact NLQ at SuzanneNLQ@gmail.com
Comments open below
NLQ Recommended Reading …
I Fired God by Jocelyn Zichtermann