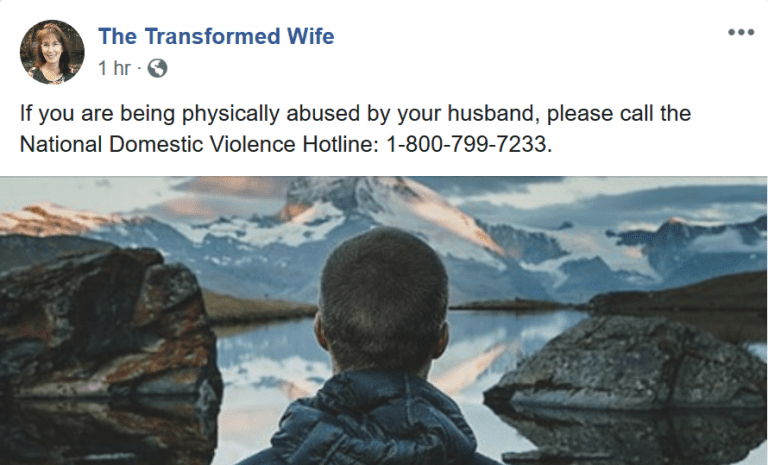 Welcome to Lori Alexander of The Transformed Wife beating a dead horse to try and go viral once again! Three days ago Lori posted a tweet blaming women who've been abused for provoking their man into abusing them by being contentious and quarrelsome. We noted Lori's awful shaming words blaming domestic abuse victims and moved onto the Pearls – Debi's book and Michael's pie. So what does Lori do as a follow up? Write an entire post about women causing their own abuse, stating that women provoke men to domestic violence.
Lately Lori's posts have taken on a shrill tone, sort of like a carnival barker trying to urge you into seeing the world's smallest mermaid transvestite or a two-headed calf. Like she's losing what small grip she has on reality, turning more and more to outlandish, ever more toxic ideas.
In this piece Lori brags that she ignores the words of those that oppose her, so why cannot they do the same. Well, Lori, I am thinking that NLQ is about to do the same to you. Put in a Loritorium for some weeks, or a month. I cannot in good conscience keep feeding whatever is going on here in her mind. We cannot keep adding to her self martyrdom.
The grand comedy of her statement is that she is constantly reacting to those who do not love her theology and call it out for the toxic hate it is.
Okay, on to today:

But here's the thing, both people can lose it, can rant and rave, say nasty things, lose their tempers, yet with most people they manage not to physically harm anyone! Jesus might have lost his temper but there's no indication that he ever harmed anyone. Throwing the money changers from the temple does not mean he kicked their rear ends and laid down a beating. He did use a whip according to scriptures, but it does not say he used to flay anyone. Maybe he just moved them along. If he whipped them then that makes Jesus sinful too.
You chose how you react to someone else's mood. Just because someone shouting or acting obnoxious does not mean you have to react to them. The type of man Lori describes here is the weakest most immature type who would react to a woman's annoyance by beating here. You can either chose to be offended or not. Be a grownup here.
How shameful that the men in Lori's world are so easily pushed into violence by mere moods of someone else.
Those of you that read my personal blog know I had a recent episode where I lost my mind like Lori is describing here. We've been dealing with a drainage problem at the house, it flooded again in the middle of the very expensive fix we're having done and my husband didn't jump up like I did to immediately start dealing with the water. He stayed on his computer, while I squeegeed out the living room. I was so unhappy about this that I told him off and said I was moving into the guesthouse. Later I felt guilty about what I'd said because once the rain stopped he squeegeed out the kitchen. I apologized to him for my reaction.
It was dealt with, 50/50 in fact. He didn't take in my words, knowing I was merely venting. He didn't beat me, much less even get offended. I am a squeegy right away gal, he tends to leave it til the rains end. It works either way. No one provoked to wrath, even if I did unfairly compare him to Jabba the Hut at one point.
And it's not like it hasn't been the other way either. There are times when he shouts and I shrug. Violence is never part of the equation!
This is life, baby! Things happen. People lose their tempers. Those that love them realize it really has nothing to do with them and do not take offense. This is what happens in marriage.

But that's exactly what some men are doing. There are men who are taking Lori Alexander's words as some sort of carte blanche to abuse their wives. Late last night and early this morning there were women posting on Lori's Facebook page stories of their husbands abusing them, and Lori immediately deleted the posts before anyone could do a screen cap.
One lady in particular describes years of abuse while she was reading and following Lori's words. She told of a time when she has a shoulder dislocation, and the ladies she worked with pointed out she was being abused and it was not her fault. It literally took others giving her permission to see it as abuse instead of her fault for her to recognize he would only escalate, and it would be much worse than a dislocated shoulder.
When she tried talking to him about the abuse this man pointed, very smug and self righteously, at the words of one Lori Alexander to justify all the abuse he'd been raining down on her for years now as his just response. He used Lori's own words to justify abuse.
It happens. When you promote a worldview and theology with no kindness, no mercy, no love only punishment and virtual slavery this is the end result.
I know that is not Lori's intent, to have other women beaten because of something she has written, but it is happening. Some day I would not be surprised if one of these abused women does not turn around and file a law suit against Lori because she encouraged the abuse.
Lori follows her words by posting a list of links to get help. The problem is that she's linked to an Evangelical ministry and only one of the many links is a legitimate organization to help you.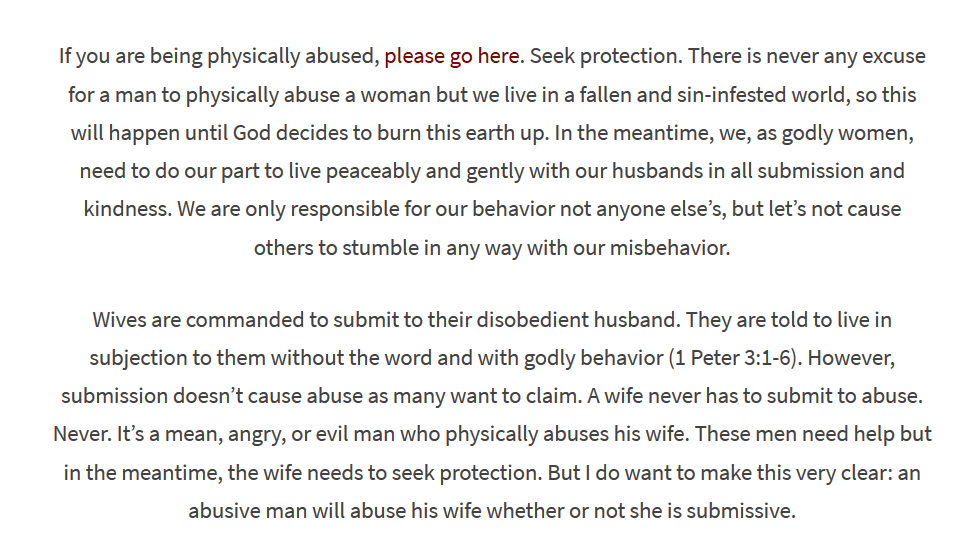 Yes, you are responsible for your own behavior, but, but women are not responsible for the men in their live hurting them! Half of all murders of women occur at the hands of their domestic partner.
We've seen how much more domestic violence there is in restrictive religious communities across all the faiths. When you hand over total control of yourself to an imperfect person who struggles themselves you are dicing with danger. Statistics do not lie, unlike Lori Alexander here.
Here's one of the postings Lori deleted this morning: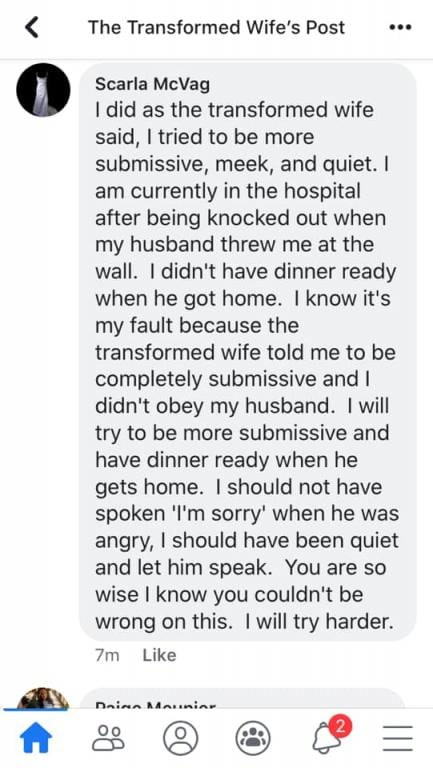 If you are a U.S. citizen living overseas please contact your embassy. The U.S. Embassy has a domestic violence program to help you get away.
National Domestic Violence Hotline – 800.799.7233
National Sexual Assault Hotline – 800.656.4673
Many states and cities have their own domestic violence hotlines and help.
Stay in touch! Like No Longer Quivering on Facebook:
If this is your first time visiting NLQ please read our Welcome page and our Comment Policy! Commenting here means you agree to abide by our policies.
Copyright notice: If you use any content from NLQ, including any of our research or Quoting Quiverfull quotes, please give us credit and a link back to this site. All original content is owned by No Longer Quivering and Patheos.com
Read our hate mail at Jerks 4 Jesus
Check out today's NLQ News at NLQ Newspaper
Contact NLQ at SuzanneNLQ@gmail.com
Comments open below
NLQ Recommended Reading …
I Fired God by Jocelyn Zichtermann