Update – November 8, 2016 at 8:45 pacific time: In qualified apology, Father Pavone asks us to reach out – we did and didn't hear back… – Oh, and the videos are still up. Update: the first video and apology have been removed! (Click here for more.)
Update – November 8, 2016 at 15:23 pacific time: Father Pavone's action was so ridiculous, Snopes.com was asked to verify it. Have they stored Baby Choice for years? We believe so.
Update – November 8, 2016 at 15:30 pacific time: Diocese of Amarillo Slams Father Frank Pavone and Priests for Life, Opens Investigation (Statement) (See more here.)
Update – November 9, 2016 at 12:00 pacific time: Fr. Frank Pavone: Thank me, for "today is a great day for America and the Church"; Rebukes Bishop. (Statement by Priests for Life) Click here for more.
Update – 12 November, 2016 at 21:50 pacific time: Victory or deceit: Father Frank Pavone Removes 1 of 2 Videos of Dead Baby on Altar for Trump! He also removed his 'apology' video. (Also, Priests for Life of Canada Rebuked Pavone!) Click here for more.
Note – see our previous posts on this matter starting with the most recent:
– Adoring Trump: Fr. Frank Pavone uploads second video with body used as prop
– Did Father Frank use a dead body or a crafty image of one? Priests for Life responds.
– "Father Frank, Live!" on Facebook: Using the Dead to Elect Trump? Going too far? (Disturbing images; Update on body, Priests for Life.)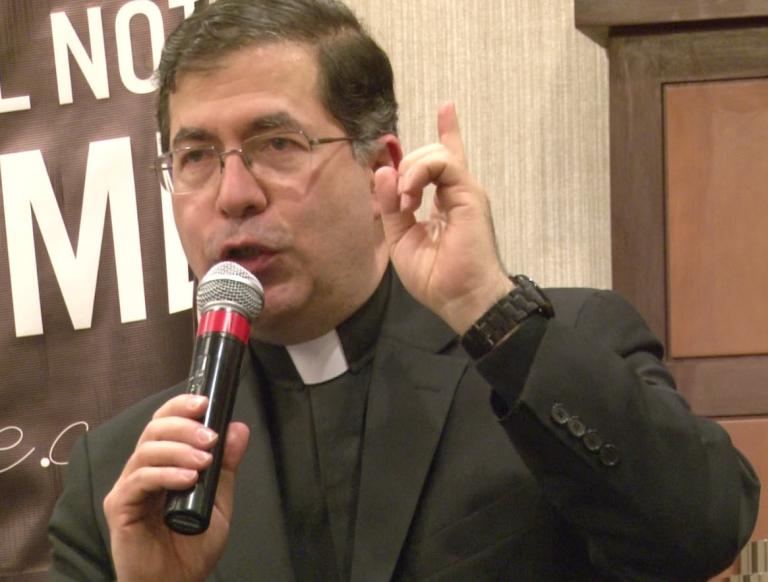 Pavone identifies himself as prophet and martyr after heavy backlash in response to what he described as honoring a child's lifeless body on an altar – in promoting Trump's candidacy.
After a long day of criticism for using the lifeless body of a child on an altar in a last-minute attempt to support Donald Trump's campaign for President of the United States, Father Frank Pavone, national director of Priests for Life, told Matt C. Abbot at RenewAmerica, "The issue is not how I'm treating a baby."
In an e-mail to Abbot, Pavone explained:
I've been providing funerals and burials for these children for decades, with full legal and canonical counsel, and those concerned about these things would do well to talk to me rather than the media.

The issue is how the abortionists, supported by the Democrats, are treating these babies. What's sacrilegious is abortion, and voting for those who support it. It's time we get our heads screwed on straight about who the bad guys are.

We are living in the midst of a holocaust, and our nation faces a choice on November 8 between electing people, like Hillary Clinton and the Democratic Party, who will continue that holocaust and have us pay for it, and Donald Trump and the Republican Party, who are committed to working to bring it to an end. This choice is neither confusing nor difficult.

[…]

Donald Trump is ready to defend the unborn and to defend the church. That's why I'm with him – and all believers should be also. And as he is attacked, so are those who stand with him. So be it.
Abbot described Pavone's video message as Pavone "standing behind an altar with an aborted baby in an effort to support Donald Trump." Pavone's e-mail to Abbot didn't seem to contradict that. Sam Rocha, then, wasn't too far off in writing "Fr. Pavone Places Human Corpse on Altar, an Offering to the Idol of Trump".
We e-mailed Priests for Life today asking:
A) has the child had been buried and then disinterred?
B) who gave him permission to do this?
C) how is this in line with the theology of burial as an act of mercy and a sign of respect (cf. CIC 1176.2, CCC 2300)?
We learned that Father Pavone uploaded not one, but two videos – one to Facebook and one to Youtube.
We do not know where this child's body comes from, when Priests for Life received the body, when the body will receive proper burial, etc.
One source has told us that the Diocese of Amarillo instructed Father Pavone to remove the video he posted onto Facebook Live, but has refused to do so. We have not been able to confirm this.
We are waiting to hear back from the Diocese of Amarillo, the USCCB's Secretariat for Pro-Life Activities, and the Pontifical Academy for Life – of which, Father Pavone is a member.
If Father Pavone will not obey his Bishop, who will he obey?
We lamented earlier that the "second video makes it more difficult to avoid the regrettable conclusion that Father Frank commodified the body of a child. This is an act of sacrilege, profanity, and desecration."
We'll be updating all posts when we learn more.
For now, Father Frank points to others as doers of sacrilege – it will be interesting to know if the Bishop of Amarillo agrees that voting for candidates who support abortion is sacrilegious. Does it matter if the Bishop agrees?
Pavone said, "What's sacrilegious is abortion, and voting for those who support it." Does Pavone think what he did is not sacrilegious?
One Facebook user commented on Father Frank's video "Let that baby rest in peace!" Father Frank replied, "[name omitted] wake up. WE are the ones honoring this child, who was exploited and killed by the abortion industry. And it is time to show the horror of abortion, not only for people who deny it's real, but for believers who have forgotten what the prophets did in exposing evil. This is only the beginning of what we are going to do to expose it, so fasten your seat belt."
Scott Eric Alt wrote today,
So Fr. Pavone makes no secret that he put that dead child up on the altar and filmed him and plastered a stillon Facebook in order to lobby for a particular presidential candidate.

Is that what the altar of sacrifice in a Catholic Church is for?No. Says Canon 1239:

An altar, whether fixed or movable, is to be reserved for divine worship alone, to the exclusion of any secular usage.

The altar is intended for a sacramental purpose, as the place where the priest celebrates Mass.

I am going to be, excuse the pun, frank: What Fr. Pavone did was a sacrilege. It is a violation of canon law, which states that the altar is consecrated for one purpose and one purpose only. It is consecrated for the Holy Sacrifice of the Mass. It is not consecrated so that a dead child can be placed there as part of a political stunt to lobby for a favored presidential candidate.
Pavone told Abbot, "The issue is not how I'm treating a baby." Though, I think, it may be better to have used the verb "using". As we've said, the child's body is being used – it's a prop! a stage piece! – for the "Father Frank, Live!" show. How embarrassing.
Pavone told Abbot, "The issue is not how I'm treating a baby."
…
We're anxious to learn more. We're looking forward to an authentic pro-life movement.
Until next time,
Keith Michael Estrada