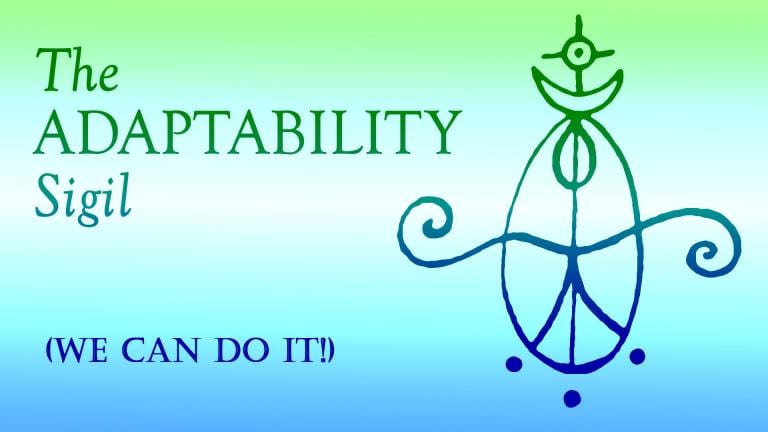 Meet the 12th sigil in what I guess could be called the Shared Magic Sigils of the Pandemic series – the Adaptability Sigil. It was created on Saturday, September 12th during my Sigil Witchery workshop. As part of every workshop, we collectively craft a sigil, and since March, every workshop has touched upon helping folks get through this pandemic in some way. (Complete list of these sigils can be found near the bottom of this post). You'll see from the workshop whiteboard, we also dubbed it the "We Can Do It Sigil" and the "Log-Rolling Sigil"
In discussing what to create, we had a lot of inspiration stemming from the fires/smoke that's hitting much of the West Coast of the United States (and in other parts of the world as well) largely due to changing climate patterns which are further amplified by irresponsible behavior. How do we adapt to change this pattern while also working towards a better society for all while under pandemic and political pressure? So this sigil brings in elements of that while aiding us in adapting to change in ways that will benefit both humankind and the planet.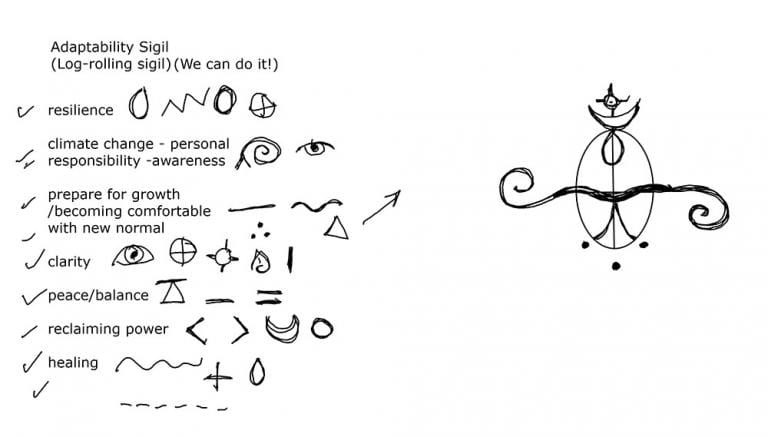 Built Into This Sigil:
– Resilience, protection
– Focus on climate change, personal responsibility, awareness
– Prepare for growth and becoming comfortable with a new normal
– Clarity and insight
– Peace, balance
– Reclaiming Power, strength
– Healing
Design Notes:
As we were creating this sigil, one student brought up the fact that some varieties of pinecones require fire in order to burst/seed/start new life. Another mentioned the resilience and durability of eggs. These ideas gave form to the major defining shape of the sigil. There was also the interesting design by-product of the spirals simultaneously reminding us of the "We Can Do It" Rosie the Riveter iconography and the classic "Strongman" character flexing muscles and displaying an impressive mustache. There are several other interesting design by-products you'll notice the longer you look at it. The finalized drawing is a bit more egg-shaped than oval, but either variation will work just fine.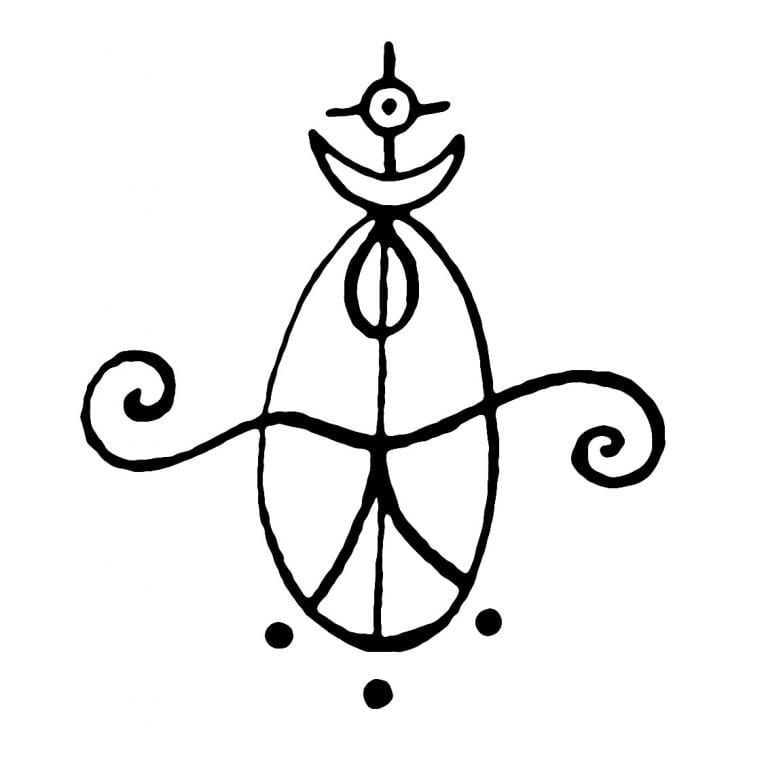 How to Use This Sigil:
You are welcome to use this sigil however you see fit that is in alignment with the intent of the sigil.
Ideas for use:
– draw or carve on a candle (white, green, or blue are suggested)
– use as a meditation focus
– apply to the body with an oil that aligns with your focus
– incorporate with workings focusing on climate change
– use for protection and guidance of body, home, communities
Please note: When sharing this sigil (or any other sigil you find on this blog), please be sure to include the link to the blog post. The sigil works best if people understand precisely what went into it, versus just sharing the image and telling people to use it.

Adaptability Sigil by Laura Tempest Zakroff is licensed under a Creative Commons Attribution-NonCommercial-ShareAlike 4.0 International License.
More Sigils Like This One
This sigil joins the other recently crafted ones as tools to help us collectively address the ongoing challenges created by the coronavirus pandemic.
Those include:
The Immunity Booster Sigil
The Needs Met Sigil
A Sigil For Managing Panic
A Sigil For the Protection of the Vulnerable
Psychopomp Sigil
Growth for a New Tomorrow Sigil
Clarity for the Next Step Sigil
The Truth Speaks Sigil
A Sigil to Foster Stability
A Sigil To Feed the Body & Soul
A Sigil to Ignite Healing
To find out more about this method of crafting sigils, checking out Sigil Witchery.