I know I'm always saying that in any given country or population, probably 95% of people aren't going to be strongly spiritual. I'm guessing at that number, but it seems that in the Kali Yuga very few feel the pull to chase down the mystery of what life means.
So that means that in every religion and non-religion (in other words, atheists included) there are some who ask themselves the big questions about what our lives mean and others who aren't bothered by those questions. I don't think it's a matter of a right or a wrong way to be. Just how it is. I happen to be someone who is religious-minded and spiritual but if you're not that'snot something I judge you on.
Even though I've always figured that each country has roughly the same percentage of people pursuing the divine, this question struck me when I was in India this time.
I started to wonder, why is it that so many non-Indians travel to India in search of spiritual meaning? And even more to the point, why are there reports of enlightened holy men in India that we never hear in America or UK (that I know of)?
It sounds prosperous to say that maybe non-Indians are less likely to achieve Moksha. Yet I'm starting to think that the western culture may seriously impede progress towards this goal.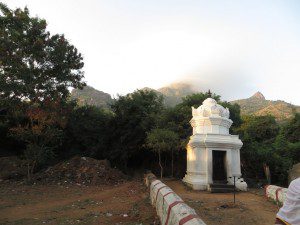 For example, my tendency to see Moksha as something that has to be "attained" and striven for, a problem to be solved, something I need to gain rather than something that is already true within me. That is deeply rooted in my American culture.
And even though there are many fake gurus who prey on people's faith to make a quick buck, there are also a surprising number of legitimate gurus and other holy men in India. Have I ever met an enlightened soul in America? Perhaps I did but I didn't know it? Despite years of practice and study and striving and meditating, there is so much in life in America to distract you from religious life.
What really brought this question into focus in my mind was when I was on the plane back to the U.S. and I was sitting next to nice young lady who, as we got to chatting, I found out is a childhood friend of the student who is now in line to become the next Shankaracharya at Sringeri Math. Quite an incredible coincidence! And I got to find out a little more about him from a human angle. She told me he was always interested in spiritual matters and chose Veda study over anything else he could be doing every day.
And it occurred to me that when this young man started to show interest in spiritual matters, there was an outlet ready for him. There was a place for him to go to further his understanding and be guided towards enlightenment.
If my child were to show such proclivities, where could I take him? Where in America does one get that opportunity?
Yet maybe this is just a matter of my perspective. In America we do have the priesthood of various Christian sects and perhaps that is where many of our seekers end up. It's not the priesthood's fault that I don't see my understanding of Truth reflected there.
Again when we were at Ramana Maharshi's ashram in Tiruvannamalai this question sharpened even further as I saw how many western seekers there were doing spiritual retreats there: learning Sanskrit, meditating, yoga, listening to chanting, etc. This place seemed to draw people who were searching for the Truth.
Even if, as with any place, the majority of Indians aren't particularly spiritually-minded, there may still be something about the culture and atmosphere in India that make Moksha more possible than anywhere else.