I was playing an app game the other day when an ad played for a language learning app. I'm usually disappointed by these since they rarely include Hindi and usually only have European languages. But it said it had 33 languages, so I clicked through to look and Hindi was on the list!
It's called Mondly Languages.
So I downloaded it and I've been using the free trial. After a trial week it costs $9.99 a month. I'm not sure if that's going to be worth it to me but we'll see. It allowed me to select from beginner, intermediate, and advanced. I picked intermediate but I may see if I can switch to advanced and check that out (I have, after all, been learning Hindi for over ten years!).
It also let me pick the topics I was most interested in. I really appreciate that because I'm not interested in tourist/vacation vocabulary, which is what many language apps want to teach you. I want day-to-day life stuff.
Another feature I really like is that it is easy to switch from the Latin script to Devanagari. I am a huge proponent of learning Hindi with the original script. I also can read the script very fluidly these days. I learned it as a kid but was very stilted with it. Through Rosetta Stone I got much more comfortable with it and I can now sight read a lot of Hindi.
There are some elements of gamifying, which is a trend I love. Games are awesome and they tap into aspects of our brains that make us want to strive and achieve and keep us motivated. It's for that reason that I have been waiting years for Duolingo to get Hindi!
This app seems to have a similar take to Duolingo, so I like that. One thing that is really neat is you can click on a verb and it will show you all the conjugations. I will find that very helpful.
Here are some pictures from the app and at the end of the pictures are some more Hindi learning app suggestions!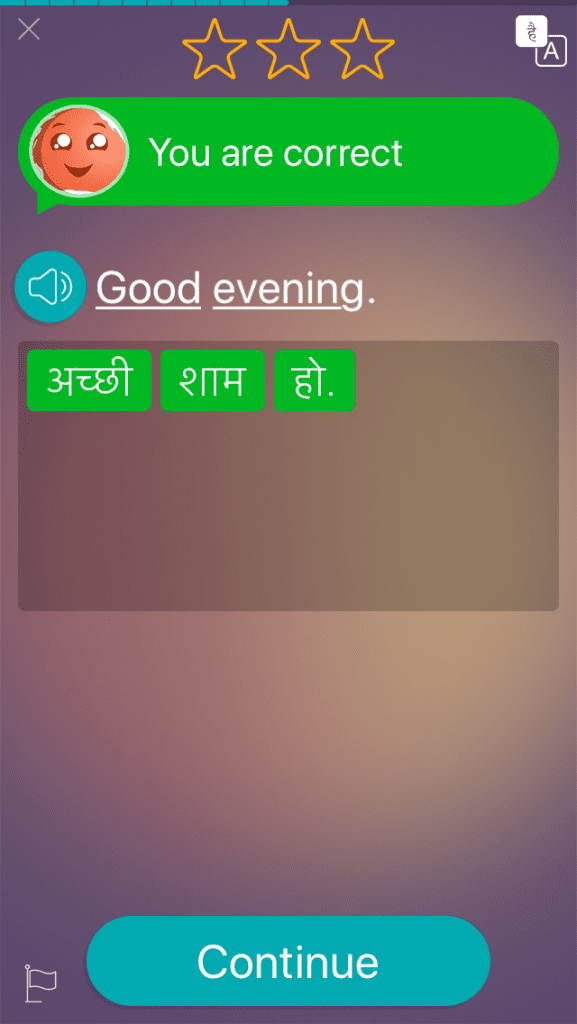 And while I was at it I looked around at more apps people were recommending for language learning. Here are some others I found that have Hindi. I've downloaded them but haven't tried them yet!
A long time competitor of Rosetta Stone (which I absolutely love and credit with all the Hindi I know now). It's never been as good but at least the app has free content. To access all the lessons you do have to pay. I haven't been able to figure out how much, though!

This one claimed to have Hindi in the app description but when I downloaded it I didn't see it as an option. I found Urdu but even that is not complete.

This one is really unique and I'm excited to try it out. It has you listening to an audiobook while following along with text at the same time. Apparently you can see it in two languages at once (the idea being your native language and the one you're trying to learn). It looks like some of the stories are free and others you pay for.
New to this blog? Check out these posts:
Why Am I Called "The White Hindu"?
New to Hinduism? Learn more here:
Hinduism 101: What Do Hindus Believe?
Your First Visit To A Hindu Temple
—-
Thank you to my wonderful Patreon supporters…
Brian Hanechak
Amit Agarwal
Don Moir
(views expressed here are mine alone and do not reflect opinions of my supporters. Links within the text may be affiliate links, meaning that if you purchase something I get a small commission for recommending it. I only recommend things I truly believe in)