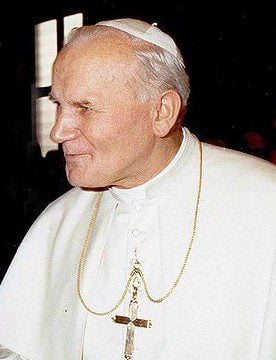 *****
I'm at a loss for words (and many others can say what I would like to express far better than I can), so I'll be brief. Pope John Paul II was, I believe, the greatest and most influential man of the 20th century. I think he will in due course be canonized, declared "the Great" (like Popes Leo and Gregory), and also a Doctor of the Church. This is not mere "eulogizing exaggeration." I've thought this for a long time.
His impact was incalculable. What I'll remember most will be his extraordinary teachings and efforts towards greater understanding among all peoples. Everything he wrote about and did and sanctioned has been of immense importance: the Catechism, his encyclicals on the Gospel of Life, the Blessed Virgin Mary, ecumenism, faith and reason, labor, and all the others.
He was instrumental in the downfall of Communism, and has dealt a death-blow against Catholic liberals (though they don't appear to know it yet, or — far more likely — are too proud to admit it). He reinvigorated the true spirit of the Second Vatican Council, which had been hijacked and almost made a mockery of by the dissidents we are blessed to have in our midst. He instituted crucial liturgical, educational and even architectural reforms and spearheaded exciting, truly progressive (in the right sense of this highly-abused word) teachings such as his emphasis on the theology of the body, and on marriage and women.
His call for a renewed evangelism and re-evangelism has been central to the self-understanding and motivation of apologetic and evangelistic efforts and enterprises like EWTN, Catholic Answers, Envoy, The Coming Home Network, Catholic radio (including my associate John Martignoni, who is now on the radio), Catholic publishing (such as my own publisher, Sophia Institute Press, OSV, and Ignatius) and all of us on the Internet and elsewhere who are trying in our own meager, deeply-flawed ways to share the truth and rationales of Catholic Christianity with the world.
He was my hero and, I think, the greatest man in the world, by any estimate of the word "greatness." He was Peter Among Us. He exhibited and manifested the Spirit of Jesus like no one I have ever seen in my lifetime (save perhaps Mother Teresa). May he rest in peace, and praise be to God for delivering such a "holy giant" to the Church in our terrible times. He will be a powerful intercessor in heaven. If ever there was hope incarnate in one (living, created) man, that Christianity still can have a significant cultural and evangelistic impact, it resided in John Paul II: the holy man and singular leader of men; shepherd of the world. And the world knew it; that's the marvelous and wonderful thing about it. The Gospel of Jesus lives, so powerfully! It can and will transform the lives of all who accept it by God's grace.
I shall list below some articles which document the impact that His Holiness, Pope John Paul II has had on the Catholic Church and the world, and then his own writings:
A Man of Vatican II (James Hitchcock)
Pope of Hope (Karl Keating)
Review of New Papal Biography—Pope John Paul II: Witness to Hope [George Weigel] (Mary Ann Glendon)
John Paul II: Servant of God, Hero of History (President George W. Bush)
Address to the Pope (President Ronald Reagan, 1982)
John Paul II: Letter of God (Mario Agnes)
Impact of John Paul II's Pontificate (Cardinal Jaime Ortega Alamino)
Petrine Ministry and Communion in the Episcopate (Cardinal Bernardin Gantin)
A 25-Year Pontificate at the Service of Peace (Cardinal Angelo Sodano)
Missions in the Pontificate of John Paul II (Cardinal Ivan Dias)
The Family in the Pontificate of John Paul II (Cardinal Alfonso López Trujillo)
Proclaiming the Splendid Truth of the Family (Cardinal Alfonso López Trujillo)
Ecumenism in the Pontificate of John Paul II (Cardinal Nasrallah Pierre Sfeir)
Introduction to the Symposium of the College of Cardinals (Cardinal Joseph Ratzinger)
John Paul II's "Ecumenical Passion": A Clear-Eyed Look at Dominus Iesus(Msgr. John O. Barres)
Heart Attack: Catholic Academe Meets Ex Corde Ecclesiae (Michael J. Mazza)
John Paul II vs The American Catholic College (Msgr. George A. Kelly)
Centesimus Annus: A Perspective (William Luckey)
The Catholic Human Rights Revolution (George Weigel)
20 years as Successor of Peter (L'Osservatore Romano)
Criticizing John Paul II (James Schall)
Revitalizing Society Through the Family: Vision of John Paul II (J. Michael Miller)
The Biography That Might Have Been (George Weigel)
The Pope's Siege Mentality (Peter M.J. Stravinskas)
John Paul Stands Firm [Veritatis Splendor] (Robert Moynihan)
Moral Theologians and Veritatis Splendor (William E. May)
Splendor of Truth (William Most)
The Gospel of Life (Richard John Neuhaus)
Fanning Anti-Catholic Flames [life issues] (Judie Brown)
St. John of the Cross and the Hidden God ( [JPII's dissertation was on St. John] Donald F. Haggerty)
The Crisis of Faith and the Theology of Mission: A Reflection on Redemptoris Missio (Timothy T. O'Donnell)
Ordinatio Sacerdotalis: Exercise in Infallibility [re: ordination of women] (Jeff Mirus)
Pope Deepens Conciliar Theology (William Most)
Declaration on Euthanasia (Sacred Congregation for the Doctrine of the Faith, 5 May 1980)
Pope John Paul II: Encyclicals and Other Official Proclamations
Evangelium Vitae (Gospel of Life, 1995)
Dominum Et Vivificantem (On the Holy Spirit, 1986)
Centesimus Annus (On Rerum Novarum, 1991)
Laborem Exercens (On Human Work, 1981)
Redemptoris Mater (Mother of the Redeemer, 1981)
Redemptor Hominis (Redeemer of Man, 1979)
Dives In Misericordia (On the Mercy of God, 1980)
Sollicitudo Rei Socialis (On the Social Teaching of the Church, 1987)
Ecclesia Dei (concerning Tridentine Mass and quasi-schismatic Catholics, 1988)
Ad tuendam fidem (To Protect the Faith, 1998)
Duodecimum Saeculum (Veneration of Holy Images, 1987)
Familiaris Consortio (On the Family, 1981)
Orientale Lumen (The Light of the East [Ecumenism], 1995)
Ut Unum Sint (That They May Be One [Ecumenism], 1995)
Mulieris Dignitatem (On the Dignity of Women, 1988)
Ordinatio Sacerdotalis (Reserving Priestly Ordination to Men Alone, 1994)
Rosarium Virginis Mariae (History of the Rosary, 2002)
Pastore Gregis (Pastors of the Flock, 2003)
On the Devil (1986)
Common Declaration Signed in the Vatican (Pope John Paul II & Patriarch Bartholomew I, 1995)
Papal Consecrations to the Immaculate Heart (Pius XII and JPII, 1984)
Church Must Proclaim 'Gospel of Life' (1991)
Augustine of Hippo (1986)
The Church Must Learn To Cope With Computer Culture (1989)
Television and the Family: Guidelines for Good Viewing (1994)
Cinema: Communicator of Culture and of Values (1995)
Letter to Families (1994)
The Husband-Wife Relationship in Ephesians 5, 21-23 (1982)
Morality of the Marriage Act Determined by the Nature of the Act and of the Subjects (1984)
Importance of Harmonizing Human Love with Respect for Life (1984)
Responsible Parenthood (1984)
Faithfulness to the Divine Plan in the Transmission of Life (1984)
The Church's Position on the Transmission of Life (1984)
A Discipline That Enobles Human Love (1984)
Responsible Parenthood Linked To Moral Maturity (1984)
The Power of Love Is Given to Man and Woman as a Share in God's Love (1984)
Continence Protects the Dignity of the Conjugal Act (1984)
Continence Frees One From Inner Tension (1984)
Continence Deepens Personal Communion (1984)
The Redemption of the Body and the Sacramentality of Marriage (1984)
Respect for the Work of God (outline of conjugal spirituality, 1984)
Loss of Original Sacrament Restored with Redemption in Marriage-Sacrament (1982)
Dangers Of Genetic Manipulation (1983)
Heaven, Hell and Purgatory (1999)
New Catechism: Gift to the Church (1992)
Population Conference Draft Document Criticized (1996)
Tertio millennio adveniente (As the Third Millennium Draws Near, 1999)
Women: Teachers of Peace (1995)
'He descended into hell' (1989)
Missionary Activity (1995)
Perseverance in Mission (1995)
Culture of Equality is Urgently Needed Today (1995)
We Cannot Remain Separated (Orthodox and Catholics, 1995)
All Must Strive for Goal of Full Unity (1995)
Celebrate and Serve Life! (1995)
Judges Cannot Bend the Objective Norm or Interpret Divine Law in an Arbitrary Way (1996)
I Appeal to World's Scientific Authorities: Halt the Production of Human Embryos! (1996)
Message to the Pontifical Academy of Science on Evolution (1996)
Seek to be active in life of your local Church (to Catholic Charismatics, 1996)
Wipe out the tragic scandal of hunger (1996)
We entrust, O Mary, and consecrate the whole world to your Immaculate Heart! (1982)
Pope John Paul II and Patriarch Dimitrios I – Joint Declaration (1987)
Pacem in Terris: A Permanent Commitment (2003)
To Delegations of Other Christian Churches and Organizations (1978)
Beatification Homily: Mother Teresa (2003)
Symposium of Cardinals: Closing Address (2003)
General Audiences: John Paul II's Theology of the Body (1979-1982, 1988)
Cosmology and Fundamental Physics (1981)
On the Centenary of the Birth of Albert Einstein (1979)
On Catholics and the Media (21 February 2005)
*****
Meta Description: Tribute to Pope St. John Paul II and links for much further information about him, and to his writings.
Meta Keywords: papal infallibility, papal supremacy, papal headship, pontiff, vicar of Christ, head of the Church, apostolic succession, Bible & Papacy, biblical authority, ecclesiology, papacy, Petrine primacy, popes, primacy of Rome, St. Peter, Pope John Paul II, Roman primacy, Pope St. John Paul II