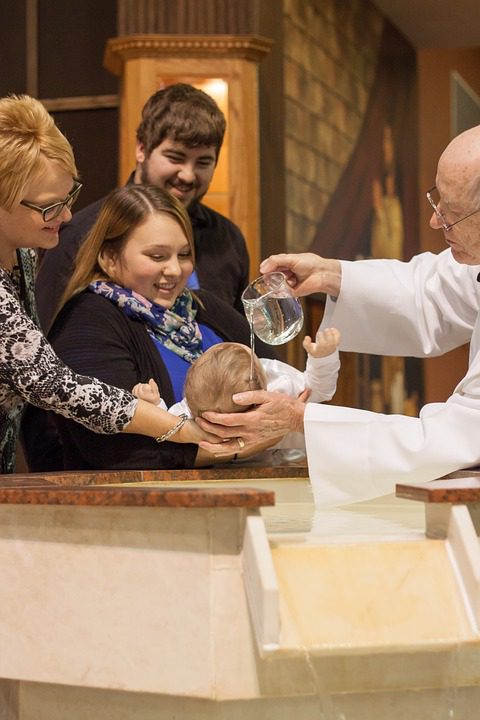 ***
(5-28-08)
***
Catholics (like many Protestants) believe in baptismal regeneration, and we also believe that the Eucharist has a direct relation to salvation in some respect, based on passages such as the following:
Acts 2:38 And Peter said to them, "Repent, and be baptized every one of you in the name of Jesus Christ for the forgiveness of your sins;
1 Peter 3:18-21 For Christ also died for sins once for all, the righteous for the unrighteous, that he might bring us to God, being put to death in the flesh but made alive in the spirit; in which he went and preached to the spirits in prison, who formerly did not obey, when God's patience waited in the days of Noah, during the building of the ark, in which a few, that is, eight persons, were saved through water. Baptism, which corresponds to this, now saves you, not as a removal of dirt from the body but as an appeal to God for a clear conscience, through the resurrection of Jesus Christ,
Acts 22:16 And now why do you wait? Rise and be baptized, and wash away your sins, calling on his name.'
Romans 6:3-4 Or don't you know that all of us who were baptized into Christ Jesus were baptized into his death? We were therefore buried with him through baptism into death in order that, just as Christ was raised from the dead through the glory of the Father, we too may live a new life. (cf. Romans 8:11, 1 Cor 15:20-23, Col 2:11-13)
1 Corinthians 6:11 And such were some of you. But you were washed, you were sanctified, you were justified in the name of the Lord Jesus Christ and in the Spirit of our God.
Mark 16:16 He who believes and is baptized will be saved; but he who does not believe will be condemned.
Paul seems to imply an organic connection between baptism (washed), sanctification and justification. 
Titus 3:5 he saved us, not because of deeds done by us in righteousness, but in virtue of his own mercy, by the washing of regeneration and renewal in the Holy Spirit,
Compare this to John 3:5:
Jesus answered, "I tell you the truth, unless a man is born of water and of the Spirit, he cannot enter the kingdom of God. (cf. 3:3: "unless a man is born again …")
The two passages are almost exactly parallel: 
Titus: "saved" / John: "enter the kingdom of God"
Titus: "washing of rebirth" / John: "born of water"
Titus: "renewal by the Holy Spirit" / John: "born . . . of the Spirit"
* * *
The connection between the Eucharist and eternal life is equally clear, I think: 
John 6:48-51 I am the bread of life. Your fathers ate the manna in the wilderness, and they died. This is the bread which comes down from heaven, that a man may eat of it and not die. I am the living bread which came down from heaven; if any one eats of this bread, he will live for ever; and the bread which I shall give for the life of the world is my flesh."
John 6:53-58 So Jesus said to them, "Truly, truly, I say to you, unless you eat the flesh of the Son of man and drink his blood, you have no life in you; he who eats my flesh and drinks my blood has eternal life, and I will raise him up at the last day. For my flesh is food indeed, and my blood is drink indeed. He who eats my flesh and drinks my blood abides in me, and I in him. As the living Father sent me, and I live because of the Father, so he who eats me will live because of me. This is the bread which came down from heaven, not such as the fathers ate and died; he who eats this bread will live for ever."
Some questions have arisen from Protestants as to the relationship of these eucharistic passages to other criteria for salvation.