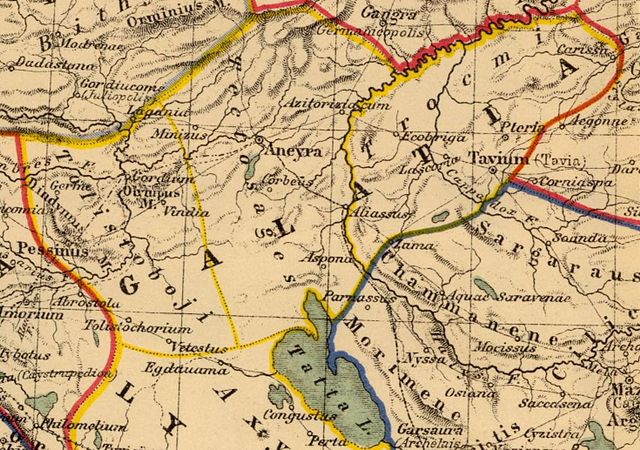 1903 German map of the Galatian region (in present-day Turkey)
 [public domain / 
Wikimedia Commons
]
* * * * *
(12-20-11)
St. Paul is our model of behavior (Gal 4:12; Phil 3:17; 4:9; 2 Thess 3:7-9). He, in turn, imitates Christ (1 Cor 11:1; 1 Thess 1:6).
The example of the Galatian congregation proves that Christians can be tremendous hypocrites and sinners. It's nothing new and will always be with us, because Christianity is a very difficult path.
The Apostle Paul on the Galatians as Miserable Sinners
Galatians 1:6 (RSV) "I am astonished that you are so quickly deserting him who called you in the grace of Christ and turning to a different gospel"
Galatians 3:1-3 "O foolish Galatians! Who has bewitched you, before whose eyes Jesus Christ was publicly portrayed as crucified? [2] Let me ask you only this: Did you receive the Spirit by works of the law, or by hearing with faith? [3] Are you so foolish? Having begun with the Spirit, are you now ending with the flesh?"
Galatians 4:9b ". . . how can you turn back again to the weak and beggarly elemental spirits, whose slaves you want to be once more?"
Galatians 5:4 "You are severed from Christ, you who would be justified by the law; you have fallen away from grace."
Galatians 5:7 "You were running well; who hindered you from obeying the truth?"
The Apostle Paul on the Galatians as Fellow Christians
Galatians 1:2 "To the churches of Galatia"
Galatians 1:11 "For I would have you know, brethren, . . ."
Galatians 3:25-27 "But now that faith has come, we are no longer under a custodian; [26] for in Christ Jesus you are all sons of God, through faith. [27] For as many of you as were baptized into Christ have put on Christ."
Galatians 4:4-7 "But when the time had fully come, God sent forth his Son, born of woman, born under the law, [5] to redeem those who were under the law, so that we might receive adoption as sons. [6] And because you are sons, God has sent the Spirit of his Son into our hearts, crying, "Abba! Father!" [7] So through God you are no longer a slave but a son, and if a son then an heir."
Galatians 4:9a "but now that you have come to know God, or rather to be known by God, . . ."
Galatians 4:12 "Brethren, I beseech you, become as I am, for I also have become as you are. You did me no wrong"
Galatians 4:19 "My little children, . . ."
Galatians 4:28 "Now we, brethren, like Isaac, are children of promise."
Galatians 4:31 "So, brethren, we are not children of the slave but of the free woman."
Galatians 5:1 "For freedom Christ has set us free; stand fast therefore, and do not submit again to a yoke of slavery."
Galatians 6:1 "Brethren, . . ."
Galatians 6:18 "The grace of our Lord Jesus Christ be with your spirit, brethren. Amen."
There are similar dynamics with the Corinthian church as well.
Our Lord Jesus also calls all seven assemblies of Revelation "churches" (2:1; 2:8; 2:12; 2:18; 3:1; 3:7; 3:14; along with the repetition of "what the Spirit says to the churches" in 2:7 and similar passages), yet excoriates several of them in no uncertain terms (2:4-5; 2:14-16; 2:20-22; 3:1-3; 3:15-18). ***