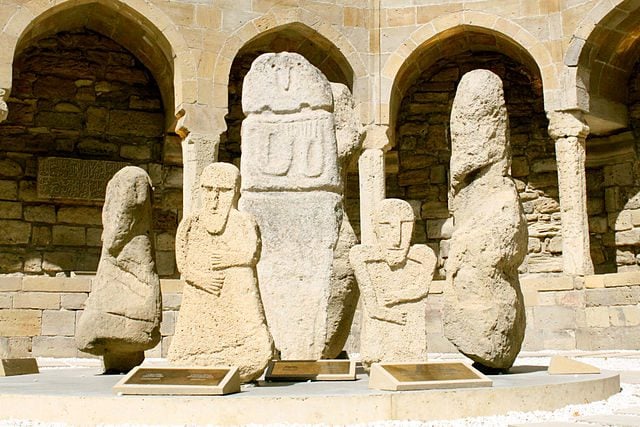 Not all idols are made of stone. Ancient idols in Azerbaijan. Photo by Urek Meniashvili (9-15-13) [Wikimedia Commons / Creative Commons Attribution-Share Alike 3.0 Unported license]
* * * * *
God help those who worship [the] TLM and God bless those who worship God through it.
— Dan Burke, Executive Director at EWTN
[on Dr. Taylor Marshall's FB page]
The first is rank idolatry and the second is being a good Catholic with a perfectly permissible and laudatory liturgical preference. To rework a bit a saying of our Lord Jesus (in illustration of the same principle, by analogy): "The TLM was made for man, not man for the TLM" (see Mark 2:27).
The contrast of the statement is clearly between those who put anything above God, and those who place God highest.
"TLM" = Traditional Latin Mass or Tridentine Mass or the extraordinary form.
It works the same the other way, too: "God help those who worship the Novus Ordo (and/or bash the TLM) and God bless those who worship God through it."
It's like bibliolatry, too. Folks put the Bible above God at times; forget the very reason for it.
* * * * *
Note: For those unfamiliar with my own worship practices, I have attended a Novus Ordo Latin Mass in my parish for almost 25 years (receiving on the tongue, kneeling). My larger parish cluster offers the Tridentine Mass weekly, and I will be attending it in my home church at Midnight Mass on Christmas day. I was in favor of widespread availability of the TLM from the beginning of my conversion in 1990: 17 years before Pope Benedict XVI made it universally available, or permissible.
I have nothing against the Tridentine Mass whatsoever, but I know from experience that I have to make this sort of disclaimer if I utter the slightest criticism of excesses among legitimate mainstream traditionalists and radical Catholic reactionaries. Note that I also included Novus Ordo worshipers in my criticism. Any Catholic is capable of committing idolatry.