. . . Persecuted by English Royalty, Anglicans, & Cromwellians: 1565-1713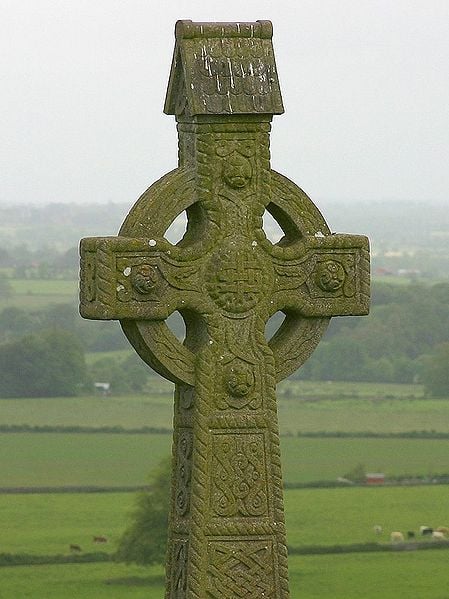 High Cross at the Rock of Cashel (County Tipperary). Photograph by Jon Sullivan (15 June 2002)
* * *
*
[ adding the 269 Irish martyrs during the reign of Butcher Henry VIII, we arrive at a grand total of 713 documented Irish martyrs and confessors ]
*
Total of all documented martyrs and heroic confessors for the Catholic faith, persecuted by English "head of the Church" royalty and its minions, in four papers of mine:
1375
*
* * * * *
Conacius Macuarta (Conn McCourt) Franciscan. Flogged to death in Armagh, 16 December 1565, for refusing to acknowledge the queen's supremacy.
Franciscan. Flogged to death in Armagh, 16 December, 1565, for refusing to acknowledge the queen's supremacy.
Franciscan. Hanged on 21 January, 1575 in Downpatrick.
Franciscan. Hanged on 21 January, 1575 in Downpatrick.
Franciscan. Hanged on 21 January, 1575 in Downpatrick.
Edmund MacDonnell (or, O'Donnell)
Jesuit priest. Died on 16 March 1575 in Cork.
Franciscan guardian, Armagh — hanged, 28 April 1575, with his own girdle.
Born c. 1512. Bishop of Meath (Cistercian). When Queen Elizabeth introduced a Protestant liturgy into Ireland, Walsh resisted strenuously in Convocatio, and preached at Trim against the Book of Common Prayer. On 4 Feb., 1560, he refused the oath of supremacy, was deprived of his temporalities, and by the Queen's order committed to custody and was later committed to Dublin Castle in July 1565, in a dark and filthy cell. At Christmas, 1572, his friends contrived his escape to Nantes in Brittany. After six months of destitution he was aided by the nuncio in France to proceed to Spain. He reached Alcalá almost moribund through privations, fatigues. Afterwards he removed to the Cistercian convent and died on 4 January 1577, among his former brethren, esteemed a martyr to the Faith.
Vicar-general at Kinsale. Hanged on 30 March 1577.

David Hurley
Dean of Emly — died in prison in 1578.
Dean of Cork — taken in the exercise of his functions and executed in 1578.
Franciscan priest. Refused to reveal a confession, put to death at Elphin by having his skull compressed with a twisted cord, in 1579.
Bishop of Ross. Consecrated about 1560, he was one of three Irish bishops attending the Council of Trent. He incurred such persecution through enforcing its decrees that he fled with his chaplain to a little island, but was betrayed to Perrot, President of Munster, who sent him in chains to the Tower of London. Simultaneously with Primate Creagh, he was confined until released after about three years and seven months on the security of Cormac MacCarthy, Lord of Muskery. Intending to retire to Belgium, ill health contracted in prison induced him to return to Ireland. He was apprehended at Dublin, but released on exhibiting his discharge, and proceeded to Muskery under MacCarthy's protection. Disliking the lavishness of that nobleman's house, he withdrew to a small farm and lived in great austerity. Relieving distress to the utmost of his power he made a visitation of his diocese yearly, and on great festivals officiated and preached in a neighbouring church. Thus, though afflicted with dropsy, he lived until his sixtieth (or seventieth) year, dying exhausted by labours and sufferings, in 1579.
Franciscans. Hanged, drawn, and quartered at Limerick, 1 January 1579. The bystanders reported that his head when cut off distinctly uttered the words: "Lord, show me Thy ways."
Born c. 1526. Bishop of Cork and Cloyne, Ireland, 1574-1579. In May, 1575, he set out for Ireland with exceptional faculties for his own diocese and for those of Cashel, Dublin, and its suffragan sees in the absence of their respective prelates. Not long after his reaching Ireland he was captured while exercising his functions at Clonmel, and was thrown into prison; here, as Holing tells, he was visited by a schismatical bishop whom he reconciled to the Church. A few days later he was himself released through the influence of a noble earl. Thereafter he did not venture into his own diocese but as commissary-Apostolic he traversed the other districts assigned him, administering the sacraments and discharging in secret the other duties of his office. Four years he laboured thus in continual peril and distress, and at length succumbed to his privations and fatigues in the Diocese of Ossory, 4 June, 1579. Bruodin states that he died in Dublin Castle after eighteen months of imprisonment and cruel torture.
Blessed Patrick O'Healey (or, O'Healy, or Pádraig Ó Héilí)
Born c. 1545. Bishop of Mayo (Franciscan). Denied the royal supremacy, replying that he could not barter his faith for life or honours; his business was to do a bishop's part in advancing religion and saving souls. To questions about the plans of the pope and the King of Spain for invading Ireland he made no answer, and thereupon was delivered to torture. As he still remained silent, he was sent to instant execution by martial law. The execution by hanging took place outside one of the gates of Kilmallock, on 22 August 1579.
Blessed Cornelius (Or, Conn) O'Rourke
Franciscan priest. Tortured and hanged in Kilmallock, on 22 August 1579.
Prior at the Cistercian monastery of Graeg
Killed in 1580.
Daniel O'Neilan (or, O'Duillian)
Franciscan priest. Fastened round the waist with a rope and thrown with weights tied to his feet from one of town-gates at Youghal, finally fastened to a mill-wheel and torn to pieces, 28 March 1580.
Daniel Hanrichan
Maurice O'Scanlan
Philip O'Shee (O'Lee)
Franciscan priests. Beaten with sticks and slain, 6 April 1580, before the altar of Lislachtin monastery, Co. Kerry.
Priest. Tortured and hanged, 11 November 1580, after the surrender of Dun-an-oir in Kerry.
Gentleman. Tortured and hanged, 11 November 1580, after the surrender of Dun-an-oir in Kerry.
Englishman. Tortured and hanged, 11 November 1580, after the surrender of Dun-an-oir in Kerry.
John Clinch
John Eustace
Thomas Eustace
Robert Fitzgerald
Walter Lakin (or, Layrmus)
Matthew Lamport
Thomas Netherfield (or, Netterville)
Nicholas Nugent (Chief Justice)
David Sutton
Robert Sherlock
John Sutton
William Wogan
Executed on a charge of complicity in rebellion with Lord Baltinglass, in 1581.
Priest, Ferns Diocese. Died in prison in 1581.
Blessed Patrick Cavanaugh (or, Cavanagh, or, Pádraigh Caomhánach)
Blessed Edward Cheevers
Blessed Robert Meyler (or, Tyler)
Blessed Matthew Lambert
John O'Lahy
Anonymous Sailor
Matthew Lambert was a Wexford baker who had arranged with five sailor acquaintances to provide safe passage by ship out of Wexford for Viscount Baltinglass and his Jesuit chaplain Robert Rochford when English troops were pursuing them after the fall of the Second Desmond Rebellion (1579-83). The authorities heard of the plan beforehand and Matthew was arrested together with his five sailor friends. Thrown into prison, they were questioned about politics and religion. Lambert's reply was: "I am not a learned man. I am unable to debate with you, but I can tell you this, 'I am a Catholic and I believe whatever our Holy Mother the Catholic Church believes.'" They were found guilty of treason and hanged, drawn, and quartered in Wexford on 5 July 1581.
Cistercian. Hanged, drawn, and quartered, September 1581 at Dublin.
He secretly took Holy Orders. His servant, who was aware of the fact, told his father, who had his son immediately arrested and imprisoned in Dublin and put on trial for high treason. During his imprisonment Adam Loftus, Protestant Archbishop of Dublin, offered him his daughter in marriage, and a large dowry if he would accept the reformed religion. Yielding neither to the bribery nor persecution, Eustace was sentenced to public execution, and hanged, in November 1581.
Henry O'Fremlamhaidh (anglicized Frawley)
Died in 1582.
Thaddæus O'Meran (or O'Morachue)
Franciscan. Guardian of Enniscorthy. Died in 1582.
Priest. Died, 20 January 1582, in prison at Worcester.
Cahill McGoran
Peter McQuillan
Roger O'Donnellan
Patrick O'Kenna
James Pillan
Franciscan priests. Died on or near 13 February 1582, Dublin Castle.
Franciscan lay brother. Died on or near 13 February 1582, Dublin Castle.
Henry Delahoyde
Phelim O'Hara (or, O'Corra)
Franciscans of Moyne, Co. Mayo. Hanged and quartered, 1 May 1582.
Parish priest of Killatra (Killasser, Co. Mayo). Slain by soldiers while saying Mass, 4 May 1582.
Parish priest of Coleraine. Hanged and transfixed with swords, 12 June 1582, at the altar of his church.
Blessed Margaret Birmingham Ball
Born in 1515. When she was fifteen years old Margaret married Alderman Bartholomew Ball of Ballrothery. Margaret had ten children. Her husband was elected Mayor of Dublin in 1553, making Margaret the Mayoress. She had a comfortable life with a large household and many servants, and she was recognised for organising classes for the children of local Irish families in her own home.
Margaret's eldest son, Walter Ball, embraced the "new religion" and was appointed Commissioner for Ecclesiastical Causes in 1577. Margaret was disappointed with her son's change of faith and tried to change his mind. On one occasion, she told him that she had a "special friend" for him to meet. Walter arrived early with a company of soldiers, and found that the "special friend" was Dermot O'Hurley, Archbishop of Cashel. He was celebrating Mass with the family. Walter had his mother arrested and locked in the dungeons of Dublin Castle.
When the family protested, Walter declared that his mother should have been executed, but he had spared her. She would be allowed to go free if she "Took the Oath", which probably referred to the Oath of Supremacy. Her second son, Nicholas, who supported her, was elected Mayor of Dublin in 1582. However, Walter was still Commissioner for Ecclesiastical Causes, which was a crown appointment. He outranked Nicholas and kept him from securing the release of their mother. Nicholas visited her daily, bringing her food, clothing, and candles.
Margaret died in 1584 at the age of sixty-nine, which was an advanced age at the time. She was crippled with arthritis and had lived for three years in the cold, wet dungeon of Dublin Castle with no natural light. Margaret had lived in the dungeon when she could have returned to a life of comfort at any time by simply "taking the oath." Although she could have altered her will, she still bequeathed her property to Walter upon her death.
Franciscan priest. Trampled to death by cavalry in 1584.
Blessed Dermond (or, Dermot) O'Hurley
Born c. 1530. Archbishop of Cashel. He was committed to Dublin Castle in October, 1583 and tortured. Early in March, 1584, the archbishop's legs were thrust into boots filled with oil and salt, beneath which a fire was kindled. Some groans of agony were wrung from the victim, and he cried aloud, "Jesus, son of David, have mercy on me!," but rejected every proposal to abandon his religion. Ultimately he swooned away, and fearing his death, the torturers removed him; as the boots were pulled off, the flesh was stripped from his bones. In this condition he was returned to prison. Queen Elizabeth approved of the torture, and execution by martial law. He was secretly taken out at dawn, and hanged with a withe on the gibbet near St. Stephen's Green, Dublin, on 20 June, 1584. He spoke to the crowds before he was killed:
Be it therefore known unto you . . . that I am a priest anointed and also a Bishop, although unworthy of so sacred dignities, and no cause could they find against me that might in the least deserve the pains of death, but merely for my function of priesthood wherein they have proceeded against me in all points cruelly contrary to their own laws . . . and I do enjoin you (dear Christian brethren) to manifest the same to the world and also to bear witness on the Day of Judgment of my Innocent death, which I endure for my function and profession of the most holy Catholic Faith.
Died on 15 September 1584, near Listowel.
Gelasius (or, Glaisne) O'Cullenan
Cistercian Abbot of Boyle. Tortured and hanged on 21 November 1584 at Dublin.
Eugene Cronius (or Hugh or John Mulcheran, or Eoghan O'Maoilchiarain)
Either Abbot of Trinity Island, Co. Roscommon, or a secular priest. Tortured and hanged on, 21 November 1584, at Dublin.
Blessed Maurice Kenraghty(or, McKenraghty)
Priest. In September, 1583, he was handed over to the Earl of Ormond. By Ormond's command he was chained to one Patrick Grant, and sent to prison at Clonmel. Here he lay in irons, exhorting, instructing, and hearing confessions at his prison grate until April, 1585. His jailer was then bribed by Victor White, a leading townsman, to release the priest for one night to say Mass and administer the Paschal Communion in White's house. The jailer secretly warned the President of Munster to take this opportunity to capture most of the neighbouring recusants (those refusing to take the Oath of Supremacy) at Mass. In the morning an armed force surrounded the house, arrested White and others, seized the sacred vessels, and looked for the priest everywhere. He had hidden under straw at the first alarm, and, though wounded when the heap was probed, ultimately escaped to the woods. Learning, however, that White's life could only be saved by his (Kenraghty's) surrender, he gave himself up, and was at once tried by martial law. Pardon and preferment were offered him if he agreed to conform, but he resolutely maintained the Catholic faith and the pope's authority, and was hanged as a traitor at Clonmel on 20 April 1585. His head was set up in the market-place.
Patrick O'Connor, Cistercian
Malachy O'Kelly, Cistercian
Hanged and quartered, 19 May 1585, at Boyle.
Bishop of Emly. Died in prison at Dublin in 1586.
Donagh O'Murheely (or, O'Murthuile, wrongly identified with O'Hurley) and Companion
Franciscans. Stoned and tortured to death at Muckross, Killarney in 1586.
Franciscan of Askeaton. Died in 1587.
Franciscan of Askeaton. Hanged with his own girdle in 1587.
Native of Wexford, executed at Galway in 1588.
Patrick O'Brady, Franciscan Prior at Monaghan, and Six Friars
Killed in 1588 by soldiers.
Dermot O'Mulrony (Franciscan priest)
Brother Thomas (Franciscan)
Franciscan of Galbally, Co. Limerick
Put to death in Limerick on 21 March 1588.
Guardian of Donegal, slain there, 13 April 1588, by soldiers.
Knight. Hanged and quartered, 6 May 1588, Dublin.
Diocese of Ferns. Tortured, hanged, and quartered, 4 October, 1588.
Geoffrey Farrell
John O'Molloy
Cornelius O'Dogherty
Franciscan priests. Hanged, drawn, and quartered, 15 December 1588, at Abbeyleix.
Layman. ied on 13 December 1590, under torture, Newgate, London.
Franciscan priest. Died on 6 March 1590, at Kilcrea.
Terence Magennis
Magnus O'Fredliney (or O'Todhry)
Loughlin og Mac O'Cadha (or, Mac Eochadha, Keogh)
Franciscans of Multifarnham. Died in prison in 1591.
Priest, Limerick. Died in Dublin Castle in 1594.
Priest, Dublin province. Hanged and quartered, 4 September 1597, for saying Mass.
Vicar-General of Ossory. Died in prison in 1599.
Vicar-General of Dublin. Died in prison at Chester in 1600.
Priest, died in Dublin Castle in 1600.
He was a merchant of Drogheda, Ireland. In the summer of 1598, when returning from France, his ship was driven by stress of weather onto the coast of Devonshire, and he was arrested by William Bourchier, Earl of Bath, who had him under examination. Dowdall publicly avowed that he rejected the queen's supremacy, and only recognized that of the Roman pontiff. The earl forwarded the examination to Sir Robert Cecil, and had Dowdall committed to Exeter jail. Whilst in prison he was tortured and put to the rack, but continued unchanged in his fidelity to the ancient faith. He was hanged, drawn, and quartered at Exeter, England, 20 September, 1600.
Shipowner of Wexford and layman, charged with aiding bishops, priests, and others. Died in prison on 4 December 1600 (possibly after at least twenty years of incarceration).
Clerk. Hanged and disembowelled in Cork, in 1601.
Dean of Ardagh and Vicar-General of Dublin. Having his thighs broken by soldiers, died in prison, Dublin, in 1601.
Bishop of Derry. Slain by soldiers, 15 March 1601, near Dungiven.
Vicar-General of Killaloe. Died of torture, 24 April 1601, Dublin Castle.
Priest. Died on 15 May 1601, in prison.
Two priests and seven novices of Limerick and Kilmallock, assembled in 1602 with forty Benedictine, Cistercian, and other monks, at Scattery Island in the Shannon to be deported under safe conduct in a man-of-war, were cast overboard at sea.
Born in 1566. Ordained as a Jesuit in 1589. After the Battle of Kinsale he retreated with O'Sullivan Beare to Dunboy Castle in west Cork, where after a siege he was captured, bribed to change his religion and tortured. No effort was spared in the attempt to break Dominic's resolution. We are told that he was savagely tortured, though the form of torture is not mentioned. He was promised rich rewards and high ecclesiastical office if he would accept the doctrines of Anglicanism. Ministers of religion were sent to persuade him of the error of his beliefs. Even some of his own family visited him, urging him to save his life by pretending a conversion which he could afterwards repudiate. He was in his middle thirties with much to live for. But he rejected all the offers, and chose a martyr's death.

Taken to his hometown of Youghal on 31st October 1602, he was marched by a troop of soldiers through the streets to the place of execution. It was the first time he had seen his home town in fifteen years. He wore the black gown of his order, which he had desired so long and loved so greatly. He knelt at the foot of the gallows and greeted it joyfully: "Hail, holy cross, so long desired by me!" Then he addressed the crowd in a mixture of Spanish, Irish and English, telling them that he had come to Ireland to defend the faith of the Holy Roman Church, which was the one true path to salvation and for which he was about to die. He was so cheerful that an English officer remarked, "He is going to his death as eagerly as I would go to a banquet". Dominic overheard him and replied, "For this cause I would be willing to die not once but a thousand deaths".

His words and demeanour so touched the crowd that the hangman refused to do his work. The soldiers eventually seized on a passer-by, a poor fisherman, and forced him to accept the office. He asked the victim for forgiveness, which Dominic gladly granted before mounting the ladder with the rope around his neck. Reciting a psalm, he had just reached the words "Into your hands I commend my spirit", when the fisherman pulled away the ladder; and so he died. In his life and in his death he remains one of the most attractive and lovable of all the Irish martyrs.

The following Dominicans suffered under Elizabeth (1558-1603), but the dates are uncertain:
Father MacFerge, prior of Coleraine
24 friars of Coleraine,
32 members of the community of Derry, slain there the same night.
Abbot of the Cistercians of Assaroe, Ballyshannon — slain there by soldiers in 1606.
Prior of the Cistercians of Assaroe, Ballyshannon — slain there by soldiers in 1606.
Priest. Executed by martial law, Good Friday, 1606.
From Brittas, County Limerick. Rescued and defended with arms a priest seized by soldiers, and so was executed at Limerick, 20 December 1606.
Franciscan. Tortured at Limerick and died as a result in 1607.
Franciscan priest. Apprehended saying Mass in Drogheda, and died in prison in 1607.
Franciscan, priest. Hanged, drawn, and quartered at Lifford in 1607.
Dominican. Hanged at Derry in 1607.
Franciscan. Beheaded or hanged, 15 January 1607, Co. Tyrone.
Dominican prior of Derry. Hanged and quartered there in 1608.
Priest, Ferns Diocese. Hanged and quartered, 12 November 1610, Dublin.
Blessed Cornelius (or, Conor) O'Devany (or, Conchobhar O'Duibheannaigh)
Born c. 1532. Franciscan Bishop of Down and Connor. In 1588 he was committed to Dublin Castle. Failing to convict him of any crime punishable with death, Lord Deputy Fitzwilliam sought authority from Burghley to "be rid of such an obstinate enemy of God and so rank a traitor to her Majesty as no doubt he is". He lay in prison until November, 1590, being then released ostensibly on his own petition but doubtless through policy. He was protected by O'Neill until 1607, and escaped arrest until the middle of 1611, when, almost eighty years old, he was taken while administering confirmation and again committed to Dublin Castle. On 28 January, 1612, he was tried for high treason, found guilty by the majority of a packed jury, and sentenced to die.
He was drawn on a cart from the Castle to the gallows beyond the river on 1 February 1612, in Dublin; the whole route was crowded with Catholics lamenting and begging his blessing. Protestant clergymen pestered him with ministrations and urged him to confess he died for treason. "Pray let me be", he answered, "the viceroy's messenger to me here present, could tell that I might have life and revenue for going once to that temple", pointing to a tower opposite.
On reaching the top step of the scaffold the bishop prayed aloud for all who were present. He prayed for the Catholics of Dublin and of Ireland, urging them to persevere in their faith. He prayed for all heretics and for their reunion with the Church and he forgave his persecutors. He kissed the hangman's rope, placed it around his neck, drew the veil over his face and held out his hands to be tied.
It was at this moment that an event occurred which was recorded by almost all the sources and evidently was remembered by all the witnesses. The sky had been dark and overcast all that day. Now as the sun was setting the clouds parted and the scaffold was bathed in the red glow of the setting sun. While the bishop hung on the gallows the clouds closed over again. After the bishop had been hanged the executioner cut off his head and held it up with the customary cry: 'Look on the head of a traitor'.
Blessed Patrick O'Lochran (or, Loughran, or, Pádraig Ó Lochráin)
Born c. 1577. Priest, Cork Diocese. Hanged, drawn, and quartered, on 1 February 1612, Dublin.
William McGillacunny (MacGiolla Coinigh)
Dominican. Executed at Coleraine in 1614.
Michael Fitzsimon, layman
Conn O'Kiennan
Hanged, drawn, and quartered in 1615.
Lewis O'Laverty
Priest, hanged, drawn, and quartered, 1615.
Franciscan priest. Died in prison, 12 July 1617, Dublin.
John MacConnan (or, John Oonan, or Conan)
Priest, executed by martial law, Dublin, 1618.
Franciscan priest. Tortured, hanged, and quartered, 14 October 1618, Dublin.
Born c. 1550 in Swords, County Dublin, he was elected Dublin's mayor in 1595. Later he was imprisoned for his Catholic faith, and died in the Castle on 29 January 1621, after seven years of refusing to accept his freedom by giving up his religion.
Cistercian. Hanged and quartered, 6 September 1621.
Bishop of Down and Connor — died, 2 November 1628, Dublin Castle.
Franciscan, priest. Put to death by Protestants, 13 November 1631, at Benesabe, Bohemia.
Put to death by Protestants, 13 November 1631, at Benesabe, Bohemia.
Dominican priest. Hanged, drawn, and quartered, 27 November 1633, Tyburn.
Jesuit priest. Shot, 31 May 1639, by the Swedish army near Guttenberg, Bohemia.
Priest. Died in 1642.
Dominican lay brother. Died in 1642.
Dominican priest. Shot while hearing confessions on the battlefield, in 1642.
Franciscan. Guardian at Cork — tortured and hanged, regaining consciousness, he was again hanged with his girdle, in 1642.
Dominican prior at Mullingar — shot while hearing confessions on the battlefield, in 1642.
Priests, Waterford Diocese — put to death, March 1642, at Dungarvan.
Blessed Peter O'Higgin (or, Higgins)
Born 1600. Ordained as a Dominican before 1627. During the Rebellion of 1641 when the Irish Ulstermen came south of the Boyne, the Catholic Lords of the Pale opted to join them while the Governor of Dublin, Sir Charles Coote, opted for a policy of "exterminate all Catholics". Law and order collapsed and plunder became a daily occurrence. Both Protestant landowners and even Catholics known to be government supporters were looted by the rebels.

Peter Higgins as Prior of Naas made efforts to restrain the violent and sheltered the homeless. He intervened to save the Protestant rector of Donadea, William Pillsworth, who was about to be put to the gallows by Catholics and upbraided the Catholics for their unchristian behaviour. In January 1642 the Earl of Ormond mobilised a Protestant force in Dublin to strike back at Catholics. Among those taken into custody was Peter Higgins, who in fact did not resist arrest, knowing he had done so much to save and protect Protestants and that he was innocent of any crime. Ormond tried to intervene on Higgins's behalf presenting petitions from at least twenty Protestants who had known Higgins urging that the priest's life be spared. But Ormond was amazed when on the morning of 23rd March 1642 he heard that Higgins's body was hanging from a gallows in Dublin; Sir Charles Coote had executed him without trial. At the gallows Higgins was offered a chance to deny his faith, but declined saying: "I die a Catholic and a Dominican priest. I forgive from my heart all who have conspired to bring about my death. Deo gratias." Among the crowd stood William Pillsworth, rector of Donadea. He cried out: "This man is innocent, this man is innocent. He saved my life." His words fell on deaf ears. The soldiers hacked his body to pieces so that it could not be given an honourable burial.
O.D.C. Hanged, 4 May 1642, Newry.
Cistercian priest. Hanged, 4 May 1642, Newry.
Priest, O.D.C., hanged, 6 July 1642, Drogheda.
Hanged on board ship in the Shannon, by parliamentarians, October 1642.
Franciscan. Hanged on board ship in the Shannon, by parliamentarians, October 1642.
Lay brother, O.D.C. Died in 1643.
Christopher Ultan (or, Donlevy)
Franciscan priest. Died in Newgate prison, London, 1644.
Cornelius O'Connor Eugene O'Daly
O.SS.T. — drowned at sea by a Parliamentarian commander, 11 January 1644.
Dominican priest. Died in 1645.
Hugh MacMahon, layman, and Conor Maguire, Baron of Enniskillen — executed for complicity in the outbreak of the Confederate War, 1645.
Priest, O.S.A. — executed by Parliamentarians after the battle of Sligo in 1645.
Priest — hanged at Rathconnell, Co. Meath, 1645.
Cistercian priest. Slain in July 1645, near Clones, by Parliamentarians.
Malachy O'Queely (Maolsheachlainn O Cadhla)
Archbishop of Tuam; executed at Ballipodare, 27 October, 1645.
At the storming of the Rock of Cashel by Inchiquin, 15 September 1647, Richard Barry, priest, O.P., William Boyton, priest, S.J., Richard Butler, priest, O.S.F., James Saul, lay brother, O.S.F., Elizabeth Carney, Sister Margaret, a Dominican tertiary, Theobald Stapleton, priest, Edward Stapleton, priest, Thomas Morrissey and many others, priests and women, were slain in the church.
Gerald FitzGibbon, cleric, and David Fox, lay brother at Kilmallock, Dominic O'Neaghten, lay brother, Roscommon, Peter Costello, priest, sub-prior, Straid, Co. Mayo, all Dominicans; Andrew Hickey, priest, O.S.F. — hanged near Adare in 1648.
Dominic Dillon, Dominican prior at Urlar
Bernard Horumley (or, Gormley), Franciscan priest
Richard Oveton, Dominican prior at Athy
Peter Taaffe, O.S.A., prior at Drogheda
John Vath, Jesuit priest
Thomas Vath, secular priest
Slain in Drogheda massacre, 1649.
Didacus Cheevers, lay Franciscan
John Esmond, priest
Joseph Rochford, lay Franciscan
Peter Stafford, priest
Raymund Stafford, priest
Paul Synnott, priest
Slain in Wexford massacre, 1649.
William Lynch
Dominican priest. Hanged in 1649.
James O'Reilly
Dominican priest. Slain near Clonmel in 1649.
Robert Netterville
Jesuit priest. Died at Drogheda, 19 June 1649, of a severe beating with sticks.
Franciscan, priest. Hanged at Gowran in 1650 by the Cromwellians.
Walter de Wallis
Franciscan priest. Hanged at Mullingar in 1650.
John Dormer
Franciscan. Died in prison, Dublin, 1650.
Boetius Egan
Franciscan Bishop of Ross, celebrated for exhorting the garrison of Carrigadrehid Castle to maintain their post against Broghill — dismembered and hanged in 1650.
Francis Fitzgerald
Franciscan priest. Hanged, Cork, 1650.
Miler Magrath (Father Michael of the Rosary)
Dominican priest. Hanged at Clonmel in 1650.
Antony Musæus (or, Hussey)
Franciscan priest. Hanged at Mullingar in 1650.
Thomas Plunkett, Eugene O'Teman, and Twelve Other Franciscans.
Flogged and cut to pieces by soldiers in 1650.
Nicholas Ugan (or, Ulagan)
Franciscan. Hanged with his girdle, 1650.
Dominicans: John Wolfe, priest, hanged, Limerick; John O'Cuilin (Collins), priest, beheaded; William O'Connor, prior at Clonmel, beheaded, and Thomas O'Higgin, priest, hanged, Clonmel; Bernard O'Ferrall, priest, slain, his brother Laurence O'Ferrall, priest, hanged, Longford; Vincent Gerald Dillon, chaplain to Irish troops in England, died in prison, York; Ambrose Æneas O'Cahill, priest, cut to pieces by cavalry, Cork; Donagh Dubh (Black) and James Moran, lay brothers; all in 1651.
Franciscans: Denis O'Neilan, priest, hanged, Inchicronan, Co. Clare; Thaddæus O'Carrighy, priest, hanged near Ennis; Hugh McKeon, priest, died in prison, Athlone; Roger de Mara (MacNamara), priest, shot and hanged, Clare Castle; Daniel Clanchy and Jeremiah O'Nerehiny (Nerny), lay brothers, Quin, hanged; Philip Flasberry, hanged near Dublin; Francis Sullivan, priest, shot in a cave, Co. Kerry, December; William Hickey, priest, hanged; all in 1651.
Laymen: Louis O'Farrall, died in prison, Athlone; Charles O'Dowd, hanged; Donagh O'Brien, burned alive; Sir Patrick Purcell, Sir Geoffrey Galway, Thomas Strich, mayor, Dominic Fanning, ex-mayor, Daniel O'Higgin, hanged after surrender of Limerick; Henry O'Neill, Theobald de Burgo; all in 1651.
Blessed Terence Albert O'Brien
Born in 1600 or 1601. Dominican Bishop of Emly. During the Irish Confederate Wars, like most Irish Catholics, he sided with Confederate Ireland. The bishop would treat the wounded and support Confederate soldiers throughout the conflict. O'Brien would sign the declaration against Inchiquin's truce in 1648, and the declaration against Ormond in 1650. In 1651 Limerick was invaded and O'Brien urged a resistance that infuriated the Ormondists and Parliamentarians. Following surrender he was denied quarter and protection. Major General Purcell, Father Wolf and O'Brien were brought before a court martial and ordered for execution by General Henry Ireton; carried out on 31 October 1651. As he went to the gallows, he spoke to the people: "Do not weep for me, but pray that being firm and unbroken in this torment of death, I may happily finish my course." After his death by strangulation his body was left hanging for three hours and treated with indignity by the soldiers. They cut off his head and spiked it on the river gate where it remained fresh and incorrupt.
Bernard Fitzpatrick
Ossory Diocese. Died in 1652.
Hugh Garrighy
Roger Ormilius (or, Gormley)
Secular priests. Hanged, Co. Clare, 1652.
Cornelius MacCarthy
Died in Co. Kerry in 1652.
Anthony Broder, deacon
Sliabh Luachra
Eugene O'Cahan, guardian at Ennis
Bonaventure de Burgo
Nielan Locheran, priest
Franciscans hanged in 1652 (first three near Tuam; last two at Derry).
Edmund O'Bern, Dominican priest
Anthony O'Ferrall, priest, Tulsk
John O'Ferrall;
Beheaded after torture, Jamestown, 1652.
Edmund Butler, Dublin
Brigid D'Arcy
Bernard McBriody
Thaddæus O'Connor Sligo, Boyle
John O'Conor Kerry, Tralee
Thaddæus O'Conor of Bealnamelly in Connaught
Conn O'Rorke
Laymen hanged in 1652.
Dominicans: Thaddæus Moriarty, prior at Tralee, hanged, Killarney; Bernard O'Kelly, priest or lay brother, Galway; David Roche, priest, sold into slavery, St. Kitts; Honoria Burke and her maid, Honoria Magan, tertiaries, Burrishoole; Daniel Delany, P.P., Arklow, hanged, Gorey; all in 1653.
Born 1619. Ordained a priest in 1642 after his studies in Louvain, he was captured on his return to Ireland, but managed to escape. He ministered as a priest first in Cashel and later in Waterford. In 1653 he was captured again, taken to Clonmel and charged with functioning as a priest in defiance of the law. Witnesses testified that he had celebrated and administered the sacraments. He was hanged on 11th March 1653.
Augustinians: Donagh O'Kennedy, Donagh Serenan, Fulgentius Jordan, Raymund O'Malley, John Tullis, and Thomas Deir, at Cork; all in 1654.
Bernard Conney, O.S.F., died in Galway jail
Mary Roche, Viscountess Fermoy, Cork
Died in 1654.
Born 1608. Augustinian priest. He returned to Ireland in 1641, and in 1649 was chosen as Prior (local superior) of the Augustinian house in Skreen. This was the same year that marked the beginning of the Cromwellian conquest of Ireland. A law was enacted on January 6, 1653 declaring that any Roman Catholic priest in Ireland was guilty of treason. Tirry was forced into hiding alongside other priests, but was captured when three men reported his whereabouts for money. William was imprisoned at Clonmel and refused to adopt the Protestant religion. He was executed by hanging on May 12, 1654. An account told by a friar who had been tried with William supplies some details of the day: "William, wearing his Augustinian habit, was led to the gallows praying the rosary. He blessed the crowd which had gathered, pardoned his betrayers and affirmed his faith. It was a moving moment for Catholics and Protestants alike." Many miracles were reported after this death.
Luke Bergin, Cistercian
James Murchu
Daniel O'Brien, dean of Ferns
Hanged on 14 April 1655.
Raymund O'Moore
Dominican priest. Died in 1665 in Dublin.
Felix O'Conor
Dominican priest. Died in 1679 in Sligo.
Gerald Fitzgibbon
Dominican priest. Died in 1691 in Listowel.
Born 1629. Archbishop of Dublin. After harrassment and arrest following the defeat of the Jacobite army at the Boyne, died in a filthy underground prison in Dublin in 1692.
John O'Murrough
Dominican priest. Died in 1695 in Cork.
Donchus O'Falvey (or, Daniel Falvey)
Priest or friar, at Kerry in 1703.
Clement O'Colgan
Dominican priest. Died in 1704 in Derry.
Daniel McDonnell
Dominican priest. Died in 1707 in Galway.
Felix McDowell
Dominican priest. Died in 1707 in Dublin.
James O'Hegarty
Priest, Died in the Derry Diocese around 1711.
Dominic McEgan
Dominican priest. Died in 1713 in Dublin.
Forty Cistercians of Monasternenagh, Co. Limerick
Dominicans: John O'Loughlin, and Two Others, at Kilmallock.
Franciscans: James Chevers, James Roche, John Mocleus (or, Mockler), Daniel O'Boyle
Thomas Fleming, layman
Dermot MacCarrha (MacCarthy), priest
John O'Grady, priest
Daniel O'Hanan, layman, died in prison.
Further Irish Martyr and Confessor Resources
Irish Catholic Martyrs (Wikipedia)
The Irish Martyrs (CatholicIreland.Net)
Chapters towards a History of Ireland in the Reign of Elizabeth (book by Philip O'Sullivan Beare)
The Martyrs of Ireland (four DVDs from Bob and Penny Lord)
Irish Martyrs (New Catholic Dictionary: long listing of names)
Lives of the Irish Martyrs and Confessors (book by Myles O'Reilly)