+ Trump's Ten Policy Points & Analysis of Catholics & the Democrat Party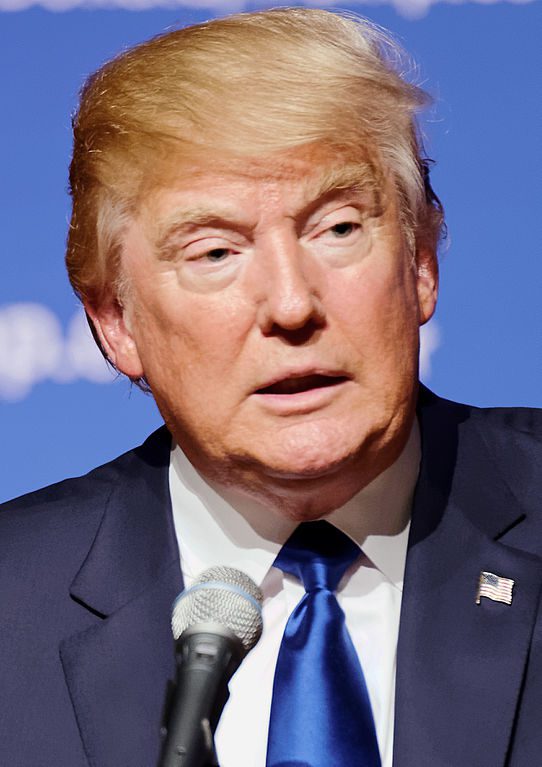 Donald Trump at a New Hampshire Town Hall on 19 August 2015 at Pinkerton Academy in Derry, NH. Photograph by Michael Vadon [Wikimedia Commons /  Creative Commons Attribution-Share Alike 2.0 Generic license]
[originally published on 1-6-16]
* * * * *
This is taken from exchanges on my Facebook page today. Dr. Edwin Tait is a friend who is an Anglican Church historian, very favorable to Catholicism. I asked him to describe his political position but he wouldn't say. We know he doesn't care much for Trump. His words will be in blue; words of two others will be in green and purple. The discussion was spawned by my posting of an article entitled, "Trump on the Path of Reagan," by Craig Shirley, on the PoliZette website. My introductory comment was the following:
I'm always impressed by analogical arguments. Trump isn't my favorite GOP candidate (that would be Cruz), and he's not a canonized saint, but he would do just fine and is a billion times better than Hillary. If any of the GOP candidates becomes President (I like them all, to varying degrees) and we keep a Republican Senate and House, we're in a new world, and have a golden opportunity to actually get some good things done and get rid of bad stuff (IRS, Obamacare, appeasement, pro-abort laws, etc.).
Comments that are mere insults against Trump (or any of the candidates) will be deleted. I want rational, thoughtful argument, not preaching and sloganism.
* * * * *
Well, there's not much to respond to, here or in other pro-Trump puff pieces, because people never seem to get around to making a substantive argument for Trump. The best I can see here is that he's allegedly a "convert" to "conservatism," defined as "personal freedom, personal ethics." Pretty thin.
***
But I said substantive, not tactical. What does Trump stand for that is true and good and should make virtuous people want to vote for him?
***
The main points of Trump's stated policy goals are entirely in line with conservatism:
***
1. Defeat ISIS.
2. Stop illegal immigration.
3. Get the economy rolling again.
4. Address trade inequalities.
5. Defund Planned Parenthood.
6. Tax reform.
7. Build up the military, which has been dangerously reduced to pre-WWII levels.
8. Take real steps to help disabled veterans.
9. Repeal Obamacare.
10. Start reducing the ridiculous mountain of debt and producing responsible government budgets.
***
I fail to see how these things will destroy conservatism or bring down the GOP, as the alarmists are all hysterically yelling about. It's true that a President Trump might very well disappoint us, as most do, but at least what he is saying is essentially conservative.
***
These are mostly things that the other candidates agree with, but GOP voters seem to think that Trump will actually do them and not just talk the talk, which is what we have been getting from the GOP: all talk and no action. This is Trump's fundamental appeal: it is believed that he can do this stuff and has the will to do it, and is not a pawn of the power brokers and rich folks (being one himself) and the lobbyists. Period.
***
Thanks for that very substantive answer. I can always count on you, Dave, to be clear and substantial even when I passionately disagree with what you are clearly and substantially saying. :-)  In your last comment, though, you admit that these aren't policy differences between Trump and other candidates. Rather, you say, many people are confident that Trump will really do these things. (I won't get into whether I think the things themselves are good–I would have to respond point by point, since I have varying reactions to different points, and I won't take the time to do that here.) By saying that, you are necessarily making the question one of character. That's why your prohibition against ad hominem attacks on Trump makes real discussion impossible. Because the main reason a lot of people differ with you is that their estimate of Trump's character does not give them much confidence on that score.
You misunderstand. I said I didn't want "mere insults . . . preaching and sloganism." There is such a thing as a "rational, thoughtful" constructive criticism. One could say, e.g., that Trump used to be a Democrat (like Reagan was), or that he used to be pro-abortion (as Reagan and Old Man Bush were) or that he is rich (as all candidates always are) or that he has been married more than once (as Reagan alone among all Presidents was).
Ad hominem
is merely attacking the person
rather 
than making a rational argument. Pointing out simple facts about a person's life or voting record is not
ad hominem
. Saying something like: "Trump is just a big-mouthed reality show clown who hates women and Mexicans and Muslims" is an
ad hominem
attack. I said I wouldn't allow that, not only against Trump but against
any
GOP candidate.
***
Well, for me it's his constant pattern of flamboyant opportunism; the crude and off-the-cuff way he attacks anyone who disagrees with him; the choice of what I consider to be vicious rhetorical tropes like "making America great again" and "winning" understood as if every foreign policy decision was a zero-sum competition; and, yes, the history of not-so-conservative positions in the past. The last isn't the real killer–it's combined with the pattern of behavior that leads many people (including me) to think that he's more interested in selling a personal brand than in anything else, and just isn't a trustworthy person.
*
1. All politicians are extremely ambitious opportunists (Abraham Lincoln perhaps the most of anyone ever).
***
2. His personal attacks are petty, crude, and childish. Most people agree on that point, even his supporters or near-supporters (like myself). So the man has some obvious faults. Who among us will cast the first stone as if we have none?
***
3. All politicians engage in rhetoric. Some are better and more substantive at it than others. I think Trump is average, as far as that goes. No one had more truly empty, contentless rhetoric than Obama did in 2008.
***
4. Switching positions is not necessarily a dealbreaker at all. I've already mentioned Reagan and Bush. Clinton, Gore, and Jesse Jackson; even Teddy Kennedy were all at one point pro-life, and they switched on a dime due to political necessity. Jackson used to even talk about abortion being genocide against African-Americans. Sometimes people can legitimately change their opinions (like me going from Protestant to Catholic or ultra-liberal politically at one time to a distributist conservative). Sometimes they do without principle. The thing is to determine which thing has happened in particular cases.
***
5. The rhetoric of "America's best days are yet to come" is now bipartisan. I don't see that Trump's "I will make America great again" or "we never win anymore" are essentially different at all from the other related sentiment. It's standard politician-talk. If we discount Trump because of it, virtually every other politician I've ever seen would have to go with him.
***
You may disagree with some of the ten policy points that Trump is talking about, but do you agree that they are perfectly consistent with mainstream political conservatism?This is where I think the alarmist, hysterical opposition to him from the GOP establishment is silly. They show that they are not so much against Trump as they are against conservative ideas themselves.
***
Yes, I agree. But I don't think that the GOP establishment are opposed to these policy points so much as they don't think Trump is a candidate who can carry those policies to victory in a general election, or execute them responsibly should he win.
We have nothing to lose. The standard politicians have been making all sorts of promises and have kept little or none of them. The GOP congressmen ran in 2014 on repealing Obamacare and defunding Planned Parenthood, etc. They've done nothing about it, even refusing to use the constitutional power of the purse.So the reasoning this year is to get a non-politician in there (like George Washington; a surveyor, planter, and soldier before becoming President); maybe he'll actually do something for a change. It's perfectly rational decision-making. Hardly anyone trusts politicians; so let's try a very successful businessman and see how good he does.The myth is that Trump can't possibly win the general election. Right; just like they said about Reagan in 1980. It's showing up in polls that he is drawing many Democrats, even Hispanics and blacks, and women. So this is a myth.Like the more moderate candidates got the black vote? Folks like McCain and Romney?
*
But I have no interest in defending the GOP establishment. 
Where the line between personality and policy gets really tricky for me is that some of the points you raise are slogans that nearly anyone would agree with. For instance, I think everyone wants to defeat ISIS. But some folks are more worried about the prospect of "not doing anything" and some folks (including me) are more worried about the prospect of doing wicked and in the long term horrifically counter-productive things in the name of defeating ISIS–even possibly damaging the basic structure of the American Republic in the name of victory, as nations have been known to do before. And there, again, one can't get away from the question of character. For instance, I find John McCain's foreign policy positions far too hawkish. But I trust McCain as a public figure. His actions in public life seem to me to have been generally motivated by a concern for the common good. So in 2008 I was fairly happy with the idea of McCain running American foreign policy, because I thought that he would do so more competently than Bush had done. I'm not sure I'd say that now. But given Trump's public persona, I don't trust for one second that he would act prudently or morally in his efforts to "defeat ISIS." I have every reason to think that he would be a lot more interested in looking tough than in serving the common good.
***
That's exactly, of course, what was said about Reagan before he was elected: he was a wild warmongering cowboy. Of course, we were involved in no wars (besides the Cold War) during his two terms — unless we count the swift defeat of Grenada — and he proved himself a masterful diplomat and negotiator with Gorbachev (who actually grew to truly admire him).Moreover, when W [George W. Bush] went to war, the big-name Dems supported it (Hillary, Gore, Kerry, etc.). It's only after-the-fact that they are now saying they opposed that war. Ironically, it is Trump who opposed the War in Iraq from the get-go. But ISIS is an existential threat to civilization that folks of all political persuasions are rapidly agreeing needs to be defeated, and soon. A few more terrorist attacks on our soil will cement that.
***
And Trump will be seen as decisive again, because he's been calling for bombing the hell out of them. I've been saying that for well over a year, ever since I heard that they were raping women en masse, selling them into sexual slavery, beheading everyone who disagrees with them, and destroying entire Christian communities in Iraq and Syria. That is because I am a Catholic Christian who cares about all people, first and foremost [not just "American security interests"], not because I am supposedly some knee-jerk "warmongering conservative hawk." If I see a bunch of women being raped and other people tortured and beheaded, simply for being a Christian or a Muslim not in favor of ISIS, I want to do something about it. I'm weird that way, I guess.But some people are slow. Trump seems to me altogether decisive. He has a spine, and is utterly unafraid of the PC police. He's no one's puppet because he needs no financial support. This makes him immensely appealing to conservatives, too, because all they see is so-called conservatives caving in on everything and being scared to death of Dem policies and rhetoric. Conservatives (at least those who are politicians) have a widespread inferiority complex and we need not at all.
*
(McCain, I think, might actually have been a very good president in terms of foreign policy, because he didn't need to prove anything in terms of toughness.) Sorry for the long-winded digression, but I'm trying to explain why so many Trump opponents attack him personally. He seems to be running on his personality, and his personality is the main difference between him and the other candidates.
* * *
Rolf Wagner: 
My issue with Trump, is not the man himself, but what I can only believe is the bitterness among his supporters that seems to be propelling his candidacy. If my perception is correct, I'm not at all convinced that the fruit of this bitterness is actually what will end up being good for the nation. I'm actually amazed that he can keep getting away with sweeping broad generalizations about what he will do and not actually provide a substantive roadmap for us about how he wll accomplish these things. Will it be another president that operates with only a phone and a pen?
***
Is there not such a thing as righteous indignation in a political sense? Folks were utterly disgusted with what Carter's policies did to the nation by 1980. That helped elect Reagan.Once we get our guy in (i.e., whoever the GOP nominee is), the bitterness can stop and we can start actually passing some laws that help people and the country. The anger is but a means to an end: GOP leadership and a new start.
* * *
Tim Malloy: 
Catholics are a puzzlement. Pro choice Catholic Senators Kerry, Biden, Daschle, Harkin, Breaux, Landrieu and Toricelli all voted for the Iraq war despite the objections of Pope JP II. Then Sen Kerry ran for President in 2004 and won with Catholic support. Kerry, Biden, Harkin were re-elected with Catholic support. Kerry and Biden are at the pinnacles of power in the US government. Another Catholic Kathleen Sibelius concocted the birth control mandate as Sec of HHS. Even if Trump is a racist, who are Catholics to throw stones?
***
1. Catholics were traditionally Democrats, for various reasons (many being immigrants, being pro-labor, pro-the "little guy" which was FDR's schtick, JFK, RFK). The Republicans were traditionally Northern, old money, establishment, Protestant.
***
2. They stuck with the Democrats despite almost all of them now and all presidential candidates being pro-abort. Catholics are massively inconsistent just as many other human groups are.
***
3. Evangelicals have had a much better pro-life and conservative voting record than Catholics. But then they are the cream of the crop among Protestants, whereas Catholics are one big huge diverse group, which includes many millions of heterodox Catholics and ignorant voters (unaware of the issues involved, period).
***
4. It's always the temptation to be "more Democrat than Catholic" / "more American than Catholic" (the Americanist heresy) etc.
*
5. Most people conform to group or familial opinions. Catholics are no different. So because they have been traditionally Democrat, the majority continue to do so, even though today's Democrats are vastly different, and favor views diametrically opposed to Catholic positions. The Democrat Party of JFK and JFK's own positions were far closer to the current GOP than to the current Democrat Party. But millions seem unaware of that.
***
6. Most Catholics, like most Christians, period, inconsistently apply their religious views (insofar as they exist in vigor and knowledge at all) to all of life. So they believe and do many things that are completely contradictory, over against their ostensible religious view. They have a woefully self-contradictory and divided worldview.
***
7. If you narrow down surveys to Catholics who, e.g., "believe everything the Church teaches" or who attend Mass every Sunday, or pray every day, or who are happily married to one person, or who are pro-life, etc. these are overwhelmingly GOP or conservative in political / ethical views.
***
Thanks. I understand what you are saying. Catholics like most groups are manipulated by politicians. So then let us not throw stones at Trump and Cruz supporters who are also manipulated by politicians and charlatans. Let us not question their motivations. Can Catholics say they are fools? I say no.
I've tried to explain why it is perfectly rational for a conservative to believe that Trump is at least as good an option as the others this election year, and in conformity with conservative policy positions.
I'm not manipulated or controlled by anybody. I'm my own man: a self-employed distributist orthodox Catholic conservative. 
* * *