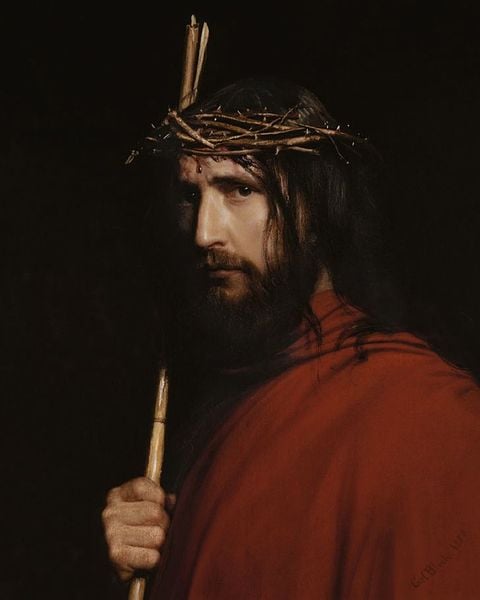 Christ with Thorns, by Carl Heinrich Bloch (1834-1890)
[public domain /
Wikimedia Commons
]
* * * * *
* * *
Matthew 10:38 / 16:24 [RSV] And he who does not take his cross and follow me is not worthy of me.

Then Jesus told his disciples, "If any man would come after me, let him deny himself and take up his cross and follow me."

(see also Mark 8:34-35)
The disciple of Christ is called to suffer (Matthew 10:22; Mark 10:37-39; Luke 6:22; Acts 14:22; Romans 5:3-5; 2 Corinthians 12:7-10; Philippians 1:29; 1 Thessalonians 3:3; 2 Timothy 1:8; 2:3; 3:12; Hebrews 5:8; James 1:2-4, 12; 1 Peter 1:6-7; 2:20-21; 4:12-19; Revelation 1:9).
No biblically informed Christian would dispute that. Controversy only arises over whether such sufferings can improve one's estate vis-a-vis salvation, or help anyone else in the Body of Christ. Catholics believe that all our sufferings can be a source of grace for the one experiencing them as well as helpful with regard to the spiritual graces of another (Romans 15:1, 1 Corinthians 12:24-26), to whom these penitential sufferings are applied (as in intercessory prayer), thus giving suffering the highest possible purpose and meaning.
Furthermore, the painful experience of being corrected by God, as parents discipline their children (Leviticus 26:23-24; Deuteronomy 8:2, 5; 2 Samuel 7:14; Job 5:17-18; Psalm 89:30-34; 94:12; 103:9; 118:18; 119:67, 71, 75; Proverbs 3:11-12; Isaiah 48:10; Jeremiah 10:24; 30:11; 31:18; Zechariah 13:9; Malachi 3:3; 1 Corinthians 11:32; Hebrews 12:5-11; Revelation 3:19), is quite similar to the Catholic notion of temporal punishments for sin, which can be lessened by penance.
St. Paul explicitly expounds the Catholic doctrine of penance, suffering, and vicarious atonement in the following sixteen passages:
Romans 8:13, 17 For if you live according to the flesh you will die, but if by the Spirit you put to death the deeds of the body you will live . . . and if children, then heirs, heirs of God and fellow heirs with Christ, provided we suffer with him in order that we may also be glorified with him.

(see also 1 Corinthians 15:31; 2 Corinthians 6:9; 1 Peter 4:1, 13)

1 Corinthians 11:27, 30 Whoever, therefore, eats the bread or drinks the cup of the Lord in an unworthy manner will be guilty of profaning the body and blood of the Lord . . . That is why many of you are weak and ill, and some have died.

(see also 11:31-32; 1 Corinthians 5:5)

2 Corinthians 4:10 Always carrying in the body the death of Jesus, so that the life of Jesus may also be manifested in our bodies.

(see also 2 Corinthians 1:5-7)

Philippians 2:17 Even if I am to be poured out as a libation upon the sacrificial offering of your faith, I am glad and rejoice with you all.

(see also 2 Corinthians 6:4-10)

Philippians 3:10 That I may know him and the power of his resurrection, and may share his sufferings, becoming like him in his death.

(see also Galatians 2:20)

2 Timothy 4:6 For I am already on the point of being sacrificed; the time of my departure has come.

(see also Romans 12:1)
In this verse and in Philippians 2:17, the Greek word for libation and sacrifice is spendomai. In the Septuagint, the Greek translation of the Old Testament which was the Bible of the early Christians, this term is used for a variety of offerings and sacrifices commanded by the Mosaic Law (for example, Genesis 35:14; Exodus 29:12, 38 ff.; Leviticus 4:7 ff.; 23:37).
Most intriguing is its occurrence with reference to the Messiah, Jesus, in Isaiah 53:12: . . . he poured out his soul to death . . . It appears, then, that St. Paul is stressing a mystical, profound identification with Jesus even in His death (as also in 2 Corinthians 4:10 and Philippians 3:10 above).
This comparison leads inexorably to the Catholic doctrine of vicarious atonement among members of the Body of Christ. In some mysterious, glorious way God chooses to involve us in the very Redemption (always in a secondary and derivative sense, but actual nonetheless), just as He voluntarily involves us in His Providence by means of prayer and evangelism, and in His Creation by our procreation and childbirth.
Our sufferings become identified with those of Christ (instances of the stigmata, whereby saintly persons — such as St. Francis of Assisi — actually receive the wounds of Christ in their bodies, are an extremely graphic image of this scriptural teaching).
Since we are the Body of Christ (1 Corinthians 12:27; Ephesians 1:22-23; 5:30; Colossians 1:24 below), such a "radical" convergence is not to be unexpected. For instance, when St. Paul was converted to Christ, Jesus said to him, I am Jesus, whom you are persecuting (Acts 9:5). This couldn't literally refer to Jesus the Divine Person since He had already ascended to heaven (Acts 1:9-11). Rather, Jesus meant that Christ's Church really was His Body, whom Paul (Saul) was persecuting (Acts 8:1, 3; 9:1-2).
Jesus also identifies the Church with Himself in Matthew 25:34-45 (25:40 — brethren. Compare Matthew 12:50; 28:10; John 20:17). Thus, Jesus' sufferings are ours, and ours are His in a very real sense, as St. Paul unmistakably teaches, particularly and most strikingly in Colossians 1:24:
Colossians 1:24 Now I rejoice in my sufferings for your sake, and in my flesh I complete what is lacking in Christ's afflictions for the sake of his body, that is, the church.

(see also 2 Corinthians 11:23-30; Galatians 6:17)
***
Catholics believe that all our suffering can be a source of grace and helpful with regard to the spiritual graces of another (Rom 15:1, 1 Cor 12:24-26).