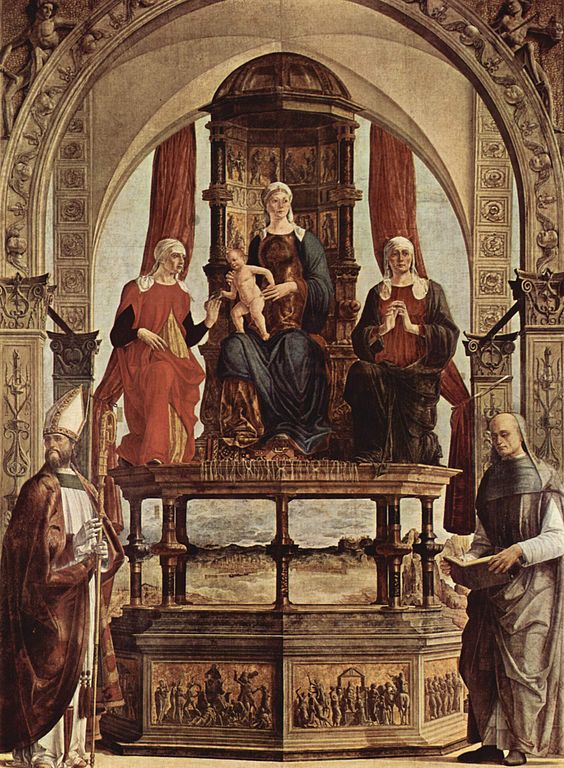 Sts. Mary, St. Augustine, St. Anne, St. Elizabeth, and St. Peter Damian (1481), by Ecole de' Roberti (c. 1451-1496) [public domain / Wikimedia Commons]
***
From my book: Revelation!: 1001 Bible Answers to Theological Questions. Passages in KJV unless otherwise indicated.
*****
119. Veneration of Saints and Imitation of Holy Persons
119-1. Does St. Paul teach us to imitate him?
Philippians 4:8-9 Finally, brethren, whatever is true, whatever is honorable, whatever is just, whatever is pure, whatever is lovely, whatever is gracious, if there is any excellence, if there is anything worthy of praise, think about these things. [9] What you have learned and received and heard and seen in me, do; and the God of peace will be with you.
119-2. Does't this detract from worship of God, by competing with it?
1 Corinthians 11:1 (RSV) Be imitators [KJV, followers] of me, as I am of Christ.
119-3. So St. Paul sees no contradiction between imitating Him and imitating Jesus?
1 Thessalonians 1:6-7 (RSV) And you became imitators of us and of the Lord, for you received the word in much affliction, with joy inspired by the Holy Spirit; [7] so that you became an example to all the believers in Macedo'nia and in Acha'ia.
119-4. Are we taught to venerate and imitate saints of the past?
Hebrews 6:12 That ye be not slothful, but followers of them who through faith and patience inherit the promises.
119-5. Is there any example of honoring or venerating a person after his or her death?
2 Chronicles 32:33 And Hezekiah slept with his fathers, and they buried him in the chiefest of the sepulchres of the sons of David: and all Judah and the inhabitants of Jerusalem did him honour at his death. And Manasseh his son reigned in his stead.
119-6. Do we ever observe the permissible veneration of a living person?
1 Chronicles 29:20 Then David said to all the assembly, "Bless the LORD your God." And all the assembly blessed the LORD, the God of their fathers, and bowed their heads, and worshiped [shachah] the LORD, and did obeisance [shachah] to the king. [KJV: "worshipped the LORD, and the king"]
*****
Meta Description: Contrary to what many Protestants assume, there is direct and indirect indication of honoring or venerating saints in the Bible.
Meta Keywords: communion of saints, honor, veneration, veneration of angels, Veneration of saints, imitation of saints, honoring of saints