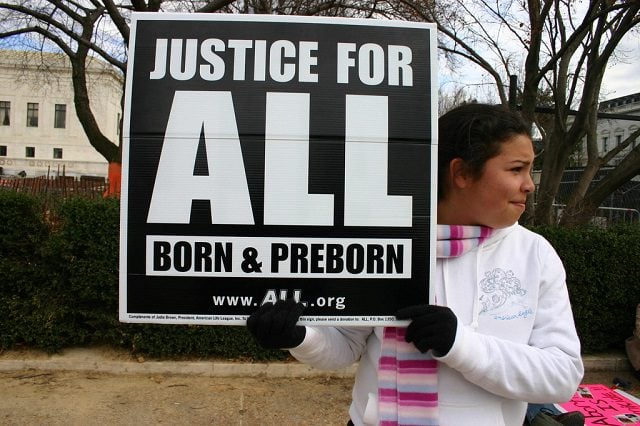 Pro-Life Sarasota Florida: 33rd March For Life. Photograph by Elvert Barnes (22 January 2006) [Flickr / CC BY 2.0 license]
***
[9-21-01]
***
[Excerpts from a much longer paper, written at the same time]
***
The most rebellious nations (by definition), and the most worthy of judgment, are the most Judaism- or Christianity-saturated nations. They are all the more accountable for their rebellion, just as ancient Israel became an abomination to God time and time again because she was given so much, and rejected it. We know from revelation that God clearly judges nations in direct proportion to how much moral truth they know and deliberately reject.
One might argue that mass media (now including the Internet), literacy, centuries of further development of moral and theological teaching, more awareness of the gospel and Christianity; more familiarity with its good fruits and blessings resulting therefrom; revivalism, stated belief, and any number of additional factors would be criteria for determining which countries today might possibly be "ripe" for judgment, having rejected so much true knowledge of the faith and of God and His teachings and moral laws. It is the contrast or relationship between how much of Christianity a nation knows and has rejected, which is the key factor, and what that nation has done or permitted (legally or otherwise) since having rejected it as a culture.
Better for a nation to not even claim to be Christian than to pretend it is while, for example, slaughtering babies by the millions, or sanctioning legally and culturally a host of sexual sins and other sins not harmonious with traditional Christianity. To whom much is given, much is required. This is utterly obvious, given God's treatment of His own chosen people, the Jews, throughout history. They knew much more than the Gentiles, so God judged them accordingly. The presence of many good things in a nation would not necessarily comprise any sort of disproof of this opinion. The very fact of undeniable and great amounts of good supports the contention that a nation has been especially blessed by God's grace (for where else does good come from?). That nations fall so low despite that is their indictment, much like ancient Israel.
Our Lord reasoned precisely in this way, in condemning Chorazin and Bethsaida and Capernaum, in relation to Tyre and Sidon (Luke 10:13-15). There, the idea is that the former places knew more; therefore they were more culpable for rebellion: . . for if the mighty works done in you had been done in Tyre and Sidon . . . (10:13) In fact, our Lord mentions Sodom in contrast to those towns which reject the disciples' message, in Luke 10:12 (compare to Ezekiel, chapter 16, and Romans, chapters 1 and 2). All quite biblical, all quite divine, being from our Lord.
Matthew 12:40-42 For as Jonah was three days and three nights in the belly of the whale, so will the Son of man be three days and three nights in the heart of the earth. The men of Nin'eveh will arise at the judgment with this generation and condemn it; for they repented at the preaching of Jonah, and behold, something greater than Jonah is here. The queen of the South will arise at the judgment with this generation and condemn it; for she came from the ends of the earth to hear the wisdom of Solomon, and behold, something greater than Solomon is here.
Natural law is also binding on all persons and cultures. The key lies in Romans 1 and 2. Those two chapters refer specifically to individual culpability, rather than national. But they can also be applied by extension or analogy, to nations. It all depends on what one knows of God's law and/or natural law. All men have the potential for knowing how to act morally, in the main, even without revelation, and they are judged accordingly, as St. Paul explicitly informs us. So the following theoretical/philosophical scenario would apply, I think. I don't pretend to know how one would quantify degrees of sin in all particulars. That is for God to ultimately determine (in terms of both judgment and individual salvation), not men, but here is my scenario :
1. Nation X has "degree 99" of knowledge about revelation/Judaism/Christianity and has (institutionally, and in terms of societal norms) rejected 85% of it.

2. Nation Y has "degree 0" of knowledge about revelation/Judaism/Christianity – therefore it cannot reject it (insofar as revelation goes beyond the moral knowledge achievable through natural law).

3. Nation X has "degree 50" of the sins of abortion, materialism, oppression of the poor, racism, lack of piety, sexual sin, etc.

4. Nation Y also has "degree 50" of the sins of abortion, materialism, oppression of the poor, racism, lack of piety, sexual sin, etc.
Now which nation is more worthy of judgment? Clearly, Nation X, because it knew more, having received and accepted more of God's revelation, therefore incurring a higher culpability, than Nation Y, which received none. The sin and hypocrisy is proportionate to how much the nation knew and rejected. One can argue, of course, over degrees and culpability, as it is a largely subjective matter, but the bottom line principle of to whom much is given, much is required (Luke 12:48) stands, I think. The context of this saying of our Lord was the parable of the faithful and wise steward (Luke 12:41-48). Here is its conclusion: verses 47-48 (RSV):
And that servant who knew his master's will, but did not make ready or act according to his will, shall receive a severe beating. But he who did not know, and did what deserved a beating, shall receive a light beating. Every one to whom much is given, of him will much be required; and of him to whom men commit much they will demand the more.
The parable of the talents (Matthew 25:14-30) makes a very similar point. It is noteworthy that the servants received different amounts of talents: 5, 2, and 1, to each according to his ability (25:15). The servants with 2 and 5 talents multiplied them by the same amount (25:20,22), while the servant with one did nothing. He was damned (25:30), while the others were greeted with well done, good and faithful servant (25:21,23). So they were judged by what they did with what they had, just as those with and without the law are judged by what they know and (more importantly) do (Romans 2:12-16). James makes the same point in another fashion:
James 3:1 Let not many of you become teachers, my brethren, for you know that we who teach shall be judged with greater strictness.(cf. Romans 2:17-24)
Jesus echoes this same thought in his conversation with the Roman centurion, where he contrasts his strong faith with the spiritual hypocrisy of the disobedient among the Jews who knew more but who would be damned (Matthew 8:5-13; cf. 21:28-32). That said, I believe there could indeed be (and often have been) nations which were so exceedingly wicked, even never having received or accepted any significant knowledge of revelation (but still being responsible for moral law and conscience), that they are worse than a nation receiving revelation and rejecting part of it. So e.g., I would say that the ancient Aztecs, with their human sacrifice, were worse as a society than Rome in 430, or America in 1960, or even France in the throes of "Enlightenment" tyranny in 1795. No contest.
But once (particularly) the millions of slaughtered babies start adding up in so-called Christian countries, with legal and societal sanction ("all that is necessary for evil to triumph is for good men to do nothing" — Edmund Burke), then I say that the latter countries are far worse, according to Scripture, just as an individual who truly didn't know what abortion entailed, and had one, is far less guilty than one who committed this horrible sin, knowing full well what it was, and perhaps even knowing that it is utterly contrary to the Bible and Christianity.
One must think about these matters biblically, as opposed to being a fish wholly contained by the "aquarium" of their own culture and how it predominantly thinks; beholden to the currently fashionable zeitgeist. It is always an ongoing task for Christians to think "biblically" and "Christianly" in the midst of an overwhelmingly secular culture, whose influence affects us all. Oftentimes, unfortunately, people come from a perspective of sheer emotionalism or arbitrary opinion, rather than from a biblical worldview, with regard to this matter of when God might be construed as "judging" or "chastising."
That is quite understandable (as it is an unpleasant, frightening topic), but at the same time, it is the duty of the Christian apologist to explain and defend a biblical worldview, especially if it is being snickered at, attacked, and dismissed as of little import, or relegated to the sole domain of "fanatics" or so-called "fundamentalists." God doesn't change. He judged nations in the past; He still does today, and He will judge the entire world and everyone in it at the End of the Age.
Oftentimes in the Old Testament, the prophets would give a conditional prophecy: "If you act righteously you will win battle X with nation Y. But if you continue in your idolatries [substitute any serious sin], you will be defeated, and led away with hooks in your noses, [etc.]" So repentance was urged, without being thought of as a substitution for military action against enemies. Prophets (as I recall) didn't say very often, if at all, not to fight, but rather, to repent so that the battle would be successful. The evil nature of the enemy did not change, whatever Israel decided to do with regard to its own sins:
1 Samuel 12:15 but if you will not hearken to the voice of the LORD, but rebel against the commandment of the LORD, then the hand of the LORD will be against you and your king. (cf. 2 Chr 7:11-22)
Nations are as contradictory as every human being is: we are mixtures of radical good and radical evil, due to original sin, the world, the flesh, and the devil. Alexander Solzhenitsyn correctly noted: "the line between good and evil runs through every human heart." Nations are much the same. Many of the inhabitants of a country could be very righteous and perform many good works, but there is a common motif in the Old Testament, whereby God ceases to even acknowledge the goodness of spiritually or morally good, pious acts, if enough evil is tolerated that even the pious acts become overtly hypocritical.
Many Christians today apparently think that God no longer judges, or does in a fashion much different than what He did in the old covenant. This is simply false, for anyone who accepts the inspiration and infallibility of the Bible in toto. God doesn't change. The short answer to this is found in Jesus' words in His Sermon on the Mount:
Matthew 5:17 (RSV) Think not that I have come to abolish the law and the prophets; I have come not to abolish them but to fulfill them.
(cf. 5:18-20)
Revelation 19:11-16, which speaks of Jesus judging the nations at the end of the current age, should disabuse anyone of the "meek and mild Jesus" stereotype, which is thoroughly unbiblical.
Does God not love the countries He judges? Of course He does love them. Likewise, we can love our own country even while believing that it might be ripe for judgment, just as Jeremiah did, just as Jesus did as He wept over Jerusalem:
Matthew 23:37a, 38 O Jerusalem, Jerusalem, killing the prophets and stoning those who are sent to you! . . . . . Behold, your house is forsaken and desolate.
To deny that, one would have to believe that Jesus didn't love His country, the Chosen People of Israel, because He pointed out their grievous sins and predicted that their Temple would be destroyed within a generation. Jesus didn't often emphasize all the good things that had occurred in Jerusalem. He dwelt on the bad things (which is the function and purpose of preachers and prophets), thus causing (according to the fashionable psycho-babble of today) irreparable harm to their self-esteem. Jesus spoke of an Israel that featured prophet-killing, hardness of heart, money-making in the Temple, hyper-legalism, and nationalistic pride. As He said, He "came not for the righteous, but for sinners."
God judges. He has the power of life and death in His hands. Jesus implied that Israel was to be judged because of its disobedience. The Romans came and destroyed Jerusalem in 70 A.D. Now, according to the reasoning of some, it would then follow that Jesus must have positively willed this destruction, and that the Roman troops were therefore "good guys." But this simply doesn't follow. God doesn't positively decree evil. He cannot do so. Such a view is rank blasphemy. He merely uses it for His ends.
Evil is evil. How could God have used Judas to betray His own Son? How could He have devised the plan of redemption whereby the Crucifixion occurred at the hand of evil men? The Roman Emperor Nero was not exactly a Boy Scout troop leader. Plenty of Christians died under him, and this was God's plan, too, because martyrs' blood is the seed of the growth of the Church. The Assyrians or the Babylonians (or for that matter, the Nazis and Communists) are no less evil than any agents of judgment today that God might use (in the sense of passively permitting the evil they devise). God used all these stooges and buffoons as shadows in the "screen" of history, in His Providence.
People tend to see the situation they themselves are in as intrinsically different because they are in the midst of it, and often, still grieving and suffering from it. We should no more expect a people to see the overall picture of what may be happening to them, than we would expect Job to understand his sufferings while they happened, or the disciples to understand the Cross while it was happening. Job never was told why he suffered so much. He was told to trust God, who set the universe in motion, etc. All we can go by in such a matter is biblical revelation, example, and precedent.
Finally, it is almost inconceivable to imagine an official Catholic teaching, declaring that such-and-such an act against nation X or individual Y unquestionably constituted divine wrath, judgment, or chastisement. The Church doesn't even declare that any given individual is in hell (not even Judas). Catholics don't even believe in the absolute assurance of personal salvation, let alone thinking that we know for sure that God is judging in any particular context. In that sense, judgment is similar to the fulfillment of prophecy. As with the judgment of nations, it is a very tricky business indeed to determine if it is actually taking place in any given circumstance.
In any case, it is far more biblically correct to say that God still judges nations and to speculate (with all due self-reflection and willingness to repent) on which nations might be so liable, than to deny that God still does this (with little or no biblical basis) and to say it is illegitimate to talk about at all, simply because we can't achieve philosophical certainty of the highest order (which can't be attained in most fields of inquiry, anyway). Therefore, I think this line of thought leads to a rhetorical and philosophical dead-end.
I don't claim to understand why certain nations seemingly worthy of judgment have been spared (including my own). I can imagine, however, any number of reasons why they might be spared, in theory, in "God's mind." For example, they might be needed to judge other, more wicked nations, or someone might be born there who would cure cancer, or help cause a revival which would have far-reaching, positive consequences (a guy like John Wesley). Only God sees all things, and the whole of history, being out of time.
I'm simply trying to grapple with the biblical data and anomalies such as a country like ours — admirable in so many ways — which can live with 44 million deliberately-inflicted executions, while mourning, weeping and wailing and achieving extraordinary unity over some 7000 deliberately-inflicted executions.
The current casualties [from 9-11] are a mere 0.000159% of the legal deaths in America at the hand of abortionist "doctors." Yet we as a nation have a hundred, a thousand times more grief over that than we do about the mountains of dead babies, now over seven times as large as the number of Jews killed in the Nazi Holocaust. We look down our noses at the terrorists, who deny the "sanctity of life" (as if we don't, as a society). We despise Hitler, while we have murdered five, six, seven times more than he did (depending on how the casualties of WW II are figured in).
We are even approaching Mao's estimated 60 million murders of his own people. He killed his own without Christ and Christian revelation. We kill ours with those spiritual benefits. We even allow mothers to kill their own children. God help us. This is the sort of utter, abominable moral hypocrisy that I have been trying to point out. I know it is difficult to see, but it is undeniable.
We certainly can know what nations are particularly worthy of judgment, based on their sins. America is worthy, I have little or no doubt, based on legal abortion alone, as well as a host of other evils, including soon-to-be-institutionalized homosexuality (which reminds me just a wee bit of Sodom and Gomorrah).
Also, God may choose to exercise His mercy at any time, even if a nation is worthy of judgment. He did that with Israel repeatedly; so I believe He continues to do (as He does not change). Determining actuality, on the other hand, is a quite different proposition, due to the complexity of Providence and the place of evil in it. I think it is every bit as hard to determine as fulfilled prophecy, if not more so. Hypocrisy is surely a prominent motif in Scripture, for those who know more of revelation, and it is by no means confined to nations possessing revelation. God is not mocked. The scales will be made right in due course, whether in history or at the end of it. Nor do I accept the proposition made by some Christians that God no longer judges, and has changed somewhere in the period between the Old and New Testaments.
We are already far beyond worthiness for judgment, as far as I am concerned. What does it take (I ask anyone who denies this)? I haven't seen anyone who denies this possibility arguing as to how 44 million savage executions of children are somehow not serious enough to merit judgment. Would 100 million be? Would one billion? Or maybe blowing up the whole earth and killing 7 billion or whatever it is now? We rightly detest the evil of 6 million Jews being killed in the Holocaust . . . Obviously, little people are placed out of the category of people (even by many Jews, who ought to know better, one would think), just as blacks and Indians and Jews and other groups were placed historically. Otherwise, our culture wouldn't think in these radically contradictory and absurd terms.
I shall now re-state my "thesis on judgment" briefly and more precisely, and draw some additional distinctions which might be helpful to promote further discussion and thought on this issue:
1. Significant amounts of institutionalized evils or illegitimate, immoral social norms in a nation/society (whether "Christian" or pagan) render it worthy of judgment, according to biblical teaching.
Nations which possess relatively more revelation and reject it, will tend to be more spiritually hypocritical and rebellious in degree (thus more worthy of judgment, according to "to whom much is given, much is required") than nations not possessing revelation which also have institutionalized evil and illegitimate, immoral social norms, though there may be exceptions to the rule in the case of extraordinarily wicked nations which had never been Christianized or "Judaized."
2. Being worthy of judgment is determined by lack of adherence to biblical and natural law morality, whereas a possible scenario of being in fact judged by God cannot be determined with certainty, since many other factors with regard to Providence and the "timing" of God's actions must be taken into account, and man doesn't have enough information to render such a conclusion beyond all doubt (and no biblical information, excepting some extraordinarily clear prophecies).
3. Given #1 and #2, it is altogether permissible and proper to believe that it is plausible or possible that a given nation is in fact being judged or chastised, based on its disobedience to moral law and/or spiritual hypocrisy (which God clearly disapproves of in the strongest terms in Scripture).
4. Repentance on an individual level and in a corporate sense (e.g., as the Ninevites did in response to Jonah) is consistent with either an acceptance of moral failure, based on #1, or belief that judgment may in fact be taking place, as in #3, or both. Belief that judgment is indeed occurring (like a belief that the End of the Age or the Second Coming is near) often produces deep repentance among those in the society who are still spiritually "reachable." Even if that belief is mistaken, the repentance based wholly or in part on that belief is still a positive social good. And of course it is good (at all times) for a nation to examine itself and its laws and norms and moral teachings. History teaches us that this usually doesn't happen unless and until some serious calamity occurs.
Addendum: One might also possibly argue (I'm basically thinking out loud and exploring this notion) that since whole nations do not usually repent unless serious calamities occur (and/or revivals), that therefore, the presence of widespread repentance and self-examination might be taken as evidence (given what history teaches us) that indeed judgment or revival had occurred. The purpose of judgment (unless it is final) is to purify a nation, so increasing moral purity in turn might lead one to reasonably suspect that the judgment that usually produces it was present.
*****
Meta Description: Thesis that America is the wickedest nation of all time, precisely because we know so much better than to legalize heinous sins like abortion.
Meta Keywords: spiritual revival, radical secularism, post-Christian society, American morals, state of America, culture wars, God's judgment, judgment of nations, to whom much is given, God's moral laws, Sodom and Gomorrah