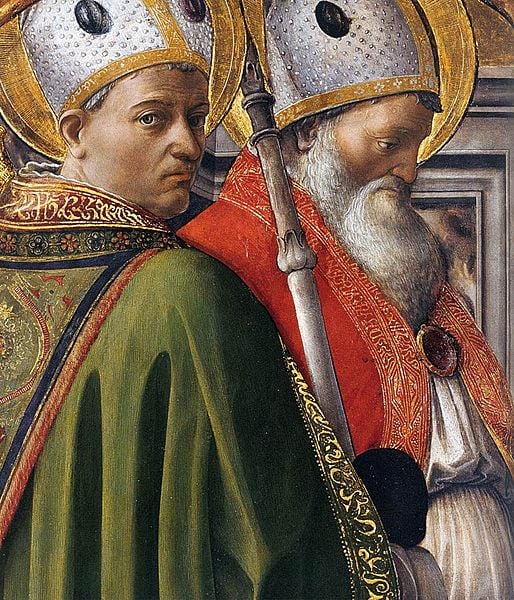 St. Augustine and St. Ambrose: detail (c. 1437), by Filippo Lippi (1406-1469)
[public domain /
Wikimedia Commons
]
***
(9-9-09)
*****
The Bible contains sufficient enough indication of apostolic succession (though probably not "explicit" enough by unbiblical sola Scriptura standards to convince most Protestants: what else is new?).
St. Paul appears to be passing his office along to Timothy (1 Tim 6:20; 2 Tim 1:6, 13-14, 2:1-2, 4:1-6). See, for example:
2 Timothy 2:1-2 (RSV) You then, my son, be strong in the grace that is in Christ Jesus, [2] and what you have heard from me before many witnesses entrust to faithful men who will be able to teach others also.
There are many indirect indications. When Jesus gives His disciples charge to do certain things, it is seen, by and large, by Protestants, as commands to their successors as well (perhaps not always apostolic succession per se, but at least succession as believers in Christ). So, for example, when Jesus tells His disciples to preach the gospel or to baptize, virtually all Christians today think that this applies to all Christians in perpetuity. Yet when Jesus tells the same disciples to "bind and loose" (Matt 18:18; Jn 20:23; also to St. Peter individually in Matt 16:19), somehow that is not seen as a thing that is perpetually relevant through history, and is relegated to their time only.
This makes no sense. For one to take such a position, they have to establish a solid reason why they regard one instance as perpetual and the other as temporary. I contend that it can't be done; that any such criterion would be completely arbitrary. Often, sadly, it comes down to merely a contra-Catholic mentality and rationale: "Catholics believe thus-and-so, and so we must oppose it, no matter what the Bible may state on the subject."
The "send" motif in Scripture is right to the point:
Luke 9:1-2 And he . . . gave them power and authority over all demons and to cure diseases, and he sent them out to preach the kingdom of God and to heal.

John 17:18 As thou didst send me into the world, so I have sent them into the world.

John 20:21 Jesus said to them again, "Peace be with you. As the Father has sent me, even so I send you."

Luke 10:1-3 After this the Lord appointed seventy others, and sent them on ahead of him, two by two, into every town and place where he himself was about to come. And he said to them, "The harvest is plentiful, but the laborers are few; pray therefore the Lord of the harvest to send out laborers into his harvest. Go your way; behold, I send you out as lambs in the midst of wolves."
The latter passages appears to imply that there are many others involved besides just the 70 (which is already an expansion upon the original twelve). This implies succession and perpetuity.
Acts 1:8 But you shall receive power when the Holy Spirit has come upon you; and you shall be my witnesses in Jerusalem and in all Judea and Sama'ria and to the end of the earth.
This is interesting in its implications. Who was Jesus talking to here? The earlier part of the chapter refers to "the apostles whom he had chosen. To them he presented himself alive after his passion by many proofs, appearing to them during forty days, and speaking of the kingdom of God" (1:2-3). He then encourages them to wait to receive the power of the Holy Spirit (1:4-5, 8). It's unclear how many people saw Jesus ascend to heaven (1:9-11).
*
The text then talks about the early Christians fellowshiping together; including "women and Mary the mother of Jesus, and with his brothers" (1:12-14). In the next verse the "brethren" are said to be "about a hundred and twenty" (1:15). Later in the chapter we see explicit proof of apostolic succession (as discussed in my linked paper above): Judas was replaced by Matthias (1:17-26), and an OT passage is cited: "His office let another take" (1:20).
But getting back to the "send" motif: Jesus "sends" His disciples and they in turn "send" others by means of the established practice of ordaining and calling men to ministry through the Church (by the laying on of hands). So, for example:
Acts 13:1-4 Now in the church at Antioch there were prophets and teachers, Barnabas, Simeon who was called Niger, Lucius of Cyre'ne, Man'a-en a member of the court of Herod the tetrarch, and Saul. While they were worshiping the Lord and fasting, the Holy Spirit said, "Set apart for me Barnabas and Saul for the work to which I have called them." Then after fasting and praying they laid their hands on them and sent them off. So, being sent out by the Holy Spirit, they went down to Seleu'cia; and from there they sailed to Cyprus.

Acts 15:22, 25 Then it seemed good to the apostles and the elders, with the whole church, to choose men from among them and send them to Antioch with Paul and Barnabas. They sent Judas called Barsab'bas, and Silas, leading men among the brethren, it has seemed good to us, having come to one accord, to choose men and send them to you with our beloved Barnabas and Paul,

Romans 10:15 And how can men preach unless they are sent? As it is written, "How beautiful are the feet of those who preach good news!"

1 Timothy 4:14-16 Do not neglect the gift you have, which was given you by prophetic utterance when the council of elders laid their hands upon you. Practice these duties, devote yourself to them, so that all may see your progress. Take heed to yourself and to your teaching; hold to that, for by so doing you will save both yourself and your hearers. (cf. Heb 6:2)

1 Timothy 5:22 Do not be hasty in the laying on of hands . . .

2 Timothy 1:6 Hence I remind you to rekindle the gift of God that is within you through the laying on of my hands;
Disciples and their successors (priests and bishops) are direct representatives of Jesus:
Matthew 10:40 He who receives you receives me, and he who receives me receives him who sent me.

Luke 10:16 He who hears you hears me, and he who rejects you rejects me, and he who rejects me rejects him who sent me.

John 13:20 Truly, truly, I say to you, he who receives any one whom I send receives me; and he who receives me receives him who sent me.

2 Corinthians 5:20 So we are ambassadors for Christ, God making his appeal through us. We beseech you on behalf of Christ, be reconciled to God.