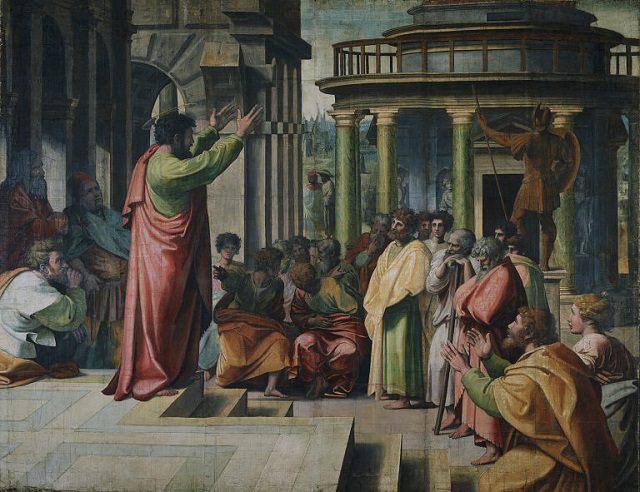 St Paul Preaching in Athens (1515), by Raphael (1483-1520) [public domain / Wikimedia Commons]
*****
Simcha writes in her article, "So your favorite blogger has gone insane" (1-31-17):
More times than I can count, I've been told that we're called to be good evangelists, and that, as such, we have to present our best, brightest, prettiest, perkiest, shiniest, most decorous face at all times, because that is the kind of thing that is attractive to people.

Well, it is to some people. But what about to others? What about the people who were raised listening to loud music and cussing, and all their happiest memories are associated with good, kind people who are zero percent bright, pretty, perky, shiny, or decorous? What about them? You really think they're going to want to join a church that requires all its members to act like they belong on Leave It To Beaver? Good luck with that approach.

. . . You keep telling me that, as someone with a public platform, I have more power than I realize, and so I have a special responsibility to model courtesy, civility, charity, restraint, kindness, grace, and compassion. You tell me that I must, at all times, keep in mind how much influence I have, and that if I can't muster up these virtues you admire so much, then I do not deserve to have a public voice.
Yes, we do tell her that. And I will attempt explain why I think most of us who do it, tell her these things.
This is a very old debate: not at all new with Simcha. It has to do with being in the world without being of the world. I submit that the biblical view makes a very stark distinction. It's not "fuzzy" or ambiguous at all.
Romans 12:2 in the J. B. Phillips translation may be my favorite paraphrased verse in the Bible: "Don't let the world around you squeeze you into its own mould, but let God re-mould your minds from within . . ." (RSV: "Do not be conformed to this world but be transformed by the renewal of your mind, . . .").
It seems to me that Simcha wants to "mould" that passage according to her philosophy (at least as regards certain "others"): "Don't let those stuffy, sanctimonious, 'proper' Catholics around you squeeze you into their own mould, but let the world re-mould your evangelistic strategies . . ."
Perhaps she has in mind St. Paul's famous evangelistic statement of methodology (that I have always tried to keep in mind and follow):
1 Corinthians 9:19-23 (RSV) For though I am free from all men, I have made myself a slave to all, that I might win the more. [20] To the Jews I became as a Jew, in order to win Jews; to those under the law I became as one under the law — though not being myself under the law — that I might win those under the law. [21] To those outside the law I became as one outside the law — not being without law toward God but under the law of Christ — that I might win those outside the law. [22] To the weak I became weak, that I might win the weak. I have become all things to all men, that I might by all means save some. [23] I do it all for the sake of the gospel, that I may share in its blessings.
I think Simcha would readily agree that there are obviously limitations to this methodology at some point down the line. Differences arise as to where the line should be drawn. Being "all things to all men" does not, of course, mean sinning in order to win men. We don't visit a prostitute and employ her services in order to proclaim Catholic truths to her (so she can know that we are "regular folks" and not like all those dime-a-dozen puritanistic anti-sex Christians, and therefore listen to us). That is mortal sin.
How about visiting a strip bar or nude beach in order to evangelize these people, who need to hear about God, too? Does that involve sin? Most Catholic moral theologians – I think I can safely say — would argue that it is either the sin of lustfulness or dangerously close to same: placing ourselves in an occasion for sin, with a high degree of probability.
Thus, I think most Catholics who accept all that the Church teach and seek to be obedient to that, would agree with me about those two examples. I exaggerate a great deal in the first example and somewhat in the second, to get my point across. But a more apt scenario, akin to what Simcha has been doing for some time now, involves the use of "bad" or "rough" (or – take your pick – dirty, cussing, swearing, obscene, vulgar, profane, "PG-13") language in order to better relate to those who use the same language. This is her strongly implied argument above: "people who were raised listening to loud music and cussing" need to run into evangelists like her: who can cuss and swear with the best of 'em: like a drunken sailor or NBA player. I've dealt with that fairly complex topic at length.
One might surmise that such behavior would come under one of the categories that Paul lists above: perhaps being weak in order to win the weak. That's at least within the realm of possibility or plausibility. But I really think not, because of what Paul teaches so often elsewhere in his letters. He's very concerned about Christlike behavior. I don't see a hint anywhere of him communicating this sort of approach: being rough and tumble in language to those who are the same.
But I do see him writing quite a bit about "courtesy, civility, charity, restraint, kindness, grace, and compassion" and what Simcha virtually mocks as putting forth "our best, brightest, prettiest, perkiest, shiniest, most decorous face at all times."
If people with whom we are sharing the gospel and truths of the Catholic faith see us fall and stumble, then sure, they see that we are human just as they are, and not occupiers of some high, sublime quasi-heaven which is completely apart from the realities of the world and our own concupiscence ("pie-in-the-sky").
They're bound to see that, anyway, if they're with us more than half a day: so that consideration will "naturally" take care of itself. It doesn't follow, however, that we willfully, deliberately put on more coarse attributes, and enter into near occasions of sin, so that we will be liked by these people.
Simcha's argument here almost seems to presuppose this notion that non-believers or those who are nominal in religious matters think that all religious people — to a person — are hypocrites and sanctimonious jerks. I agree that they may think many are that, and indeed this is what atheist and secular propaganda constantly promotes: unfortunately aided by our frequent sins that are consistent with such an impression. But I don't think this is the case.
I think they're smart and perceptive enough to also note examples of people who differ from the world. It is precisely this difference that stands out and appeals to them, and makes them wonder why the person is different: what caused it; what makes them tick; why are they so "happy"?, etc.
There is much to discuss, regarding all that I have brought up, and what Simcha has discussed. But in the final analysis, I submit that St. Paul, who repeatedly tells us to imitate him, as he imitates Christ (1 Cor 11:1; cf. 1 Cor 4:16; Phil 3:17; 4:8-9; 1 Thess 1:6-7; 2 Thess 3:7-9), is quite clear about how we ought to act. It's no mystery at all. He provides numerous passages:
Ephesians 4:22-24, 29  Put off your old nature which belongs to your former manner of life and is corrupt through deceitful lusts, [23] and be renewed in the spirit of your minds, [24] and put on the new nature, created after the likeness of God in true righteousness and holiness. . . . [29] Let no evil talk come out of your mouths, but only such as is good for edifying, as fits the occasion, that it may impart grace to those who hear.

Ephesians 5:4 Let there be no filthiness, nor silly talk, nor levity, which are not fitting; but instead let there be thanksgiving.

Philippians 2:14-15 Do all things without grumbling or questioning, [15] that you may be blameless and innocent, children of God without blemish in the midst of a crooked and perverse generation, among whom you shine as lights in the world,

Colossians 3:5-8, 12 Put to death therefore what is earthly in you: fornication, impurity, passion, evil desire, and covetousness, which is idolatry. [6] On account of these the wrath of God is coming. [7] In these you once walked, when you lived in them. [8] But now put them all away: anger, wrath, malice, slander, and foul talk from your mouth. . . . [12]  Put on then, as God's chosen ones, holy and beloved, compassion, kindness, lowliness, meekness, and patience,

1 Thessalonians 2:10-11 You are witnesses, and God also, how holy and righteous and blameless was our behavior to you believers; [11] for you know how, like a father with his children, we exhorted each one of you and encouraged you and charged you

1 Timothy 3:10 And let them also be tested first; then if they prove themselves blameless let them serve as deacons.

1 Timothy 4:12 Let no one despise your youth, but set the believers an example in speech and conduct, in love, in faith, in purity.
These themes follow directly from our Lord Jesus' words:
Matthew 5:14-16 "You are the light of the world. A city set on a hill cannot be hid. [15] Nor do men light a lamp and put it under a bushel, but on a stand, and it gives light to all in the house. [16] Let your light so shine before men, that they may see your good works and give glory to your Father who is in heaven.
There are our two choices, folks:
1) Be as much like the world and worldly behavior as we can without sinning, so the lost and the seeking will love us, think we're cool and "relevant" and identify us as one of them, know that not all Christians are sanctimonious, judgmental hypocrites, etc., and thus decide to join the Church: in this instance, because a very talented female writer knows how to use salty language and what used to be locker room talk.

2) Show the world that a person can truly be different by God's grace; not perfect, but (to the degree that God has sanctified them) outwardly transformed, with peace and joy and hopefully manifestations of Christlike, selfless and self-sacrificial love. God does this, not us, and this is precisely our witness to the world: "God can change you for the better, and it is good for you to follow Him and allow yourselves to 'put on the new nature'" (Eph 4:24). People lost and miserable in the world are looking for something better, a new Way (1 Cor 12:31) not the same old same old.