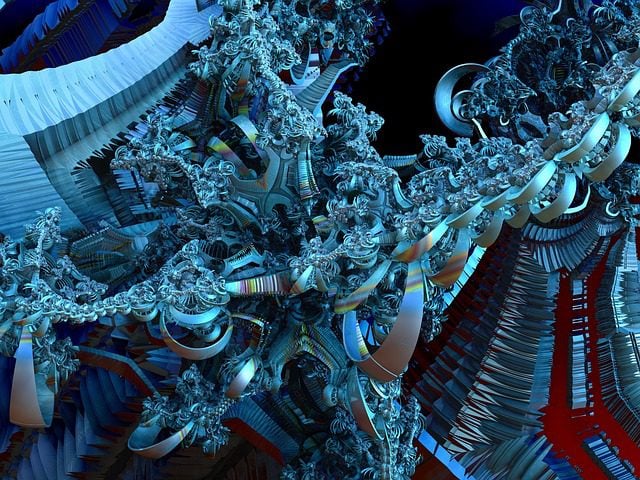 Fractal image by "HypnoArt" (8-6-15) [Pixabay / CC0 public domain]
*****
"Lark62" is an atheist. Her words will be in blue. Her comments can be found in their entire larger context in the combox for my paper, "Atheist Deconversion: Dialogue #2: Jonathan MS Pearce" (7-20-17).
***
Lark62 [female: "frumpy, boring middle aged lady"] clearly came to his discussion with me already extremely hostile to Christianity. Checking out comments listed on her Disqus profile, anyone can readily observe that:
The problem with religion is that the only tool it has to maintain dominance is social pressure. It doesn't have changed lives – good people, unkind people, greedy people and evil people are found inside the church as well as outside. It doesn't have truth – the bible is unverifiable and flip flops between platitudes, absurdity and genocide. [source]
You had to study for 20 years to figure out whether a book that has talking animals, blood sacrifice and an earth centric universe is full of crap? [source]
Moses did not exist. Robin Hood and Sir Galahad and Huck Finn also might give a person inspiration, but they don't exist either. [source]
No one has ever spoken to a deity. Ever. Every deity known to man is a human creation used to bring power and wealth to self appointed priests. Remember, those who claim to speak for a deity have had millenia to perfect their scam. They leave death and devastation in their wake. [source]
Wow. Does this mean that I'm not the only atheist who doesn't keep a dead jew on a stick in their bathroom!? And other Atheists don't gaze at a 2000 year old instrument of torture while brushing their teeth either!? That's good to know. Who would have thunk it. [source]
We know christians are rude, clueless and arrogant. That is hardly news. [source]
They've [Catholics] been lying, cheating and hiding for 2000 years. They are good at it. [source]
Actually, I don't believe in anything supported by less evidence than the tooth fairy, regardless of the supposed conduct of said deity, good or bad. What I find hard to believe is that intelligent human beings in the 21st Century believe in a deity. And, once believing, find the deity described in the Christian bible worthy of praise and adoration. [source]
I gladly gave up arguing that the Bible does not say what it plainly says when I realized Christianity was stupid. The bible says jesus is a sacrifice for sins. It calls him the lamb who takes away sin. That is blood sacrifice. And it is stupid. [source]
Christians do not expose lies or liars. The testimony of Christians is worthless. [source]
Etc. etc. ad nauseam. All that (and much, much more) was just within the last month. It's all this woman ever talks about. No condescension there! I could tell that she was almost certainly a bigot right off the bat. I can spot it a mile away, from 36 years of experience, sharing and defending Christianity to all and sundry. But I played along with her game a bit, to see what would happen. After a few comments from her, I could tell that she was excessively ignorant of basic philosophical knowledge.
Consider what compelling evidence would look like for anything you think has no evidence. That is what compelling evidence for your deity would look like.
Yep. Evidence for a unicorn is a unicorn.
Evidence for a rock that flies is a rock that flies. . . .
Evidence for a deity is a deity.
***
If I understand your argument, you expect atheists to have fully examined all the arguments for god and considered all the various of versions of christianity before rejecting it all.
I say that is silly. No other non belief is held to such demands.
Do you believe there is an advanced civilization on Mars? Have you considered every possible type of civilization that might exist on Mars. Even though Mars is the god of war, the civilization might be peaceful, did you consider that? Just because you reject a violent civilization on Mars is no reason to reject a loving civilization on Mars.
Sure My Favorite Martian is fake, but that doesn't mean War of the Worlds is fake. Have you read War of the Worlds? Have you studied it and read the commentary? Well, have you? Until then, I simply will not accept the validity of your non belief in Martians.
Can I guess how much time you intend to invest in justifying your Martian non belief? I expect it falls somewhere between zero and none.
Maybe we will find evidence of past or present microbes on Mars. But, there is no evidence for any form of advanced life on Mars, much less intelligent life and civilization. None. Nada. Zilch. And no amount of examining various possible civilizations will change the fact that there is no evidence. If someone claimed to have seen roller coasters on Mars, you would have every right to discuss that claim and declare that claim to be nuts. But there is still no evidence for rollercoaster-less martian civilizations.
Moreover, the more we learn about Mars, the more the evidence contradicts the notion of advanced or intelligent life.
Now repeat that for leprechauns, the tooth fairy, the claim that Elvis was on the Mayflower and everything else you do not believe.
Atheists have concluded that there is no evidence to support belief in invisible, supernatural beings. We don't need to study invisible, supernatural being type A and invisible, supernatural being type B and every other type of invisible, supernatural being. There is no evidence.
I didn't say atheists had to do all that. It would be more compelling and impressive, however, if they at least did some of it. What I have said is that the arguments presented in no way refute Christianity and thus form no reason to forsake it.