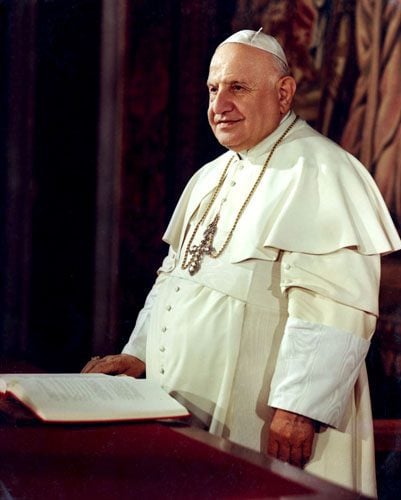 Pope Benedict XVI: Statement to the Seminarians of Rome: 8 February 2013:
The second term: inheritance. It is a very important word in the Old Testament, where Abraham is told that his seed will inherit the earth, and this was always the promise for his descendants. You will have the earth, you will be heirs of the earth. In the New Testament, this word becomes a word for us; we are heirs, not of a specific country, but of the land of God, of the future of God. Inheritance is something of the future, and thus this word tells us above all that as Christians we have a future, the future is ours, the future is God's.

Thus, being Christians, we know that the future is ours and the tree of the Church is not a tree that is dying but a tree that constantly puts out new shoots. Therefore we have a reason not to let ourselves be upset, as Pope John said, by the prophets of doom who say: well, the Church is a tree that grew from the mustard seed, grew for two thousand years, now she has time behind her, it is now time for her to die.

No. The Church is ever renewed, she is always reborn. The future belongs to us. Of course, there is a false optimism and a false pessimism. A false pessimism tells us that the epoch of Christianity is over. No: it is beginning again! The false optimism was the post-Council optimism, when convents closed, seminaries closed and they said 'but… nothing, everything is fine!'…. No! Everything is not fine. There are also serious, dangerous omissions and we have to recognize with healthy realism that in this way things are not all right, it is not all right when errors are made.

However, we must also be certain at the same time that if, here and there, the Church is dying because of the sins of men and women, because of their non-belief, at the same time she is reborn. The future really belongs to God: this is the great certainty of our life, the great, true optimism that we know. The Church is the tree of God that lives for ever and bears within her eternity and the true inheritance: eternal life.
I'm delighted, as always, to be in full agreement with Pope Benedict XVI.
Six days earlier (2 Feb. 2013), the great pope stated in a homily:
Do not join the ranks of the prophets of doom who proclaim the end or meaninglessness of the consecrated life in the Church in our day; rather, clothe yourselves in Jesus Christ and put on the armour of light — as St Paul urged (cf. Rom 13:11-14) — keeping awake and watchful.
Pope Francis cited Pope St. John XXIII, saying something very similar in 1962:
Fifty years after the Second Vatican Council, we are distressed by the troubles of our age and far from naive optimism; yet the fact that we are more realistic must not mean that we are any less trusting in the Spirit or less generous. In this sense, we can once again listen to the words of Blessed John XXIII on the memorable day of 11 October 1962:

At times we have to listen, much to our regret, to the voices of people who, though burning with zeal, lack a sense of discretion and measure. In this modern age they can see nothing but prevarication and ruin … We feel that we must disagree with those prophets of doom who are always forecasting disaster, as though the end of the world were at hand. In our times, divine Providence is leading us to a new order of human relations which, by human effort and even beyond all expectations, are directed to the fulfilment of God's superior and inscrutable designs, in which everything, even human setbacks, leads to the greater good of the Church.

(Evangelii Gaudium, 24 Nov. 2013, section 84)
***
Photo credit: Pope John XXIII [public domain / Wikimedia Commons]
***