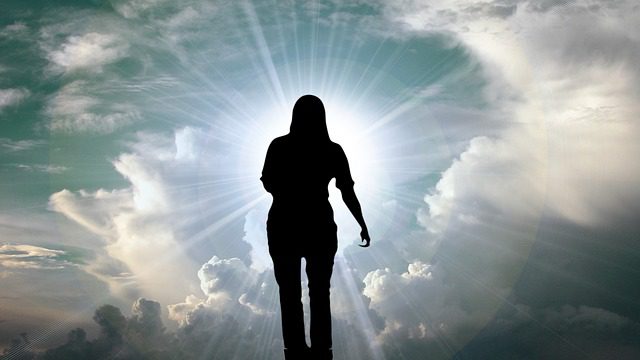 (3-13-14)
***
Some of the texts brought forth as evidence of theosis / deification / divinization, or the attainment of a profound oneness with God, are the following (RSV):
Romans 6:5 For if we have been united with him in a death like his, we shall certainly be united with him in a resurrection like his.

1 Corinthians 6:17 But he who is united to the Lord becomes one spirit with him.

2 Corinthians 3:18 And we all, with unveiled face, beholding the glory of the Lord, are being changed into his likeness from one degree of glory to another; for this comes from the Lord who is the Spirit.

Ephesians 3:19 and to know the love of Christ which surpasses knowledge, that you may be filled with all the fulness of God.

Ephesians 4:13 until we all attain to the unity of the faith and of the knowledge of the Son of God, to mature manhood, to the measure of the stature of the fulness of Christ;

2 Peter 1:4 . . . you may escape from the corruption that is in the world because of passion, and become partakers of the divine nature.
From my recent reading of Catholic mystic authors, I came across exposition of another biblical motif in this regard: that of being "in God" / "in him" (as a sort of "flipside" of His being "in" us; in our hearts, in the indwelling). Perhaps this has (at least in some of these passages) a connection with the notion of deification as well. It's another way to think of the phrase that we casually use, not thinking much about its deeper meanings (I have omitted "in Christ": which seems to have a much wider latitude of meaning):
John 6:56 He who eats my flesh and drinks my blood abides in me, and I in him.

John 14:20 In that day you will know that I am in my Father, and you in me, and I in you.

John 15:4-7 Abide in me, and I in you. As the branch cannot bear fruit by itself, unless it abides in the vine, neither can you, unless you abide in me. [5] I am the vine, you are the branches. He who abides in me, and I in him, he it is that bears much fruit, for apart from me you can do nothing. [6] If a man does not abide in me, he is cast forth as a branch and withers; and the branches are gathered, thrown into the fire and burned. [7] If you abide in me, and my words abide in you, ask whatever you will, and it shall be done for you.

John 16:33 . . . in me you may have peace. . . .

John 17:21 that they may all be one; even as thou, Father, art in me, and I in thee, that they also may be in us, so that the world may believe that thou hast sent me.

Acts 17:18 . . . In him we live and move and have our being . . .

2 Corinthians 5:21 . . . in him we might become the righteousness of

Ephesians 1:10 as a plan for the fulness of time, to unite all things in him, things in heaven and things on earth.

Philippians 4:13 I can do all things in him who strengthens me.

Colossians 2:6-7, 10 As therefore you received Christ Jesus the Lord, so live in him, [7] rooted and built up in him and established in the faith, . . . [10] and you have come to fulness of life in him, who is the head of all rule and authority.

Colossians 3:3 For you have died, and your life is hid with Christ in God.

1 John 2:5-6 but whoever keeps his word, in him truly love for God is perfected. By this we may be sure that we are in him: [6] he who says he abides in him ought to walk in the same way in which he walked.

1 John 2:24, 28 . . . If what you heard from the beginning abides in you, then you will abide in the Son and in the Father. . . . [28] And now, little children, abide in him, so that when he appears we may have confidence and not shrink from him in shame at his coming.

1 John 3:6 No one who abides in him sins; no one who sins has either seen him or known him.

1 John 3:24 All who keep his commandments abide in him, and he in them. And by this we know that he abides in us, by the Spirit which he has given us.

1 John 4:13, 15-16 By this we know that we abide in him and he in us, because he has given us of his own Spirit. . . . [15] Whoever confesses that Jesus is the Son of God, God abides in him, and he in God. [16] So we know and believe the love God has for us. God is love, and he who abides in love abides in God, and God abides in him.

1 John 5:20 . . . we are in him who is true, in his Son Jesus Christ. . . .
***
Photo credit: Image by "geralt" (6-15-15) [Pixabay / CC0 Creative Commons]
***