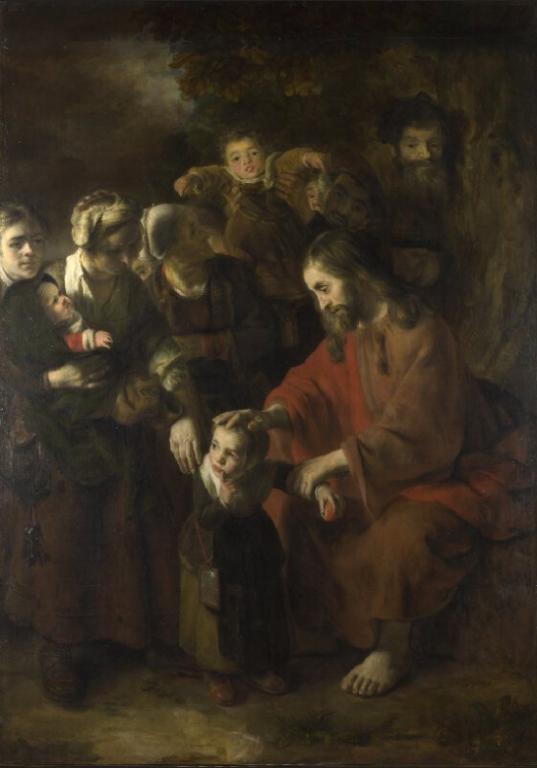 This material is from my 2013 book, Revelation! 1001 Bible Answers to Theological Topics; except that here the Bible passages will be RSV. In the book they are mostly KJV, for copyright reasons. The book was designed to answer 1001 theological questions solely by Scripture.
I have included selected portions of the section on indwelling also, since it is a closely related concept. I've also added two additional questions (answered by Galatians 4:9 and Philippians 3:8) that weren't in the book. One word in one of the questions was changed to reflect the different wording of RSV.
*****
What passage teaches that we are children of God, and have a personal relationship with Him?
Romans 8:14-16 For all who are led by the Spirit of God are sons of God. [15] For you did not receive the spirit of slavery to fall back into fear, but you have received the spirit of sonship. When we cry, "Abba! Father!" [16] it is the Spirit himself bearing witness with our spirit that we are children of God,
Does God "abide" in Christians?
1 John 3:24 All who keep his commandments abide in him, and he in them. And by this we know that he abides in us, by the Spirit which he has given us.
Can we know God personally?
Galatians 4:9 . . . you have come to know God, or rather to be known by God . . .
Does the Bible refer to "knowing" Jesus?
Philippians 3:8 Indeed I count everything as loss because of the surpassing worth of knowing Christ Jesus my Lord. . . .
Do the Father and the Son "make their home" with believers?
John 14:23  Jesus answered him, "If a man loves me, he will keep my word, and my Father will love him, and we will come to him and make our home with him."
Is Jesus "in" believers?
John 14:20 In that day you will know that I am in my Father, and you in me, and I in you.
Is there a passage about accepting Jesus into our hearts?
Ephesians 3:17  and that Christ may dwell in your hearts through faith; that you, being rooted and grounded in love,
Does Jesus say He will "come to" us?
John 14:18-19 "I will not leave you desolate; I will come to you. [19] Yet a little while, and the world will see me no more, but you will see me; because I live, you will live also."
Does Jesus call His followers His "friends"?
John 15:15 No longer do I call you servants, for the servant does not know what his master is doing; but I have called you friends, for all that I have heard from my Father I have made known to you.
Does Jesus talk about a loving relationship with His followers?
John 14:21 He who has my commandments and keeps them, he it is who loves me; and he who loves me will be loved by my Father, and I will love him and manifest myself to him.
Does Jesus use a tender metaphor of a hen and her chicks, to signify His love for us?
Matthew 23:37 O Jerusalem, Jerusalem, killing the prophets and stoning those who are sent to you! How often would I have gathered your children together as a hen gathers her brood under her wings, and you would not!
Does Jesus bring us "peace"?
John 14:27 Peace I leave with you; my peace I give to you; not as the world gives do I give to you. Let not your hearts be troubled, neither let them be afraid.
Does Jesus fulfill our prayer requests?
John 14:13 Whatever you ask in my name, I will do it, that the Father may be glorified in the Son;
Does Jesus promise to be "with" us?
Matthew 18:20 . . . I am with you always, to the close of the age.
***
Photo credit: Christ Blessing the Children (1653), by Nicolaes Maes (1634-1693) [public domain / Wikimedia Commons]
***