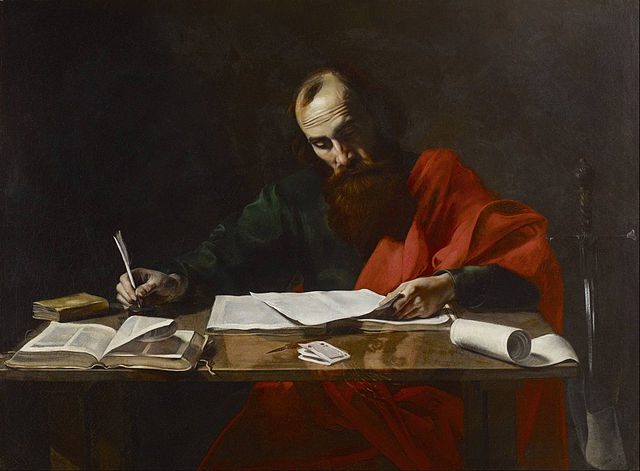 From my book, The Catholic Verses (Sophia Institute Press, 2004, pp. 133-135).
*****
1 Corinthians 4:16 (RSV): "I urge you, then, be imitators of me." [cf. 11:1]

Philippians 3:17: "Brethren, join in imitating me, and mark those who so live as you have an example in us." [cf. 4:8-9]

2 Thessalonians 3:7-9: "For you yourselves know how you ought to imitate us; we were not idle when we were with you, we did not eat anyone's bread without paying, but with toil and labor we worked night and day, that we might not burden any of you. It was not because we have not that right, but to give you in our conduct an example to imitate." [cf. 1 Thess 1:6-7]
These verses provide a primary biblical basis for the Catholic practice of venerating the saints. We honor the saints because the Bible instructs us to do so (see also Heb. 11). There is nothing wrong or unbiblical in venerating or trying to emulate the saints, unless we were to put them in the place of God, which is idolatry.
When Catholics honor, and keep themselves mindful of, the saints by the use of images and statues, many Protestants immediately conclude that this must be idolatry. They argue that prayerful honor can be given only to God. But the verses just cited show us that proper honor given to saints is not idolatrous and, to the contrary, is even commanded by St. Paul. When we honor and venerate saints, we are giving all the glory to God, who is the source of all saintly qualities.
Martin Luther echoed the Catholic position when he wrote:
[A]ccording to the law of Moses no other images are forbidden than an image of God which one worships. A crucifix, on the other hand, or any other holy image is not forbidden. . . .

[W]e do not request more than that one permit us to regard a crucifix or a saint's image as a witness, for remembrance, as a sign as that image of Caesar was. Should it not be possible for us without sin to have a crucifix or an image of Mary, as it was for the Jews and Christ himself to have an image of Caesar. . . ? (Against the Heavenly Prophets in the Matter of Images and Sacraments, December 1524, Luther's Works, Vol. 40: 85-86, 96).
Even John Calvin, commenting on Hebrews 12:1 (next page) wrote:
[E]veryone should be prepared to imitate them; . . . the virtues of the saints are so many testimonies to confirm us, that we, relying on them as our guides and associates, ought to go onward to God with more alacrity.
A. W. Tozer, the much-beloved Christian writer and pastor of the Christian and Missionary Alliance denomination, although denying the invocation of saints, writes luminously of the Mystical Unity of the Body of Christ:
Our Christian brethren who have gone from our sight retain still their place in the universal fellowship. The Church is one. . . . Who is able to complete the roster of the saints? To them we owe a debt of gratitude too great to comprehend. . . . They belong to us, all of them, and we belong to them. They and we . . . are included in the universal fellowship of Christ, and together compose "a royal priesthood, a holy nation, a peculiar people," who enjoy a common but blessed communion of saints (A Treasury of A. W. Tozer. Grand Rapids, Michigan: Baker Book House, 1980, 168-170).
Protestants today usually argue that great Christian figures of the past can provide inspiration and example for us in our Christian walk today (per the passages just cited), but they will deny that we ought to venerate them. They say this because they have drawn a false dichotomy between the worship and adoration of God himself and the veneration of those children of God who show forth his glory by displaying the grace that he gave them to be what they are. But it is by no means certain from Scripture that this approach is necessary.
***
Photo credit: Saint Paul Writing His Epistles (c. 1620), attributed to Valentin de Boulogne (1591-1632) [public domain / Wikimedia Commons]
***