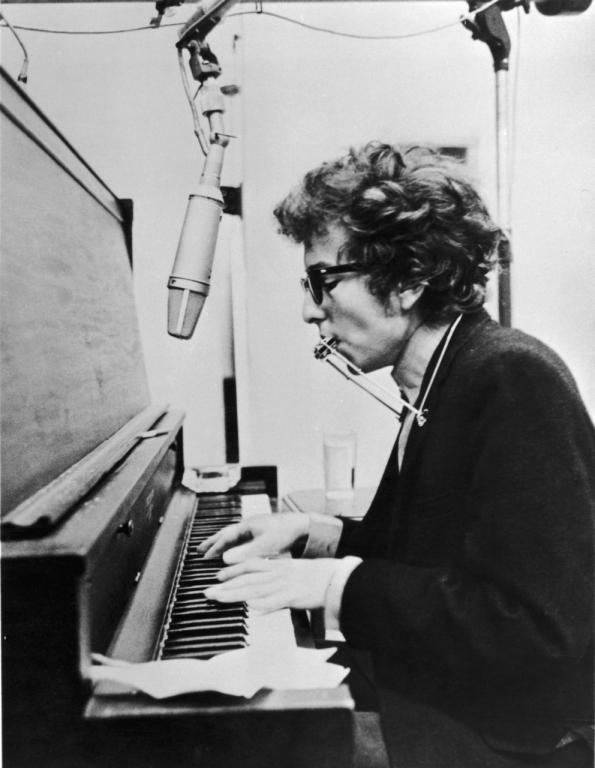 I Don't Believe You (Bob Dylan, 1964; excerpts)
. . . I wish she'd unlock her voice once an' talk
'Stead of acting like we never met
If she ain't feelin' well then why don't she tell
'Stead of turnin' her back to my face? . . .
But now something has changed
for she ain't the same
She just acts like we never have met
If I didn't have to guess, I'd gladly confess
To anything I might've tried
If I was with her too long
or have done something wrong
I'd wish she'd tell me what it is, I'll run an' hide . . .
But evidently she don't, evidently she won't
She just acts like we never have met
I'm leavin' today, I'll be on my way
Of this I can't say very much
But if you want me to, I can be just like you
An' pretend that we never have touched
An' if anybody asks me, "Is it easy to forget?"
I'll say, "It's easily done You just pick anyone
An' pretend that you never have met"
*****
Related Bible Passages:
Leviticus 19:18 (RSV) . . . you shall love your neighbor as yourself . . .

Matthew 7:12 So whatever you wish that men would do to you, do so to them; for this is the law and the prophets.

Luke 6:31 And as you wish that men would do to you, do so to them.

John 13:34-35 A new commandment I give to you, that you love one another; even as I have loved you, that you also love one another. [35] By this all men will know that you are my disciples, if you have love for one another.

1 Corinthians 12:25-26 that there may be no discord in the body, but that the members may have the same care for one another. [26] If one member suffers, all suffer together; if one member is honored, all rejoice together.

Philippians 2:2-4 complete my joy by being of the same mind, having the same love, being in full accord and of one mind.
[3] Do nothing from selfishness or conceit, but in humility count others better than yourselves. [4] Let each of you look not only to his own interests, but also to the interests of others.
*****
It is especially wicked for Christians to act in this fashion, since we have additional obligations to each other in the Body of Christ.
If you are out there and have broken up with someone, or you're about to do so (or, indefensibly, want to "get rid of" one who was formerly a friend — beyond serious, romantic relationships), I strongly urge you to not act in this fashion. Act according to the dictates of Christian love. You don't want to have this on your conscience.
There is hurt and pain and suffering enough in any break-up, without adding on cruelty of this sort, and making it a hundred times worse. By acting like this you will, in the end, hurt yourself and your own soul far more than you will hurt anyone else.
No one is, of course, obligated to enter into any serious romantic relationship indefinitely (before or outside of marriage). We have the choice to continue or discontinue those particular sorts of relationships, as we see fit. We can only marry one person, after all. But in any case, we are obligated to act like Christians, in love, when we decide to leave any such relationship.
We can show love and respect in doing so; be gentle and considerate, and not cause the other to be far more devastated than they would otherwise be, with the cruelty of the silent treatment, various foolish "rebound" behaviors, and other such games, that can in no way be justified in terms of Christian ethical teaching.
In fact, I would argue that this behavior can't be justified by any sensible, respectable set of ethics: whether pagan, secular, humanist, that of non-Christian religions, or otherwise. Virtually all ethical systems accept the validity of the Golden Rule. And who would want to be treated in this fashion?
We Christians are filled with the Holy Spirit. Don't grieve the Holy Spirit, Who is God! Hence, St. Paul writes:
1 Corinthians 3:16-17 Do you not know that you are God's temple and that God's Spirit dwells in you? [17] If any one destroys God's temple, God will destroy him. For God's temple is holy, and that temple you are.

1 Corinthians 6:19-20 Do you not know that your body is a temple of the Holy Spirit within you, which you have from God? You are not your own; [20] you were bought with a price. So glorify God in your body.
***
(originally 9-6-12 on Facebook)
Photo credit: Ky (2-6-06) Bob Dylan in 1965 [Flickr / CC BY 2.0 license]
***