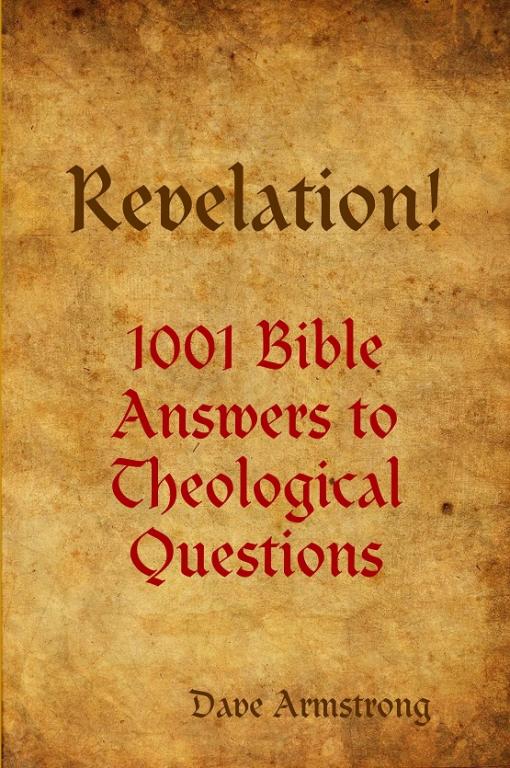 From my book, Revelation! 1001 Bible Answers to Theological Topics (2013; available for as low as $2.99 in e-book formats).
[all passages from KJV unless indicated otherwise (RSV) ]
*****
II. Doctrine of the Church (Ecclesiology)
12. Oneness / Unity of the Church
12-1. Is the Church "one body"?
1 Corinthians 12:12-13 For as the body is one, and hath many members, and all the members of that one body, being many, are one body: so also is Christ. [13] For by one Spirit are we all baptized into one body, whether we be Jews or Gentiles, whether we be bond or free; and have been all made to drink into one Spirit.
12-2. Is the Church "one faith"?
Ephesians 4:3-5 Endeavouring to keep the unity of the Spirit in the bond of peace. [4] There is one body, and one Spirit, even as ye are called in one hope of your calling; [5] One Lord, one faith, one baptism,
12-3. Is there "one fold"?
John 10:16 And other sheep I have, which are not of this fold: them also I must bring, and they shall hear my voice; and there shall be one fold, and one shepherd.
12-4. Does God want His Church to be "one" just as the Father and the Son are one?
John 17:20-23 Neither pray I for these alone, but for them also which shall believe on me through their word; [21] That they all may be one; as thou, Father, art in me, and I in thee, that they also may be one in us: that the world may believe that thou hast sent me. [22] And the glory which thou gavest me I have given them; that they may be one, even as we are one: [23] I in them, and thou in me, that they may be made perfect in one; and that the world may know that thou hast sent me, and hast loved them, as thou hast loved me.
12-5. Did God discourage a "divided kingdom"?
Matthew 12:25 And Jesus knew their thoughts, and said unto them, Every kingdom divided against itself is brought to desolation; and every city or house divided against itself shall not stand:
12-6. Was the early Church of one heart and soul?
Acts 4:32 And the multitude of them that believed were of one heart and of one soul: neither said any of them that ought of the things which he possessed was his own; but they had all things common.
13. Holiness / Teacher of Righteousness
13-1. Does God sanctify and cleanse His Church?
Ephesians 5:25-27 …Christ also loved the church, and gave himself for it; [26] That he might sanctify and cleanse it with the washing of water by the word, [27] That he might present it to himself a glorious church, not having spot, or wrinkle, or any such thing; but that it should be holy and without blemish.
13-2. Did Jesus promise that His followers could do great works as He had done?
John 14:12 Verily, verily, I say unto you, He that believeth on me, the works that I do shall he do also; and greater works than these shall he do; because I go unto my Father.
13-3. Did Jesus command His followers (and by implication, the later Church) to perform miracles by God's grace?
Matthew 10:8 Heal the sick, cleanse the lepers, raise the dead, cast out devils: freely ye have received, freely give.
13-4. Is the Church a "holy, royal priesthood" and "holy nation"?
1 Peter 2:5, 9 Ye also, as lively stones, are built up a spiritual house, an holy priesthood, to offer up spiritual sacrifices, acceptable to God by Jesus Christ.… [9] But ye are a chosen generation, a royal priesthood, an holy nation, a peculiar people; that ye should shew forth the praises of him who hath called you out of darkness into his marvellous light:
13-5. Do those in the Church constitute God's "temple"?
1 Corinthians 3:17 If any man defile the temple of God, him shall God destroy; for the temple of God is holy, which temple ye are.
13-6. Is the Church a "holy temple"?
Ephesians 2:19, 21 Now therefore ye are no more strangers and foreigners, but fellow-citizens with the saints, and of the household of God;… [21] In whom all the building fitly framed together groweth unto an holy temple in the Lord:
14. Catholic (Universal)
14-1. Did the first Pentecost suggest the catholicity of the Church?
Acts 2:4-11 And they were all filled with the Holy Ghost, and began to speak with other tongues, as the Spirit gave them utterance. [5] And there were dwelling at Jerusalem Jews, devout men, out of every nation under heaven. [6] Now when this was noised abroad, the multitude came together, and were confounded, because that every man heard them speak in his own language. [7] And they were all amazed and marvelled, saying one to another, Behold, are not all these which speak Galilaeans? [8] And how hear we every man in our own tongue, wherein we were born? [9] Parthians, and Medes, and Elamites, and the dwellers in Mesopotamia, and in Judaea, and Cappadocia, in Pontus, and Asia, [10] Phrygia, and Pamphylia, in Egypt, and in the parts of Libya about Cyrene, and strangers of Rome, Jews and proselytes, [11] Cretes and Arabians, we do hear them speak in our tongues the wonderful works of God.
14-2. Is the Church called to evangelize the world?
Matthew 28:19 Go ye therefore, and teach all nations,…
14-3. Is the gospel to be universally available and fruitful?
Colossians 1:5-6 …the word of the truth of the gospel;
[6] Which is come unto you, as it is in all the world; and bringeth forth fruit, as it doth also in you,…
14-4. Is the Church to spread to the "uttermost parts of the earth"?
Acts 1:8 But ye shall receive power, after that the Holy Ghost is come upon you: and ye shall be witnesses unto me both in Jerusalem, and in all Judaea, and in Samaria, and unto the uttermost part of the earth.
14-5. Was the predicted messianic kingdom universal?
Isaiah 49:6 And he said, It is a light thing that thou shouldest be my servant to raise up the tribes of Jacob, and to restore the preserved of Israel: I will also give thee for a light to the Gentiles, that thou mayest be my salvation unto the end of the earth.
14-6. Does God's salvation incorporate the whole world?
Isaiah 45:22 Look unto me, and be ye saved, all the ends of the earth: for I am God, and there is none else.
14-7. Is the catholicity of the Church like a "high cedar" tree?
Ezekiel 17:22-23 Thus saith the Lord GOD; I will also take of the highest branch of the high cedar, and will set it; I will crop off from the top of his young twigs a tender one, and will plant it upon an high mountain and eminent: [23] In the mountain of the height of Israel will I plant it: and it shall bring forth boughs, and bear fruit, and be a goodly cedar: and under it shall dwell all fowl of every wing; in the shadow of the branches thereof shall they dwell.
14-8. Is the gospel to be preached everywhere?
Matthew 24:14 And this gospel of the kingdom shall be preached in all the world for a witness unto all nations; and then shall the end come.
14-9. Are repentance and forgiveness to be preached everywhere?
Luke 24:47 And that repentance and remission of sins should be preached in his name among all nations, beginning at Jerusalem.
14-10. Are all nations called to be obedient to the faith?
Romans 1:5 By whom we have received grace and apostleship, for obedience to the faith among all nations, for his name:
15. Apostolic Succession
15-1. Is there an example of succession of office during the old covenant?
1 Chronicles 27:33-34 And Ahithophel was the king's counseller: and Hushai the Archite was the king's companion: [34] And after Ahithophel was Jehoiada the son of Benaiah, and Abiathar:…
15-2. Did the apostles speak truth?
1 Corinthians 2:7, 12-13 But we speak the wisdom of God in a mystery, even the hidden wisdom, which God ordained before the world unto our glory:… [12] Now we have received, not the spirit of the world, but the spirit which is of God; that we might know the things that are freely given to us of God. [13] Which things also we speak, not in the words which man's wisdom teacheth, but which the Holy Ghost teacheth; comparing spiritual things with spiritual.
15-3. Were the apostles eyewitnesses of Jesus, with a "prophetic word"?
2 Peter 1:16, 19 For we have not followed cunningly devised fables, when we made known unto you the power and coming of our Lord Jesus Christ, but were eyewitnesses of his majesty.… [19] We have also a more sure word of prophecy;…
15-4. Is there an example of an apostle actually succeeding another, in terms of office?
Acts 1:20-26 For it is written in the book of Psalms, Let his habitation be desolate, and let no man dwell therein: and his bishoprick let another take. [21] Wherefore of these men which have companied with us all the time that the Lord Jesus went in and out among us, [22] Beginning from the baptism of John, unto that same day that he was taken up from us, must one be ordained to be a witness with us of his resurrection. [23] And they appointed two, Joseph called Barsabas, who was surnamed Justus, and Matthias. [24] And they prayed, and said, Thou, Lord, which knowest the hearts of all men, shew whether of these two thou hast chosen, [25] That he may take part of this ministry and apostleship, from which Judas by transgression fell, that he might go to his own place. [26] And they gave forth their lots; and the lot fell upon Matthias; and he was numbered with the eleven apostles.
15-5. Does St. Paul pass on his office in any sense, to another?
2 Timothy 4:1-2, 5-6 I charge thee therefore before God, and the Lord Jesus Christ, who shall judge the quick and the dead at his appearing and his kingdom; [2] Preach the word; be instant in season, out of season; reprove, rebuke, exhort with all longsuffering and doctrine.… [5] But watch thou in all things, endure afflictions, do the work of an evangelist, make full proof of thy ministry. [6] For I am now ready to be offered, and the time of my departure is at hand.
16. Authority to Make Binding Decisions
16-1. Does the Church discipline unrepentant or contentious individuals?
Matthew 18:17 And if he shall neglect to hear them, tell it unto the church: but if he neglect to hear the church, let him be unto thee as an heathen man and a publican.
16-2. Does the Church preserve "the faith" to which Christians are obedient?
Acts 6:7 And the word of God increased; and the number of the disciples multiplied in Jerusalem greatly; and a great company of the priests were obedient to the faith.
16-3. Does the Church offer a "standard of teaching" or "orthodoxy"?
Romans 16:17 (RSV) But thanks be to God, that you who were once slaves of sin have become obedient from the heart to the standard of teaching to which you were committed,
16-4. Are we commanded to be obedient to Church leaders?
Hebrews 13:17 Obey them that have the rule over you, and submit yourselves: for they watch for your souls, as they that must give account,…
16-5. Are Church elders to be honored?
1 Timothy 5:17 Let the elders that rule well be counted worthy of double honour, especially they who labour in the word and doctrine.
16-6. Are we to imitate Church leaders?
Hebrews 13:7 (RSV) Remember your leaders, those who spoke to you the word of God; consider the outcome of their life, and imitate their faith.
17. Visible
17-1. Is the Church like a city on a hill?
Matthew 5:14 Ye are the light of the world. A city that is set on an hill cannot be hid.
17-2. Is the Church compared to a "great house"?
2 Timothy 2:20 But in a great house there are not only vessels of gold and of silver, but also of wood and of earth; and some to honour, and some to dishonour.
17-3. Is the Church like a "great tree"?
Luke 13:18-19 Then said he, Unto what is the kingdom of God like? and whereunto shall I resemble it? [19] It is like a grain of mustard seed, which a man took, and cast into his garden; and it grew, and waxed a great tree; and the fowls of the air lodged in the branches of it.
17-4. Are Christians — members of the Church — lights to the world?
Philippians 2:14-15 Do all things without murmurings and disputings: [15] That ye may be blameless and harmless, the sons of God, without rebuke, in the midst of a crooked and perverse nation, among whom ye shine as lights in the world;
18. Infallible
18-1. Is there a passage that attributes to the Church the sublime authority of infallibility?
1 Timothy 3:15 …the house of God, which is the church of the living God, the pillar and ground of the truth.
18-2. Is Jesus being the "cornerstone" of the true Church, and infallible apostles its foundation, an indication of its infallibility?
Ephesians 2:19-21 Now therefore ye are no more strangers and foreigners, but fellow-citizens with the saints, and of the household of God; [20] And are built upon the foundation of the apostles and prophets, Jesus Christ himself being the chief corner stone; [21] In whom all the building fitly framed together groweth unto an holy temple in the Lord:
18-3. Is the Church being the Body of Christ an argument that it is infallible?
Ephesians 1:19-23 And what is the exceeding greatness of his power to us-ward who believe, according to the working of his mighty power, [20] Which he wrought in Christ, when he raised him from the dead, and set him at his own right hand in the heavenly places, [21] Far above all principality, and power, and might, and dominion, and every name that is named, not only in this world, but also in that which is to come: [22] And hath put all things under his feet, and gave him to be the head over all things to the church, [23] Which is his body, the fulness of him that filleth all in all.
18-4. Were the disciples, as the foundation of the Church, led into "all truth"?
John 16:13 Howbeit when he, the Spirit of truth, is come, he will guide you into all truth: for he shall not speak of himself; but whatsoever he shall hear, that shall he speak: and he will shew you things to come.
19. Indefectible
19-1. Is the Davidic covenant a permanent one?
Psalm 89:34-37 My covenant will I not break, nor alter the thing that is gone out of my lips. [35] Once have I sworn by my holiness that I will not lie unto David. [36] His seed shall endure forever, and his throne as the sun before me. [37] It shall be established for ever as the moon, and as a faithful witness in heaven. Selah.
19-2. Do any of Jesus' parables imply indefectibility of the Church?
Matthew 7:24-25 Therefore whosoever heareth these sayings of mine, and doeth them, I will liken him unto a wise man, which built his house upon a rock: [25] And the rain descended, and the floods came, and the winds blew, and beat upon that house; and it fell not: for it was founded upon a rock.
19-3. Does Jesus state that the Church will always prevail?
Matthew 16:18 And I say also unto thee, That thou art Peter, and upon this rock I will build my church; and the gates of hell shall not prevail against it.
19-4. Is Jesus always with us; implying that His Church will be, also?
Matthew 28:20 (RSV)… lo, I am with you always, to the close of the age.
19-5. How long will the Holy Spirit be with us, as our "Counselor"?
John 14:16-17 And I will pray the Father, and he shall give you another Comforter, that he may abide with you for ever; [17] Even the Spirit of truth;…
19-6. Did St. Paul assume that the Eucharist would be celebrated till Christ's return?
1 Corinthians 11:26 For as often as ye eat this bread, and drink this cup, ye do shew the Lord's death till he come.
19-7. Did St. Paul teach that the Church was the Body of Christ; therefore, as unending as Jesus Himself is?
1 Corinthians 12:27 (RSV) Now you are the body of Christ and individually members of it.
20. Authoritative Councils
20-1. Was there such a thing recorded as a council of apostles and elders (equivalent to the later bishops)?
Acts 15:1-6 And certain men which came down from Judaea taught the brethren, and said, Except ye be circumcised after the manner of Moses, ye cannot be saved. [2] When therefore Paul and Barnabas had no small dissension and disputation with them, they determined that Paul and Barnabas, and certain other of them, should go up to Jerusalem unto the apostles and elders about this question. [3] And being brought on their way by the church, they passed through Phenice and Samaria, declaring the conversion of the Gentiles: and they caused great joy unto all the brethren. [4] And when they were come to Jerusalem, they were received of the church, and of the apostles and elders, and they declared all things that God had done with them. [5] But there rose up certain of the sect of the Pharisees which believed, saying, That it was needful to circumcise them, and to command them to keep the law of Moses. [6] And the apostles and elders came together for to consider of this matter.
20-2. Did a council during the time of the apostles represent the "whole Church"?
Acts 15:22, 29 Then pleased it the apostles and elders, with the whole church, to send chosen men of their own company to Antioch with Paul and Barnabas; namely, Judas surnamed Barsabas, and Silas, chief men among the brethren:… [29] That ye abstain from meats offered to idols, and from blood, and from things strangled, and from fornication: from which if ye keep yourselves, ye shall do well. Fare ye well.
20-3. Did apostles and elders assembled together in council during the apostolic period, claim that they were led by the Holy Spirit in their decisions?
Acts 15:28 For it seemed good to the Holy Ghost, and to us, to lay upon you no greater burden than these necessary things;
20-4. Did St. Paul preach and spread the binding decisions of the Jerusalem Council in his missionary journeys?
Acts 16:4 (RSV) As they went on their way through the cities, they delivered to them for observance the decisions which had been reached by the apostles and elders who were at Jerusalem.
[. . .]
27. Excommunication and Anathemas
27-1. Are Christians ever to be removed from fellowship (excommunicated) for their own good?
2 Thessalonians 3:6 Now we command you, brethren, in the name of our Lord Jesus Christ, that ye withdraw yourselves from every brother that walketh disorderly, and not after the tradition which he received of us.
27-2. Where is the notion of anathematizing derived?
1 Corinthians 16:22 If any man love not the Lord Jesus Christ, let him be Anathema…
27-3. Can a man be "accursed" by the Church for disbelief?
Galatians 1:9 As we said before, so say I now again, If any man preach any other gospel unto you than that ye have received, let him be accursed.
27-4. Can rebukes sometimes be given publicly, for the sake of discouraging others from sinning or false beliefs?
1 Timothy 5:20 Them that sin rebuke before all, that others also may fear.
[. . .]
31. Beautiful and/or Expensive Church Buildings
31-1. Was gold used generously in the temple and its furnishings?
1 Kings 7:48-51 And Solomon made all the vessels that pertained unto the house of the LORD: the altar of gold, and the table of gold, whereupon the shewbread was, [49] And the candlesticks of pure gold, five on the right side, and five on the left, before the oracle, with the flowers, and the lamps, and the tongs of gold, [50] And the bowls, and the snuffers, and the basons, and the spoons, and the censers of pure gold; and the hinges of gold, both for the doors of the inner house, the most holy place, and for the doors of the house, to wit, of the temple. [51] So was ended all the work that king Solomon made for the house of the LORD. And Solomon brought in the things which David his father had dedicated; even the silver, and the gold, and the vessels, did he put among the treasures of the house of the LORD.
31-2. Was there an abundance of precious stones and marble in the temple?
1 Chronicles 29:1-2 Furthermore David the king said unto all the congregation, Solomon my son, whom alone God hath chosen, is yet young and tender, and the work is great: for the palace is not for man, but for the LORD God. [2] Now I have prepared with all my might for the house of my God the gold for things to be made of gold, and the silver for things of silver, and the brass for things of brass, the iron for things of iron, and wood for things of wood; onyx stones, and stones to be set, glistering stones, and of divers colours, and all manner of precious stones, and marble stones in abundance.
31-3. Does God deserve a "great" house for His people to worship Him?
2 Chronicles 2:5 And the house which I build is great: for great is our God above all gods.
31-4. Did Jesus and His disciples call the temple "wonderful" and "great"?
Mark 13:1-2 And as he came out of the temple, one of his disciples said to him, "Look, Teacher, what wonderful stones and what wonderful buildings!" [2] And Jesus said to him, "Do you see these great buildings? There will not be left here one stone upon another, that will not be thrown down."
31-5. Did the temple have doors of gold?
2 Chronicles 4:22 And the snuffers, and the basons, and the spoons, and the censers, of pure gold: and the entry of the house, the inner doors thereof for the most holy place, and the doors of the house of the temple, were of gold.
***