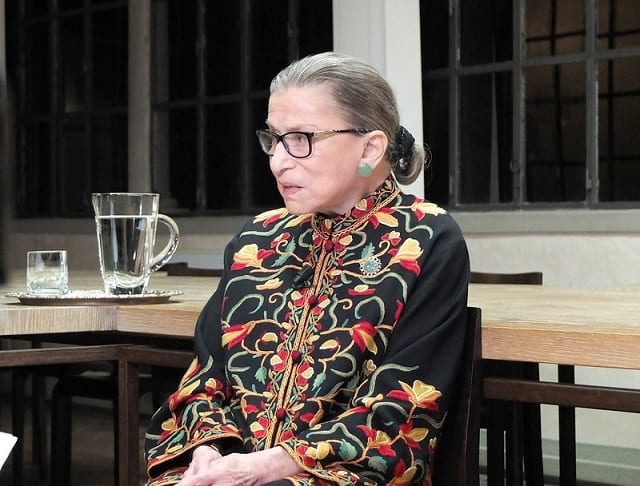 These are my comments in a lengthy thread on a public Facebook page of a friend. Questions to me or things I am commenting on will be summarized and paraphrased [in brackets] and green and blue color (two different people).
*****
You're probably too young to observe or know much about what happened to potential Justice Robert Bork and Justice Clarence Thomas, in 1987 and 1990. But you saw the Kavanaugh fiasco. It's all typical Democrat histrionics and faux hysteria and soiling their pants every time they don't get their way. They did with Bork, but they won't when Republicans control the Senate.
I think we believe those who are straightforwardly applying what the US Constitution undeniably teaches: the President appoints Supreme Court Justices and the Senate advises and consents (or denies). There isn't a thing in the Constitution about election years or dying Justice's wishes or the "Ginsburg seat" or anything of the sort (or even confirmation hearings, for that matter). That's how rule of law works: one either abides by the rules or they make up "BS pseudo-rules" to fool the public.
*
[Thomas and Kavanaugh are rapists who don't deserve to be on the Court. Clinton and Trump shouldn't be Presidents, either]
*
How about Amy Coney Barrett: does she deserve to be seated on the Supreme Court? Or is she a rapist and overall scoundrel, too? She has seven children, including two adopted from Haiti: one a special needs child. It's a bit more difficult to pigeonhole her as a rapist, which appears to be standard Democrat modus operandi these days.
*
I'm not addressing her very widely praised legal skills, but rather, aspects about her that will make it hard for the Democrats to engage in their usual pathetic smear tactics (despite obvious legal qualifications).
*
[Adopting two black children isn't particularly noteworthy]
*
Adopting black children when you are white is a pretty clear indication (at least for non-Democrats / non-liberals) that you are not a racist (the most frequent Democrat lying tactic).
*
[She's acceptable, and should have been chosen over Kavanaugh (not being a rapist)]
*
I am delighted to hear that you think she is an acceptable choice.
*
If I thought Trump was a rapist, I assuredly would not have voted for him.
I don't think he is
. I think he was (and/or is?) a womanizer, just as a vast number of politicians (JFK, LBJ, Clinton, my own former congressman John Conyers; possibly Joe Biden, et al) have been.
*
It's the distinction between consensual and forced sex. I'd love to vote for squeaky clean candidates if there ever were very many on the ballot. As it is, I have to make the best of [practically / realistically speaking] two less than ideal choices.
*
In order to most objectively establish whether he (or Kavanaugh or even The Zipper Bill Clinton) is a rapist, it would require a jury trial. That's the best way to determine such things. So it was determined, for example, that Bill Cosby has drugged women and raped them. I sadly accept the conclusion of that trial. Michael Jackson, on the other hand, was acquitted of all charges of pedophilia, and I accept that.
*
Once in a while there is a miscarriage of justice (as I believe the O. J. Simpson trial was). What I will not do, however, is "convict" someone based on polemics and agendas of opposing parties and the ultra-liberal media only. That ain't how we objectively arrive at facts: especially in highly complex and subjective "he said she said" matters.
*
[So many women have been sexually assaulted, and many simply nonchalantly conclude that "all male politicians are like that." One can tell a lot about someone by observing how they talk about sexual abuse and assault. We have to do much better as a community, in talking about these serious issues]
*
I was doing "me too" and talking about — warning about — sexual abuse
(i.e., in places other than at the hand of a few corrupt Catholic priests) and defending women (and boys) from it
in 2007
: long before it was cool and "woke": before Epstein and Weinstein and Cosby and the Boy Scouts and several skirt-chasing US politicians and Charlie Rose and Matt Lauer and Kevin Spacey, etc., etc. all came to the surface.
*
[My biggest beef was Kavanugh's behavior during his confirmation hearings. He came off as a whiny, rage-cryer and showed the lack of dignity an immaturity of a devious teenager at the principal's office. It was far below the minimum expected professional conduct of a lawyer]
*
Are you old enough to have witnessed the Bork and Thomas confirmations? Or how Reagan was routinely treated? Whether you have or not, do you not know that this is standard Democrat modus operandi? No one is fit in their eyes to get the 5th or 6th conservative seat on the Court. Jesus Himself could be put up and they would accuse Him of racism and rape and heaven knows what else.
*
You don't know what it's like to have the full idiotic force of Democrat power-hungry slanderous rage and fury coming down on your head in view of the entire country. I've been lied about scores and scores of times for 23 years online, as a Catholic apologist, but it's nothing like these poor pro-life (often Catholic) conservatives up for judge positions have to go through.
*
[Surely you're not comparing Kavanaugh to Jesus!]
*
I wasn't comparing Kavanaugh to Jesus. Good grief. I said that even Jesus wouldn't be good enough. In other words, they would slander absolutely anyone because it's not about them personally. It's about political and judicial power. I've been a political junkie for 40 years. I know how these things work. I've seen it over and over.
*
You think the Democrats didn't attack him? At the time I was sympathetic to Blasey Ford, and my liberal friends complimented me for what they thought was fair-mindedness. Later I thought she remembered wrongly due to traumatic experiences in her life (which is a known phenomenon). I never called her a flat-out liar at any time. But she had insufficient evidence, in any event.
*
Kavanaugh did fine. He knew he had to fight back, just as Clarence Thomas did, or he was toast. But of course foes like you will blame him for defending himself against outrageous lies.
*
As for "dumbfounded": I'm dumbfounded to see an intelligent woman like Justice Ginsburg defend partial-birth infanticide, as she did in 2007 in a dissenting opinion.
*
[The Supreme Court is above mere partisanship]
*
SCOTUS certainly is partisan, and is affected by what goes on in society around it. That's why it could declare in 1857 that black people weren't persons and had no rights. And why it could create the "right of privacy" out of whole cloth in 1965 in Griswold vs. Connecticut in order to justify legal contraception, which was the framework for Roe v. Wade and the even more diabolical Doe v. Bolton on the same day in 1973: both obviously flowing from the tragic fruits of the sexual revolution.
*
It seems (just a mere coincidence, I guess) that
stare decisis
only works one way: when a conservative justice wants to reverse a bad, immoral (secular and anti-Christian) decision.
*
The fact is that it is extremely partisan on the Democrat side, because they love to legislate from the bench, since they can't get things passed legislatively. This is, of course, how they got us to legal abortion and "gay marriage" in the US. It could never have passed democratically as the expression of the will of the people. Because they love to create laws by judicial fiat, they crap all over themselves if SCOTUS is not controlled by them.
*
And that is why we had the Bork, Thomas, Kavanaugh, and the coming confirmation fiascoes (not to mention the same-in-spirit Mueller investigation and impeachment farces). They can't win by rational argument and legal arguments, and so they go right to slander and smear tactics. It's the same in presidential elections.
*
Justice Ginsburg said that both Justices Gorsuch and Kavanaugh were "very decent" and "very smart". And she stated (
according to a CNN report
):
There is a very important first on the Supreme Court this term, and it's thanks to our new justice, Justice Kavanaugh, whose entire staff is all women. All of his law clerks are women. And with his four women as law clerks, it's the first time in the history of the United States that there have been more women clerking at the court than men.
I agree with Justice Ginsburg. Apparently, however, many liberals who idolized her do not. She also opposed the packing of the Court that the liberals (in their usual "whiny sore loser" mode) are already bandying about. And she obviously opposed the politics of personal destruction, and the almost total polarization and demonization of today, as shown by her
deep friendship with the late Justice Antonin Scalia
.
*
"They are patriots," Kavanaugh said of his eight colleagues on the bench, adding the conservative Federalist Society on Thursday night. "They love our court and love our country."

They are "collegial, gracious and respectful," he added. "A team of nine." . . .

"I'm grateful for Justice Ginsburg for being so generous to me," he said of her repeated praise and public recognition of Kavanaugh being the first justice in history to hire a staff of all-women clerks.

"Ruth Ginsburg is an inspiration," he said. "Thank you, Ruth Ginsburg."

Kavanaugh also highlighted the spirit of decency shown by two of the court's ideological opposites: Justices Clarence Thomas and Ginsburg.

*

"Very different people. Very different judges. But two dedicated, hardworking, generous souls," he said. "I think the collegiality of our court today is perhaps best represented after every oral argument when Justice Thomas and Justice Ginsburg walk arm-and-arm down the steps in back of the bench."
As for the increasing radicalism of the Democrat Party: I think this is obvious stuff for those who have observed the political scene. I will simply mention one thing: Bernie Sanders himself stated that his policies that were considered radical just a little while ago, have now been accepted as mainstream. At the Democrat convention, he stated that his campaign had:
. . . . moved this country in a bold new direction . . . Our campaign ended several months ago, but our movement continues and is getting stronger every day. Many of the ideas we fought for, that just a few years ago were considered "radical," are now mainstream.
That's just one evidence of hundreds that could be set forth. It's hardly a conspiracy theory, let alone "McCarthyism" to note it. There is the green new deal, getting rid of fossil fuels, talking about packing the court, getting rid of the filibuster and the electoral college, abortion through all nine months and killing children even after birth (a position held by about 10-15% of the population), and on and on. Kamala Harris was the most liberal member of the Senate: even more than Crazy Bernie himself! She was so far left she couldn't even make it to the first Democratic primaries before she split.
Anyone who follows politics knows that AOC and her cronies (The "Squad") and Sanders and the far-left base of the Democratic party are now calling the shots. Even Nancy Pelosi is beholden to them. Biden can't even read lines from a teleprompter anymore. He's not in a mental / cognitive condition to run a lemonade stand.
So again, I consider these things self-evident and not arguable; hence, I won't spend time establishing them (someone else can do that). The Sanders quote alone ought to prove what is happening there. In effect, he's saying (and verifying), "I had to suspend my campaign, but the good news is that my radical ideas have now prevailed, won the day, and are considered mainstream among Democrats."
AOC herself was talking about this over a year ago, as The New York Times reported (hardly a mere right-wing conspiracy theory), and Sanders' very revealing statement shows that the radicalism has only increased since then.
***
Photo credit: the late Justice Ruth Bader Ginsburg [Flickr / CC BY-SA 2.0 license]
***