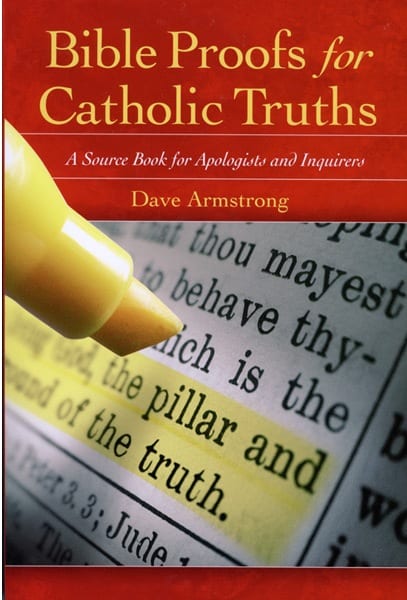 This is from my book, Bible Proofs for Catholic Truths (2009): except that this is the original RSV version.
*****
INFANT BAPTISM
Acts 16:15 . . . she was baptized, with her household, . . .
Acts 16:33 . . . he was baptized at once, with all his family.
Acts 18:8 Crispus, the ruler of the synagogue, believed in the Lord, together with all his household; and many of the Corinthians hearing Paul believed and were baptized.
1 Corinthians 1:16 (I did baptize also the household of Steph'anas. Beyond that, I do not know whether I baptized any one else.)
Many biblical passages connect household and children (if indeed such a demonstration is necessary, so obvious is it: especially for that culture and time):
Genesis 18:19 No, for I have chosen him, that he may charge his children and his household after him to keep the way of the LORD by doing righteousness and justice . . . (cf. 31:41)
Genesis 36:6 Then Esau took his wives, his sons, his daughters, and all the members of his household, . . .
Genesis 47:12 And Joseph provided his father, his brothers, and all his father's household with food, according to the number of their dependents.
Numbers 18:11 . . . I have given them to you, and to your sons and daughters with you, as a perpetual due; every one who is clean in your house may eat of it.
1 Chronicles 10:6 Thus Saul died; he and his three sons and all his house died together.
Matthew 19:29 And every one who has left houses or brothers or sisters or father or mother or children or lands, for my name's sake, will receive a hundredfold, and inherit eternal life. (cf. Mk 10:30)
1 Timothy 3:12 Let deacons be the husband of one wife, and let them manage their children and their households well;
In other biblical passages, entire households are referred to as being saved:
Luke 19:9 And Jesus said to him, "Today salvation has come to this house, since he also is a son of Abraham."
Acts 11:14 he will declare to you a message by which you will be saved, you and all your household.
Acts 16:31 And they said, "Believe in the Lord Jesus, and you will be saved, you and your household.
ANALOGY OF CIRCUMCISION AND BAPTISM / INFANTS AS PART OF THE COVENANT AND SALVATION
Genesis 17:7 And I will establish my covenant between me and you and your descendants after you throughout their generations for an everlasting covenant, to be God to you and to your descendants after you.
Deuteronomy 10:16 Circumcise therefore the foreskin of your heart, and be no longer stubborn.
Deuteronomy 29:10-12 You stand this day all of you before the LORD your God; the heads of your tribes, your elders, and your officers, all the men of Israel, your little ones, your wives, and the sojourner who is in your camp, both he who hews your wood and he who draws your water, that you may enter into the sworn covenant of the LORD your God, which the LORD your God makes with you this day;
Deuteronomy 30:6 And the LORD your God will circumcise your heart and the heart of your offspring, so that you will love the LORD your God with all your heart and with all your soul, that you may live.
Jeremiah 4:4 Circumcise yourselves to the LORD, remove the foreskin of your hearts, . . .
Jeremiah 9:25 Behold, the days are coming, says the LORD, when I will punish all those who are circumcised but yet uncircumcised
Matthew 19:14 but Jesus said, "Let the children come to me, and do not hinder them; for to such belongs the kingdom of heaven."
Romans 2:26-29 So, if a man who is uncircumcised keeps the precepts of the law, will not his uncircumcision be regarded as circumcision? Then those who are physically uncircumcised but keep the law will condemn you who have the written code and circumcision but break the law. For he is not a real Jew who is one outwardly, nor is true circumcision something external and physical. He is a Jew who is one inwardly, and real circumcision is a matter of the heart, spiritual and not literal. His praise is not from men but from God. (cf. 3:30; 4:9-12)
Philippians 3:3 For we are the true circumcision, who worship God in spirit, and glory in Christ Jesus, and put no confidence in the flesh. (cf. 1 Cor 7:18-19)
Colossians 2:11-13 In him also you were circumcised with a circumcision made without hands, by putting off the body of flesh in the circumcision of Christ; and you were buried with him in baptism, in which you were also raised with him through faith in the working of God, who raised him from the dead. And you, who were dead in trespasses and the uncircumcision of your flesh, God made alive together with him, having forgiven us all our trespasses, (cf. Gal 5:6)
***
Summary: Collection of surprisingly many Bible passages indicating infant baptism in New Testament times and infants as members of the covenant community (analogy to circumcision).
***