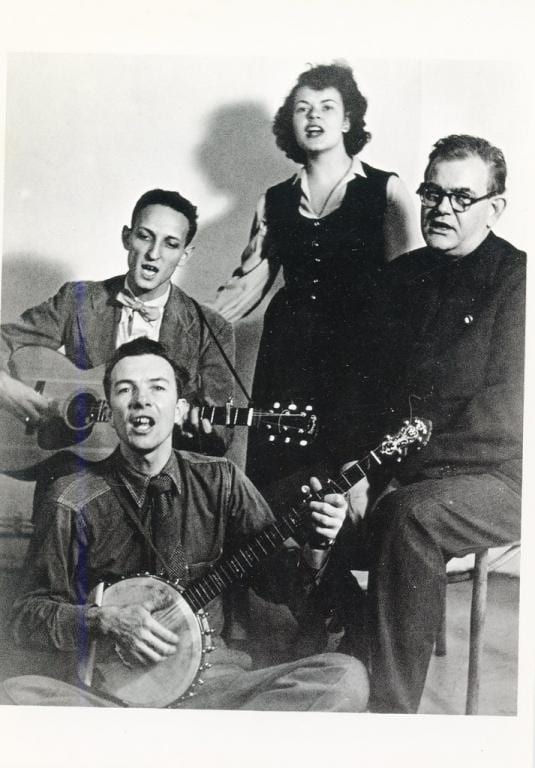 It's good once in a while to look back in history, in order to ascertain the pedigree and "background information" on various strains of thought and movements of our present time. It struck me in watching — for about the fifth time — a documentary about the legendary folk music group, The Weavers (called The Weavers: Wasn't That a Time!), how different some things were among those even considered "far left" in the 50s and 60s.
The Weavers (Pete Seeger, Lee Hays, Ronnie Gilbert, and Fred Hellerman) — whose music and style I absolutely love — were perhaps the most successful musical act in America from 1950-1952, with hit singles (or eventually famous songs) like Goodnight, Irene, On Top of Old Smoky, If I Had a Hammer, Kisses Sweeter than Wine, Darling Corey, and the wonderful Wimoweh (later sung in 1961 by The Tokens in a version called The Lion Sleeps Tonight).
They almost singlehandedly kicked off the folk revival of the early 60s (Bob Dylan, Peter, Paul, and Mary, Joan Baez, The Kingston Trio et al). Particularly influential was their Christmas Eve concert in Carnegie Hall in 1955.
They were "blacklisted" by the House Committee on Un-American Activities (Joe McCarthy and the notorious McCarthyism), resulting in dire consequences for their career. The Wikipedia entry describes the effect:
During McCarthyism, Pete Seeger and Lee Hays were identified as Communist Party USA members by FBI informant Harvey Matusow (who later recanted) and were called to testify to the House Committee on Un-American Activities in 1955. Hays took the Fifth Amendment,[6] which allows people not to give evidence against themselves, so they could not be prosecuted without other witnesses.[7] Seeger refused to answer, however, claiming First Amendment grounds, the first to do so after the conviction of the Hollywood Ten in 1950. Seeger was found guilty of contempt and placed under restrictions by the court pending appeal, but in 1961 his conviction was overturned on technical grounds.[8] Because Seeger was among those listed in the entertainment industry blacklist publication, Red Channels, all of the Weavers were placed under FBI surveillance and not allowed to perform on television or radio during the McCarthy era. Decca Records terminated their recording contract and deleted their records from its catalog in 1953.[9] Their recordings were denied airplay, which curtailed their income from royalties. Right-wing and anti-Communist groups protested at their performances and harassed promoters. As a result, the group's economic viability diminished rapidly and in 1952 it disbanded.[5] After this, Pete Seeger continued his solo career, although as with all of them, he continued to suffer from the effects of blacklisting.
I detest and decry all this. It was an abomination. But one must note that today, these sorts of blacklisting and censorship tactics are widely occurring on the left. McCarthyism is now called "woke awareness" or "cancel culture" and about ten years ago or so it was known as "political correctness." These are all expressions of leftist desire to censor and obliterate political conservatism, moral traditionalism, traditional Christianity, pro-life expression, and other non-leftist notions. Wikipedia describes "cancel culture" as follows:
Cancel culture (or call-out culture) is a modern form of ostracism in which someone is thrust out of social or professional circles – whether it be online, on social media, or in person. Those who are subject to this ostracism are said to have been "cancelled".[1][a] The expression "cancel culture" has mostly negative connotations and is commonly used in debates on free speech and censorship.[4]

The notion of cancel culture is a variant on the term call-out culture and constitutes a form of boycotting involving an individual (usually a celebrity) who is deemed to have acted or spoken in a questionable or controversial manner.[2][5][6][7][8] For those on the receiving end of cancel culture, the consequences can lead to loss of reputation and income, from which it can be hard to recover.[9]

According to the social psychologist Jonathan Haidt, call-out culture arises from what he calls "safetyism" on college campuses.[10] As illustrated by Keith Hampton, professor of media studies at Michigan State University, the practice contributes to the polarization of American society, but it does not lead to changes in opinion.[11] Some students are afraid to express unpopular ideas for fear of being called out on social media[12] and may avoid asking questions as a result.[13] Call-out culture's prevalence can make marginalized groups feel "even more hesitant to speak out for what they feel is right."[14] Cancel culture has also been described by a different media studies scholar, Eve Ng, as "a collective of typically marginalized voices 'calling out' and emphatically expressing their censure of a powerful figure."[15] Cultural studies scholar Frances Lee states that call-out culture leads to self-policing of "wrong, oppressive, or inappropriate" opinions.[16][17] According to Lisa Nakamura, University of Michigan professor of media studies, cancelling someone is a form of "cultural boycott" and that cancel culture is the "ultimate expression of agency" which is "born of a desire for control [as] people have limited power over what is presented to them on social media" and a need for "accountability which is not centralized".[8][18][19]
Recently, this has been utterly obvious in the attempts of Big Tech (Amazon, Apple, Facebook, Google, and Microsoft)  to censor conservatives; for example, cancelling President Trump's Twitter account, and going after many other noted conservatives. Examples are now so numerous as to not even require documentation. This is the new McCarthyism and fascism today.
But back to the Weavers and the historical background (filled with ironies in light of what is going on today in the left, uncannily mirroring and echoing 50s McCarthyism) . . . There was a genuine leftist bent in the group and in folk music generally speaking. Again, this is undeniable and so well-known that I need not document it. But let's look at some specifics in the case of The Weavers. According to Wikipedia (itself now decidedly "left" in orientation):
In 1936, at the age of 17, Pete Seeger joined the Young Communist League (YCL), then at the height of its influence. In 1942, he became a member of the Communist Party USA (CPUSA) itself, but he left in 1949.[26] . . .

[W]ith the ever-growing revelations of Joseph Stalin's atrocities and the Hungarian Revolution of 1956, he became increasingly disillusioned with Soviet Communism. He left the CPUSA in 1949, but remained friends with some who did not leave it, although he argued with them about it.[40][41] . . .

In his autobiography Where Have All the Flowers Gone (1993, 1997, reissued in 2009), Seeger wrote . . .:

. . . At any rate, today I'll apologize for a number of things, such as thinking that Stalin was merely a "hard driver" and not a "supremely cruel misleader." . . .

In a 1995 interview, however, he insisted that "I still call myself a communist, because communism is no more what Russia made of it than Christianity is what the churches make of it."[75]
Thus, Pete Seeger (religiously a pantheist and a Unitarian) was formally a Communist from 1936 to 1949 and was still calling himself one as late as 1995. I hasten to add that he was in favor of a lot of things that I and many Christians (particularly, us Catholics) would fully agree with, such as the civil rights movement of the early 60s, (non-corrupt) unionism, cleaning up the Hudson River in New York, Farm Aid, and many other causes that are not, or should not be, considered exclusively "leftist."
I'm not trying to demonize him at all (in fact, I admire and respect him in many ways). I'm only noting that he was clearly a man of the far left. This is indisputable. But he should not have been blacklisted or censored in any way. Nor should conservatives be blacklisted and "cancelled" and massively slandered and lied about today. A consistent free speech / free exchange of ideas position fights censorship on both the right and the left.
As for Lee Hays:
In 1932, . . . Hearing about the activities of the radical white Presbyterian minister Claude C. Williams, a Christian Marxist who had become converted to the cause of racial equality and was trying to organize a coal miners' union in Paris, Arkansas, Hays decided to return to Arkansas and join Williams in his work. . . . From 1934 to 1940, writes Doris Willens, "Williams was the dominant figure in Hays' life—a surrogate father—. . .".[5]
Hays wrote about his views in the 1930s:
Somewhere along in there I became some kind of Socialist, just what kind, I have never figured out.[3]
So again, Hays was undeniably of the far political left: probably less leftist than Seeger, but still very leftist. Ronnie Gilbert was broadly a leftist as well, as her Wikipedia entry demonstrates. An obituary in The Guardian for Fred Hellerman noted: "Like his fellow band members, Hellerman was a committed leftwing sympathiser . . ."
Now, I'd like to take note of the thing that made me want to write this article: the lyrics of Lee Hays' 1949 song, Wasn't That a Time. These show that even those on the far left 70 years ago, who lived up until the last decade (as did all The Weavers except Hays), were greatly different from today's far left "woke" mentality. Here are the lyrics:
Our fathers bled at Valley Forge
The snow was red with blood
Their faith was worn at Valley Forge
Their faith was brotherhood

*

Wasn't that a time, wasn't that a time?
A time to try the soul of men
Wasn't that a terrible time?

*

Brave men who fought at Gettysburg now lie in soldier's graves
But there they stemmed the rebel tide
And there their faith was saved

*

Wasn't that a time, wasn't that a time?
A time to try the soul of men
Wasn't that a terrible time?
*

The wars are long, the peace is frail, the madmen come again
There is no freedom in a land where fear and hate prevail

*

Isn't this a time, isn't this a time?
A time to try the soul of men
Isn't this a terrible time?

*

Our fathers bled at Valley Forge
The snow was red with blood
Their faith was worn at Valley Forge
Their faith was brotherhood

*

Wasn't that a time, wasn't that a time?
A time to try the soul of men
Wasn't that a terrible time?
You can also hear The Weavers
sing the song on YouTube
(Hays is the bass lead singer). At least three major things about this song would be anathema today:
1) He references the

founding fathers

of America in the first stanza ("fathers") and the terrible winter of 1777-1778 at

Valley Forge, Pennsylvania

. This is now frowned upon, as Washington, Jefferson and other founding fathers are scorned as white elitist racists, who owned slaves, and went on to found this terrible country, America, which is supposedly the cause of most of the world's ills. Because of that, it's imagined that none of them had any good in them, and the leftist woke fascists today want to tear down their statues and monuments.

*

Hays [and by extension, the other three Weavers who sang this song] was in fact a patriot in a sense not unlike many political conservatives today, who honor the founding fathers, while not turning a blind eye to the great blind spot and America's "original sin" of slavery. Socialism and far leftism in 1949 was not yet anti-American or anti-founding fathers. Imagine that! Of course, most leftists today think abortion is fine and dandy, yet look down their noses at slaveholders, as if they are any morally better (or even up to the moral level of a slaveholder).

*
2) The second stanza states, "Brave men who fought at Gettysburg now lie in soldier's graves." Though not as controversial as the words above would be (since it was referencing the northern soldiers who were — very broadly speaking — opposing slavery, at least in part — ironically written by a southerner from Arkansas), this is still a sort of patriotism and reverence for the dead in the Civil War that is virtually extinct among the far left fascists and McCarthyites today. Moreover, it is a reverence for soldiers and the military: equally despised by the far left now (as it has been since Vietnam).

*

3) The song throughout also refers to "men" in the generic sense of "mankind": a thing which is now utterly opposed as sexist. The left doesn't get it that there is a sense of "man" as in "mankind" or "humankind": as we often hear today. It's simply a manner of speaking, and (I would contend) not inherently sexist or anti-woman at all. The leftists 70 years ago didn't yet "get" this.
They were still singing the song thirty-one years later in 1980, at the reunion concert chronicled by the documentary that took its name from this song: 
The Weavers: Wasn't That a Time!
Ronnie Gilbert said of the song in the film something to the effect of "it always sent a chill up my spine." Peter, Paul & Mary also covered it
in a 1965 album
.
*
As always, we can learn much about our own times from history, including (in this instance) leftist and American folk music history. As philosopher
George Santayana
famously said: "Those who cannot remember the past are condemned to repeat it" (
The Life of Reason: Reason in Common Sense. 
Scribner's, 1905: 284).
*
We're massively doing that today as the left (almost to the extent of comedic self-parody or satire) enthusiastically seeks to act exactly as the far-right McCarthyites acted in the 1950s: blacklisting, banning, censoring, massively slandering, boycotting, and legally seeking to  shut down the free speech rights — and indeed, careers — of anyone (it seems) to the left of the political center. Now anyone to the right of the center is fair game for the Democrats and Big Tech.
*
I believe that in the future, our pathetic period of time, where leftist anti-free speech fanaticism and extremism is flourishing and becoming brazen, will be utterly despised as immoral and the height of hypocrisy: just as McCarthyism has been for over fifty years now.
***
*
Photo credit:
The Weavers in 1949: Seeger with the banjo, Hellerman with guitar
[
Flickr
/
CC BY-NC 2.0
license]
*
***
Summary: I revisit the history of American folk music (overwhelmingly leftist) and show how the preeminent folk group, The Weavers were far left, yet greatly differed from today's "cancel culture" and woke leftist McCarthyism.
***