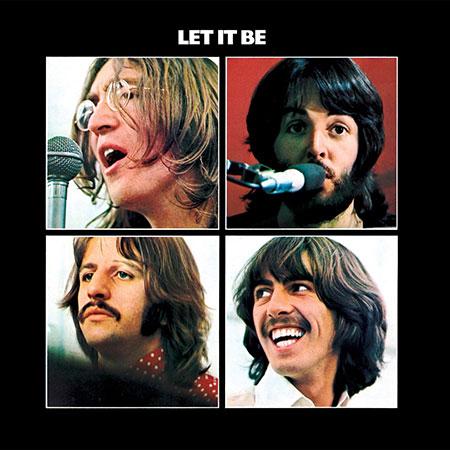 I only care about the new remixes of six out of twelve songs (I agree with Paul's derision towards the stringed-up Long and Winding Road — done against his will –,  thus, the 2003 Let it Be Naked remix gets my vote), and so I'll be commenting on them only. I always compare in headphones, in order to hear all the sonic details better. Links are to You Tube, so readers can make comparisons.
*****
1) Get Back. I listened to different remasters many times and I've decided that the 2015 remix from the revised "1" album gets the nod, primarily because you can hear John's rhythm riffs better in the left channel and also Paul's wonderful bass lines are a little more distinct. Slight edge in overall power, too, compared to the new mix.
2) Let it Be. I much prefer the album version to the single version with it's weird "underwater"-sounding guitar solo sound, so the comparison is between the 2009 remaster and this new one. The two are much the same until the last third of the song, where in the '21 mix George's wonderful guitar licks are unforgivably buried in the mix, with the background (to me a bit annoying) "tinny trumpet" sounds far too dominant. This is inexplicable to me, as his guitar is by far the best instrumental performance on this song. Thus, the 2009 remaster remains the best version for my money. It's a shame because I think this recording could (technically?) have been made a lot "cleaner" with reduced background "fluff." But then again, I'm quite partial to a clean recording sound. Not everyone is, as a matter of personal taste.
3) Across the Universe. Here my favorite — despite John Lennon's opinion — is (and will remain) the slightly faster and much cleaner version from the Past Masters "album" in the 2009 stereo box set. It was remixed in January 1969 from the original February 1968 recordings, with bird sound effects added, and again remixed in stereo in October 1969. The "released" version on Let it Be was yet another remix by Phil Spector in April 1970, with orchestral and choral overdubs. This is what was remastered in 2009 and has now been remixed (remixes change the overall mixture of the different components of a recording rather than merely improve the quality of the sound, as in remasters).
As for these two versions, it's very close, but the new mix seems to have slightly more clarity. For those who prefer the "released" style, but without all the added Spector "fluff" the 1970 Glyn Johns mix will perfectly fit the bill as a "compromise" version (and in certain moods would be my preference as well).
4) Two of Us. Once again, the new remix (for my taste) is too "noisy"; too loud and with too much reverb (in a word, overproduced), compared to the clean, "normal" 2003 remix of Let it Be Naked. The latter version would appear to be more in line with the "folksy" and acoustic nature of the song. Since Paul McCartney was the songwriter, it's only fair that it should have been left as he wanted it, which he accomplished in the 2003 release. These determinations largely depend on whether one prefers the Lennon-approved "Spectorized" vision of the Let it Be album that came out in May 1970 (remastered in 2009), or more so, the original "stripped-down" version which was Paul McCartney's original concept.
This was one of the controversies that divided the Beatles in their final year together as a band. George Harrison also obviously liked the Spector "wall of sound", since he used him as producer for his classic 1970 album, All Things Must Pass. I agree that it works wonderfully for My Sweet Lord and Isn't it a Pity?, but alas, not for most Beatles songs. I'm totally with Paul with regard to that issue (as readers can already tell from the previous two entries and my introduction), but I acknowledge that it's a matter of subjective taste.
5) For You Blue. Now on to the two George Harrison compositions. This wonderful blues shuffle is served better by the punchier, cleaner, and catchier sound of the 2003 Let it Be Naked remix. I don't see how this 2021 remix is in any way an improvement on that.
6) I Me Mine. This was the last song recorded by the Beatles, till the 1994 short reunion of the "Threatles." And this, too, was without John Lennon. The 2021 remix retains the punchy, bluesy guitar and drums, even with (or some might say "despite") the Spector-added 27-piece string section and more drums from Ringo. Since this is George's song and he approved of what Spector was doing, and it's more in line with his preferred production style, the new mix gets the nod over the 2003 "stripped-down" version.
Overall, the 2021 mix of Let it Be is disappointing and offers no new "revelations." Even the one song I picked as "best" barely surpasses the best available version up till now. I was ecstatic about the previous three remixes: Sgt. Pepper, The White Album, and Abbey Road (especially Pepper), and the remixed "1" from 2015, so I fully expect good work from Giles Martin  (Beatles producer George Martin's son) in the future. Every artist (or author!) has their "duds." He needs to get to 1965's Rubber Soul and 1966's Revolver: the two albums all Beatles fans are very eager to see re-done (and one or both of those are many fans' favorite Beatles album).
But Let it Be (2021)  seems extraneous and by far the most unnecessary of all Beatles remasters and remixes thus far. It's a big disappointment for this Beatles fanatic, but I am hopeful for future remixing projects, where the sound can still be vastly improved. A ton of money will be made, just in time for Christmas, too! But we fans want obviously improved Beatles songs. And we'll surely get our wish, as the entire Beatles catalogue is eventually re-mixed.
***
[see also my slightly abridged review posted on the Amazon page for this new re-mix of Let it Be]
*****
Summary: I offer a review of my favorite songs in the 2021 remix of the Beatles' Let it Be album (originally from 1970). Disappointingly, it is pretty much an unnecessary "dud".
***