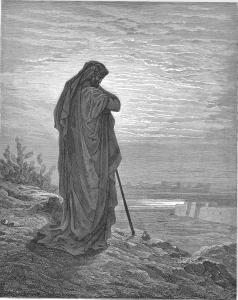 Amos 1:1 (RSV) The words of Amos, who was among the shepherds of Teko'a, which he saw concerning Israel in the days of Uzzi'ah king of Judah and in the days of Jerobo'am the son of Jo'ash, king of Israel, two years before the earthquake.

Amos 6:11 For behold, the LORD commands, and the great house shall be smitten into fragments, and the little house into bits.

Amos 8:8 Shall not the land tremble on this account, and every one mourn who dwells in it, and all of it rise like the Nile, and be tossed about and sink again, like the Nile of Egypt?

Amos 9:1, 5 I saw the LORD standing beside the altar, and he said: "Smite the capitals until the thresholds shake, and shatter them on the heads of all the people; . . . [5] The Lord, GOD of hosts, he who touches the earth and it melts, and all who dwell in it mourn, and all of it rises like the Nile, and sinks again, like the Nile of Egypt;

Zechariah 14:5 . . . you shall flee as you fled from the earthquake in the days of Uzzi'ah king of Judah. . . .
Amos the prophet is widely believed to have been active in the mid-eighth century BC (750 BC). His recording of this verified earthquake is evidence of when he lived, and also of the historical accuracy of what he wrote. The Wikipedia article, "Amos 1" summarizes the geological evidence:
Earthquake debris at six sites (Hazor, Deir 'Alla, Gezer, Lachish, Tell Judeideh, and 'En Haseva), is tightly confined stratigraphically to the middle of the 8th century BC, with dating errors of ~30 years. This particular seismic event is further confirmed in 2019 by geologists studying layers of sediment on the floor of the Dead Sea. . . .

In 2005 seismologist Nicholas Ambraseys reviewed the literature on historical earthquakes in Jerusalem and specifically the 'Amos' earthquake. He states that "Modern writers date the earthquake to 759 BC and assign to it a magnitude of 8.2, with an intensity in Jerusalem between VIII and IX." . . . He also states that a search for changes in the ground resembling those described in Zechariah revealed "no direct or indirect evidence that Jerusalem was damaged."

FOOTNOTES

Austin, S.A., G. W. Franz, and E. G. Frost. 2000. Amos's Earthquake: An extraordinary Middle East seismic event of 750 B.C.International Geology Review. 42 (7): 657–671.

Fact-checking the Book of Amos: There Was a Huge Quake in Eighth Century B.C.E. By Ruth Schuster, Haaretz, Jan 03, 2019. Quote: "An earthquake that ripped apart Solomon's Temple was mentioned in the Bible and described in colorful detail by Josephus – and now geologists show what really happened."

Ambraseys, N. (July 2005). "Historical earthquakes in Jerusalem – A methodological discussion". Journal of Seismology. 9 (3): 329–340.
Ruth Schuster, in her article in the second footnote above, summarizes much of the corroborating archaeological evidence:
Evidence of catastrophe in eighth-century B.C.E. northern Israel is legion. A destruction layer at Hazor was dated by Israel Finkelstein and Yigal Yadin to 760 B.C.E., the right time frame for Amos. At Lachish, David Ussishkin found a destruction level from the same time. . . .

Moving onto Megiddo (which the Christians call Armageddon), the archaeologists describe "tilted walls and pillars, bent and warped walls, fractured building stones, dipping floors, liquefied sand, mudbrick collapse and burnt remains" (Shmuel Marco and Israel Finkelstein of Tel Aviv University, with Amotz Agnon of Hebrew University and Ussishkin).

Tel Abu Hawam, in Haifa Bay, had been settled from the Bronze Age, if not earlier, and a powerful town had arisen there some 3,000 years ago. But it was destroyed after the quake and not rebuilt. Damage found at Tel Dan also fits the timeline of the biblical quake. . . .

Tel Shafi, for instance (formerly the Philistine city of Gath), had a 4-meter-thick (13-foot) wall that fell onto its side in the eighth century B.C.E. . . .

Publishing in Tectonophysics, Marco and Agnon,, and Elisa Kagan, present paleoseismic evidence from the Dead Sea area: Cores taken at Ein Gedi and evidence from layered sediment at Ein Feshkha and Nahal Tze'elim (next to Masada).

Using carbon-14 dating of organic matter in the deformed layers, Kagan dated one quake to 861-705 B.C.E. and the second to 824-667 B.C.E.
Note that all of the above evidence was outside of Jerusalem. That changed in the summer of 2021 when archaeologists at the City of David National Park in Jerusalem discovered — for the first time — proof in that hallowed location. Rossella Tercatin, writing for The Jerusalem Post (8-4-21: "Evidence of 2,800-year-old biblical earthquake found in Jerusalem"), conveys what happened:
"When we excavated the structure and uncovered an eighth-century BCE layer of destruction, we were very surprised, because we know that Jerusalem continued to exist in succession until the Babylonian destruction, which occurred about 200 years later," IAA excavation directors Dr. Joe Uziel and Ortal Chalaf said.

"We asked ourselves what could have caused that dramatic layer of destruction we uncovered. Examining the excavation findings, we tried to check if there is a reference to it in the biblical text. Interestingly, the earthquake that appears in the Bible, in the books of Amos and Zechariah, occurred at the time when the building we excavated in the City of David collapsed."
A more detailed report appeared in The Times of Israel on the same day (8-4-21): "Archaeologists unearth 1st Jerusalem evidence of quake from Bible's Book of Amos" by Amanda Borschel-Dan. Smithsonian Magazine took note two days later.
***
Practical Matters: Perhaps some of my 3,900+ free online articles (the most comprehensive "one-stop" Catholic apologetics site) or fifty books have helped you (by God's grace) to decide to become Catholic or to return to the Church, or better understand some doctrines and why we believe them.
Or you may believe my work is worthy to support for the purpose of apologetics and evangelism in general. If so, please seriously consider a much-needed financial contribution. I'm always in need of more funds: especially monthly support. "The laborer is worthy of his wages" (1 Tim 5:18, NKJV). 1 December 2021 was my 20th anniversary as a full-time Catholic apologist, and February 2022 marked the 25th anniversary of my blog.
PayPal donations are the easiest: just send to my email address: apologistdave@gmail.com. You'll see the term "Catholic Used Book Service", which is my old side-business. To learn about the different methods of contributing, including 100% tax deduction, etc., see my page: About Catholic Apologist Dave Armstrong / Donation Information. Thanks a million from the bottom of my heart!
***
Photo credit: The Prophet Amos (Amos 1:1-15) (1866), by Gustave Doré (1832-1883) [public domain / Wikimedia Commons]
***
Summary: The earthquake mentioned in Amos 1:1; 8:8; 9:1, 5 has, sure enough, been backed up by several archaeological excavations, including (in 2021) in Jerusalem.