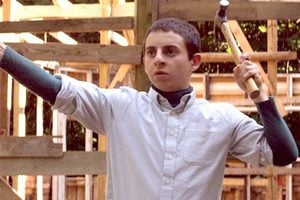 Most of the casting announcements for the upcoming remake of Ben-Hur have dealt so far with some fairly familiar characters: Judah Ben-Hur, his sister, his mother, his nemesis Messala and a few others like Jesus and Pontius Pilate. Nothing so far has indicated how this new film might be different from previous adaptations. Nothing, that is, until now.
Deadline reports that the filmmakers have cast 20-year-old Kings of Summer co-star Moisés Arias as Gestas, "a teenage Jewish zealot" who is "desperate to fight for his people's freedom" because his family "has been murdered by the Romans".
This is interesting, as there is no one named Gestas in the original novel, but Gestas is the traditional name for one of the thieves who were crucified with Jesus. (Gestas is the one who mocked Jesus. The one who repented is called Dismas.)
And of course, many translators would argue that the Greek word that has commonly been translated "thieves" should really be translated "rebels" — like the Zealots.
So it looks like the new film will follow the line of interpretation which says that the men crucified next to Jesus were violent revolutionaries, and not just roadside robbers. And it looks like the film will give at least one of these men a
back story
— which suggests that he might become a significant character in the plot.
I haven't read the novel in decades, so I don't know how easy it would be to slip these characters into the story. But I do know that both of the feature films produced to date — the silent 1925 version, in particular — showed Judah Ben-Hur flirting with revolution and even raising an army, after he got his revenge against Messala in the chariot race. Perhaps Gestas and Dismas will be two of his recruits.
And given how Timur Bekmambetov was reportedly hired to direct this film because the studio felt he had "a strong grasp on the story's themes of revenge and redemption," I wonder if it will use the relationship between Judah and Gestas to explore the differences between these paths and where they lead, with Gestas' pursuit of revenge leading to his execution, while Judah lets go and finds peace.
Off the top of my head, I can't think of any other films that have really fleshed out Gestas or Dismas. Franco Zeffirelli's Jesus of Nazareth includes a brief scene of the two men in prison — one of them shouts at the guard, "It was him who did the murder, not me!" — and other films may have done something similar. But the Jewish rebel who usually gets extra screen time is Barabbas, and not these other guys.
So, Ben-Hur may be breaking new ground here. As ever, we shall see.
Here's a picture of Judah Ben-Hur in his revolutionary outfit from the 1925 film: