---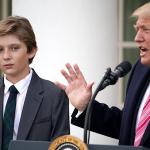 Washington DC – President Trump's youngest son Barron Trump ran away from home in the early hours of Sunday morning. His whereabouts are currently unknown, and law enforcement is currently searching for the 12-year-old.
Although he left no letter to explain his actions, Barron's close friends at Saint Andrew's Episcopal School where he is enrolled had one theory why he's on the run.
"He's 99% sure his dad's the antichrist," stated classmate Andrew Canard, "and Barron doesn't want to be any part of it."
Saint Andrew's Episcopal School To Blame?
Saint Andrew's Episcopal School prides itself on having the highest academic standards. It also has a fantastic reputation for its culture of moral and ethical integrity. The school explains its relationship to faith on its About page:
We believe that God calls us to love. And because we view each of our students as a child of God, we care about them not merely as students who need to pass their courses and get on with life, but as complex human beings whose minds, bodies and spirits need to be nurtured and supported because they are God's hope for a future generation. The love we practice as an Episcopal school reveals itself in sacrifice, patience, truth telling and, to quote St. Paul, a willingness to build one another up and to bear one another's burdens. It is a love that both sets expectations and practices forgiveness, each in equal measure. In a phrase, we care deeply for each other. As an Episcopal school, we place love at the center of our life together.
"Barry [everyone at school calls Barron 'Barry'] is a really sweet kid a good student, and someone who takes his faith seriously." stated an anonymous teacher. "He's seen President Trump up close. A lot of reasonable people question whether or not Donald Trump is the son of the Devil and here to bring about the apocalypse."
The Search
Law enforcement is searching everywhere a 12-year-old who believes his father is the antichrist may be hiding. Area churches are being asked to look to make sure the "First Son" isn't hiding in their buildings.
A twist to this already-bizarre story is some liberal churches are not too sure whether sending Barron Trump back to the White House doesn't constitute child abuse.
"Look, is Donald Trump the antichrist? I don't know," said Unitarian Universalist minister Reverend George Carlin. "What every rational person can say for sure is Donald Trump is emotionally unstable and an unfit father."
Meanwhile, the search continues as President Trump plans to unveil Washington DC's newest monument, The Golden Calf, later today.
---
Did you enjoy this post? How about buying the writer a cup of coffee?
---
Andrew Hall is the author of Laughing in Disbelief. Besides writing a blog, co-hosting the Naked Diner, he wrote two books, Vampires, Lovers, and Other Strangers and God's Diary: January 2017
Andrew is reading through the Bible and making videos about his journey on YouTube. He is a talented stand-up comedian. You can find him on Twitter, Instagram, and Facebook