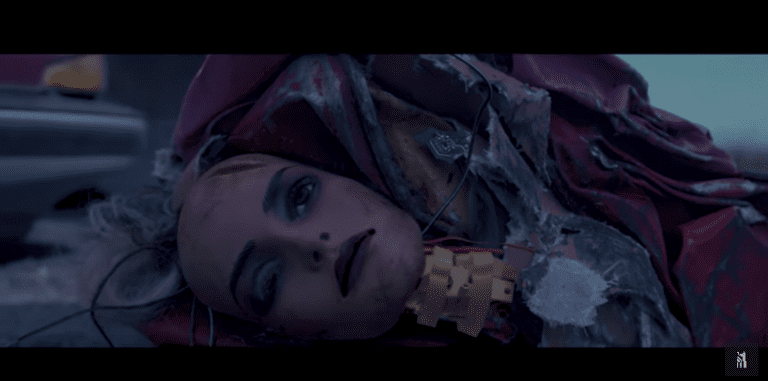 I don't know what the Mennonites did to cheese off Doug Wilson, but they are the main subject of chapter 3 in this laughably bad book on sex robots and gay lawyers. Last week is here. I find it funny because Jill Rodrigues and other QF types love them some Mennonite and Amish. I've known a pile of Mennonites in Virginia and they always seemed like nice folks.
This chapter is odd compared to the two before it focusing on the robot destruction. With all the jumping around in the book from subject to subject I have to wonder what's in the water in Moscow, Idaho.
The chapter opens with an Old Order Mennonite from Colorado named "Sara Yoder." Yes, there are Mennonites in Colorado. The Mennonite equivalent of "Mary Jones" Doug describes her sect of Mennonite as thinking chrome is too prideful:
"Unlike the Amish, they allowed the use of cars, but also unlike the more liberal Mennonites, they decried the use of chrome to decorate their cars. That kind of bling was just two steps away from the women wearing make-up, and there was no telling where that might end up."
Just another example of how Doug is stuck back in the 1950s where cars featured gleaming chrome bumpers. Now it's almost universally black plastic or the same shade as the car. Only someone adding some aftermarket accessories would have chrome. We're all safe now from the dreaded 'Chrome Pride Sin' now.
He describes the dress of Mennonite women, which is pretty standard across the religion. Then he mentions Mennonite rebellion and how it's not tolerated, it is super subtle shade:
"…if a woman was peeved at her husband, or at the elders, she would pull on strand of hair loose and let it hang down over her forehead, a small flag of rebellion. But everybody knew all about it."
Poor Sara is an orphan with zero relatives. I call codswallop. The Mennonites I've know were all interconnected by marriages and blood. Very unlikely in a Mennonite group! Doug says she has no friends and no connections within the group. Cue Eric Carmen's
"All By Myself"
Sara has a flashback of her dear Papa on his deathbed and he urges her to leave their group. No explanations why, simply go. Another thoughtless literary device to drive the narrative. Yesterday writer Stephen King said on Twitter that flashbacks are the laziest of all writer's tricks.
No matter, Sara plans her escape, moving her parent's money to a bank away from Mennonite-ville, getting a credit card, and hitching a ride to the Farmer's Market that the Mennonites use to sell their stuff. Once they are in the big bad weed smoking city she goes to the drugstore to buy a lipstick and a Chicago Cubs baseball cap.
Oh Doug, you never think your crap through, do you? I've spent a capacious amount of time in places like Rite Aid, Walgreens and CVS – home of the endless receipt, and have yet to ever seen any caps that were not the local professional sports team, or local high school teams, certainly not a team hundreds of miles away! Sloppy writing again.
"…she had a dim grasp of what it might mean. She thought it represented a hockey team, although she wasn't quite sure what hockey was."
Mennonites aren't super worldly, but I seriously doubt they don't know what hockey is, even if this smells like horse hockey.
Sara puts on the hat and the lipstick, her small rebellion replete.
"…while she had no intention of playing the hussy, the lipstick certainly made her feel like she was almost one."
Hussy? My long dead father used to use that word many years ago.
Baseball hat and lipstick? That's a shunning. Literally five minutes later on Doug's time line the Bishop saunters over in the marketplace and tells Sara she's officially kicked out and SHUNNED! Oh the shock!
Except that in real life it takes more than a few steps, and certainly more than five minutes to be officially expelled from a Mennonite community. But why bother to be realistic?
The Bishop leaves her with this queer request and five hundred bucks cash.
"When the occasion seems right, I would like to ask you to celebrate with a friend or two, and remember us in your prayers."
Huh? What in the everlasting arms of Snape did I just read here?
Sara runs to the bus stop, boards a bus and starts piteously weeping. Well, guess who is on that bus? None other than the girl Ace was warned away from by her lawyer father Jon Hunt when he told Ace he did not want a robot humper drooling over his daughter – Stephanie Hunt.
Stephanie reaches out to Sara and suddenly it's like middle school girls jumping up and down and squealing 'Best Friends 4EVER!' Over coffee at a coffee shop Stephanie makes Sarah her project, teaching her all about the big bad world, right down to taking her shopping for real clothes.
"Stephanie helped Sara choose her look."
Hee, can you imagine what that looked like?
Stephanie buys Sara a cell phone and forces her to go to an employment agency where she's immediately given a job as a receptionist.
Boy, if none of this tells you that Doug Wilson hasn't got a clue how real life outside of his cult bubble works nothing will. I thought "Serena's Serenity" was bad, but at least Serena is forced to do normal things like hunt for a job and buy groceries instead of having everything handed to her like this.
And we're out. Next week we go off into the craziest chapter, where Ace speaks in Alabama, discovers people are popping out babies like Pez dispensers in the 'Free States' (translation – All those midwest and southern conservative states) and that sex is thought of as a great machine that helps God populate the earth. There are oodles of crazy quotes like this one:
"The kink is in their souls, not in their lusts"
Hold onto your pearls, there's talk of animal sex robot brothels too. This is about to get a whole lot weirder. Doug is a sick, sick, sick puppy.
~~~~~~~~~
Stay in touch! Like No Longer Quivering on Facebook:
If this is your first time visiting NLQ please read our Welcome page and our Comment Policy! Commenting here means you agree to abide by our policies but our main rule is this – Do not be a dick!
Copyright notice: If you use any content from NLQ, including any of our research or Quoting Quiverfull quotes, please give us credit and a link back to this site. All original content is owned by No Longer Quivering and Patheos.com
Watch our goofy rants on YouTube
Check out today's NLQ News at NLQ Newspaper