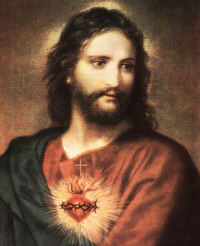 It took me a while to appreciate the Sacred Heart of Jesus devotion. To tell the truth, as a convert, it all seemed kind of sappy, sentimental and well, French. All hearts and flowers and perfume–almost like a Valentine from Jesus. Yucch.
But then I learned about St Margaret Mary Alacogue and realized that she (like all the saints) was pretty tough. The saints inevitably endure some sort of suffering in their identification with Christ, so it has to be that Christ's love–shown in the Sacred Heart of Jesus is everlasting love–but it is also tough love.
C.S.Lewis once wrote to a friend who had lost his wife and was questioning the love of God. He said that his friend was experiencing "a severe mercy". When thinking about the love of God it is absolutely vital that we keep this in mind. God's love is unconditional and everlasting, but it is also a tough love. I've written here about "Rooster Cogburn Catholicism" a Catholicism that is tender but tough. One of the most terrible things about modern Christianity is that we have forgotten this. In an attempt to please everyone we've turned Christianity into a soft and sentimental self help philosophy. Read more.