The Sims is a video game that has seen me through some tough times in my life. I tend to get the urge to play it when I need some escapism. Not ideal, but I find that I am not spiritually ready to be 100% awake and aware at all times! After I got out of an emotionally abusive relationship and lived with my parents for a few months there were weeks where I did nothing but eat, sleep, and play The Sims. I found it very healing.
Lately my life has been pretty awesome and I haven't played Sims in a long time. But I find pregnancy extremely difficult (even a pregnancy with no risks or complications) and it's especially hard while trying to keep up with a toddler. At this point The Sims has changed significantly since I last played. It is now The Sims 4.
I bought a copy and some of the expansions and I discovered some really cool things this time around. The first is that there is a free "holiday pack" expansion that was updated to include Diwali items. There are saris and kurtas to wear, diyas to light, and rangoli "rugs."
And someone else has noticed how valuable that representation can be. This Hindu-American woman wrote about how seeing The Sims 4 celebrating Diwali inspired her to finally celebrate it herself.
The Spa Day expansion packs also allow Sims to meditate and do yoga. It also has incense and you can choose different scents that have different effects.
Then when you move beyond the official offerings, fan creations are a huge part of The Sims. I found some very cool creations. Check out below the things I found and then the things I made (because I can never resist a new craft!)
Here is an entire blog dedicated to finding links for middle Eastern and South Asian Sims content: https://thesims4middleeastsouthasia.tumblr.com/
The Mahashakti Temple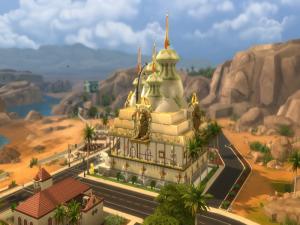 Created by SouvikSur
Here is his description:
The beautiful and splendid 'MAHASHAKTI TEMPLE', dedicated to the three Hindu Goddesses- Durga , Lakshmi and Saraswati; has turned into the most important centre of cultural exchange among the Indians of Sims Nation.

Religion plays a very important role in the Indian lifestyle,and hence, this holy and majestic temple exudes Indian styles of architecture and day-to-day lifestyle.

The splendid central hall or the Jagmohana, that houses the 3 beautifully dressed Idols, the yajna-kund or the sacrificial fire altar that can be lit by visitors, the candles, the fruit offerings made by pilgrims,the spacious square courtyard, the regal staircases, the majestic elephant,orse and lion statues and the beautiful domes of the Nagara architecture–are all very genuine parts of Indian Temple ARCHITECTURE.

The 'MAHASHAKTI TEMPLE', placed in your sim's neighbourhood,is thus bound to take you to a virtual tour to any HINDU TEMPLE,AND I AM SURE THAT YOU WILL LOVE IT.
Download it here: https://www.thesimsresource.com/themes/oriental/downloads/details/category/sims4-lots-community/title/mahashakti-temple./id/1338377/
Simvinayak Mandir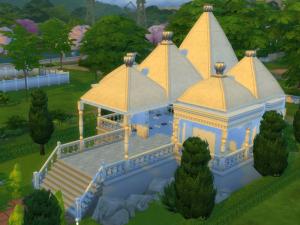 Here is her description:
Om Shanti Om ! A calm place for your sims to forget the world be one with their simself. The conical shape of the domes maximises the flow of energy while you meditate surrounded by lush greens. The sound of flowing water and the cool marble combined with aromatherapy make this a perfect getaway to unwind and relax.
Custom Trait: Spiritual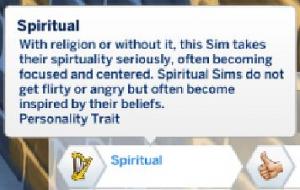 This is a really cool offering! A new trait to add to your Sims that make them spiritual.
Bindis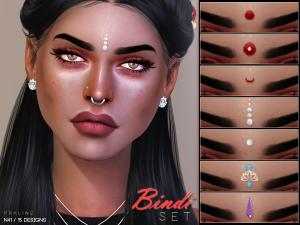 I'm working on creating an Ashram, a sage's hut, and religious tilak!
New to this blog? Check out these posts:
Why Am I Called "The White Hindu"?
New to Hinduism? Learn more here:
Hinduism 101: What Do Hindus Believe?
Your First Visit To A Hindu Temple
—-
Thank you to my wonderful Patreon supporters…
Brian Hanechak
Amit Agarwal
Don Moir
(views expressed here are mine alone and do not reflect opinions of my supporters. Links within the text may be affiliate links, meaning that if you purchase something I get a small commission for recommending it. I only recommend things I truly believe in)