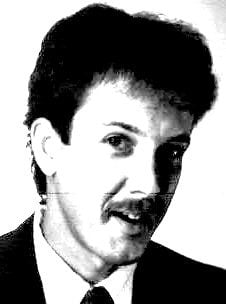 Dave Armstrong: September 1992
*****
These comments mean a great deal to me, especially coming as they do from non-Catholics. It is my aim to be both a Catholic apologist and a committed ecumenist, working for Christian unity. Both are equally important goals. There is much material on my website which would be agreeable to non-Catholic Christians, and I always strive to present Catholic apologetics and theology in a respectful, charitable manner, which will not offend our separated brethren (or anyone else, for that matter). This is no small task, but, God willing, I shall continue to attempt it and do my best. Thanks so much to all of you who have written nice letters to me (or have written online) about my website and/or my blog and books.
Dave Armstrong

Just found your page and it is way cool.Thanks for the respectful attitude towards Orthodoxy (Big "O" as in Eastern Orthodox) without hiding our differences
Orthodox layman, 8-7-97

Well done, good [C.S. Lewis] website.
Douglas Gresham, son-in-law of C.S. Lewis, 8-17-97

I am very impressed with your [C.S. Lewis] web page. When I presented your proposal to the group [for reciprocal links], they agreed enthusiastically. Please stay in touch and keep doing an excellent job of presenting the works of Lewis.
Blessings, Barry Anderson: Memphis CS Lewis Society, 8-17-97

Many thanks for your labor of love, your "Biblical Evidence for Catholicism" web-page. I'm a Presbyterian pastor … and now having the time of my life as the Lord continues to educate me through the likes of Peter Kreeft, C.S. Lewis, Thomas Howard and now, your web-page.
I don't know where I'll end up (on this earth, at least), but I'm so deeply glad to him that by his grace I'll be able to dialogue with and learn from the many folks whom you've introduced to me by way of this home page. Thanks for its humility, its Christ-centeredness, its irenic spirit and its apologetic power. I've visited a few times; I'll keep on coming back. With gratitude in Christ and many hopes that he will prosper this labor of love for Him and his Church,
Presbyterian pastor, 10-1-97

May I commend you for the EXCELLENT "Biblical Evidence for Catholicism" web site. I am very impressed with your research and documentation, and that you include non-Catholic sites as well on some of your topics.
. . . please accept this Anglican's applause and encouragement to continue developing your informative web site where all can come and research for themselves to learn from each other in a true Christian heart and spirit.
You have put forth a lot of effort on this [Apologetics / Ecumenism] list and on your website to bring forth two places where Christians of all traditions can come and learn. When I saw your website almost a year ago, I was stunned (in a good way) at the effort and research you placed (and continue to place) in it. And you have been a very balanced and fair moderator for a very diverse list of people. Thank you for the effort you have made to welcome non-Roman Catholics like myself to the list.
Bret Bellamy, Anglican layman, 10-16-97 and 9-12-98

I've not yet begun to fully explore your wonderful home page, but I want to thank you for it. I grew up in a Jewish family and have the greatest respect and affection for my origins . . . I'm always looking for places on the Web to help me in my understanding of things spiritual – so, thanks again! . . . I truly do believe in the inevitability of "the awful rowing toward God."
A Jewish woman, 11-97

I'm Eastern Orthodox. My wife is Roman Catholic . . . I find very few Catholic books or websites which seriously address the theological differences that divide the historic Church . . . You are one of the only Catholics who seem to be addressing the issues that divide us, which will help heal the wounds possibly . . . By the way – great webpage. You're a man after my own heart. A lot of great stuff with plenty of links. I've made it my homepage so I can study your various sub-pages. I've read some of your articles in various publication i.e. Catholic Answers and your conversion story in Surprised by Truth. If you make a difference in just one persons life, it will be all worth it. Keep up the great work!
Orthodox layman, 1-29-98

I accidentally came across your site with Mega sources for Lewis' works and life . . . thank you, for it gave me something to work with and a feast for resources later as well, and it is roundly bookmarked. Great job on the site – great work. How good you are to put it together.
Non-Catholic (?) laywoman, 2-15-98

I've added your [Lewis] site to my C.S. Lewis links. This is the first time I've come across it, and I want to let you know that I'm thrilled with it. Thank you so very much for putting it together! . . . I thank God for places like yours!
Non-Catholic (?) layman, 2-15-98

First, let me express my deep gratitude to you for your site. I have passed it on to any number of people and I will be exploring it for a long time to come. I . . . appreciate much of what you are doing. This is a fine ministry you have. Keep it up! God bless you in it.
Rev. Pamela Lee Cranston, Anglican priest, 3-12-98

Well, my Catholic friend, I want to thank you for your outstanding website. I am preparing to teach a class on Science and Scripture at our church in Anchorage (non-denominational, about 1300 people). I have found a lot of "young earth" stuff out there that I wish would just go away. Poor theology and even worse science to defend it have raised major barriers to faith in way too many people. I have also found a number of excellent sites where real science and good theology are integrated. Yours is certainly one of them.
I am really grateful for your great quotes from leading scientists on the reality of the scientific record in support of design and contra-indicating naturalistic explanations of the origin of the universe and life. Thanks, again, my Biblical Catholic brother!
Non-denominational Protestant layman, 3-16-98

Your Malcolm Muggeridge, C.S. Lewis sites are just wonderful. Please, do whatever you can to make sure that they are never taken off the web. Thank you so much for your work.
Adrian Schoonmaker, 3-16-98

MA Studies in Communication/Divinity Regent University
I want to thank you for your great web site. I have read many articles and had many questions answered. Thanks for your hard work putting it all together!
Protestant (soon-to-be-Catholic), 3-23-98

I believe I have come to the decision of being received into the Catholic Church. Your web site has been of the greatest help . . . I've spent several hours on your web site and in my Bible reading to find my answers, I've also looked at the anti-Catholic pages to find rebuttals (HAHA) . . . Again thank you for your time and a lot of it well spent in your research of Catholicism. If not for finding your site and its many links, I would still be searching in an extremely biased environment in our circle of friends (most being non-Catholic Christians). Hopefully I'm not the first or the last to tell you about the help you've been, your obvious many hours of work has payed off, at least for me, and is greatly appreciated.
Soon-to-be convert to the Catholic Church, 4-6-98

I am Baptist-going-on-Catholic, thanks in large part to you. Much of what I've learned of the faith, I've learned from your excellent web site (and from the new Catechism, which I've read cover-to-cover). Thank you very much for presenting such a wealth of information . . . I've especially enjoyed reading the on-line dialogs you've had with Protestants.
Baptist layman, 4-6-98

The Malaspina Great Books Program has designated your Newman page as a Great Books Five Star Site. Thank you for your important WWW resource.
Russell McNeil, Ph.D., 4-13-98

Malaspina University-College Great Books Home Page http://www.mala.bc.ca/~mcneil/greatbooks.htm
I've been roaming through your site and must say it's a joy to see your desire to honor God combined with an appreciation of nature, poetry, literature and the arts. I and a few friends from my Christian college days (Point Loma Nazarene) still share many of the same views expressed throughout your webpage.
Protestant layman, 4-21-98

Your website is the finest I have encountered on the web. I am amazed at the amount of data you have assembled and find that I go to it frequently. We all owe you much thanks and our deep gratitude for making it available.
I have always thought your website was the most outstanding one available, and of course you are my favorite Christian apologist. Keep up the good work you do for the Lord.
Fr. George Burns (Anglican priest), 4-27-98 and 4-6-99

I must say that you have a very impressive web site. Very good job! It is well-organized, in-depth, and well-balanced by expressing much of yourself in addition to just theology and apologetics.
Protestant layman/apologist, 5-8-98

I must have been to your site again and again. I can't thank you enough. Really it's one of the best I've seen on the Web.
Protestant layman, 5-18-98

WOW! What a site! I've been scouring the net looking for Lewis-related sites, and this is definitely the most comprehensive list I've seen yet! (The picture you've chosen is particularly poignant).
Protestant (?) layman, 6-15-98

May I say that your website is one of the finest I've ever visited, and I have visited often. I especially love your . . . C.S. Lewis and John Henry Newman links. You have cleared up many misconceptions I had concerning Catholic theology and doctrine. Your page is in the spirit of true ecumenism and Christianity. I hope this year to read the Bible in its entirety, and get half-way through your site!
Episcopalian laywoman, 8-3-98

Thank you Dave so much for the information. I go frequently to your site and feast. May the Lord bless you richly for that.
Protestant layman (and convert from Islam), 8-10-98

I think the discussion you have provided on many issues, including our current discussion on various Marian doctrines, is the best I have seen anywhere. I think you are a superb, perhaps the best, Catholic apologist I have seen so far (and I know a few very good ones as you know).
Orthodox layman, 9-12-98

Your Web site is great. Thank you for all your work effort in putting this together, especially the Newman links. I printed out two of them for reading and meditation this evening. I'm Anglo-Catholic, influenced as much by the Tractarians as by the beauty of the Daily Offices.
Anglican layman, 10-3-98

WOW, I've just scanned your page for the first time!! What a marvelous C.S. Lewis source. I look forward to many worthwhile hours through it – praise God!
Protestant (?) layman, 10-8-98

Well-organized, fascinating [C.S. Lewis] web page you have! I am writing a research paper on the meaning of the joy, sehnsucht, which Lewis alluded to in his work Surprised by Joy. Although I am just beginning my research your page has already helped me.
Protestant (?) layman, 11-7-98

Just wanted to say that I have enjoyed reading this site over the past few days . . . (I found it originally because of some questions I had about Creation).
I am a conservative Protestant (I currently attend a dynamic congregation of the Presbyterian Church of America) and C.S. Lewis admirer . . . [ I ] just wanted to express my appreciation for the thorough job you've done, and the help you have provided me in understanding what Catholicism is about (always a big mystery before).
Presbyterian laywoman, 11-13-98

Fantastic webpage. I can't begin to imagine how much work it took to put all that stuff together.
Anglican layman, 11-14-98

[My C.S. Lewis Page was awarded a Times Pick by the Los Angeles Times, on 24 November 1998]
Your webpage . . . has been inspirational in motivating me to rediscover my Roman Catholic roots. The articles you have gathered together have filled a void between my grade school catechism studies and my questions about church doctrine as an adult. Please do whatever you can to keep information of this calibre available to us "former" Catholics out there. You'd be surprised at how many of us attended mass as kids and went through the motions without an understanding of even the most basic elements of Catholicism.
I was a Roman Catholic at a young age and our family as a whole has had a rather negative experience with the Church. I guess where I am coming from is that your work is deep and well thought out. There are no negatives or yelling, just deep thoughts well- presented.
Protestant layman, 1-28-99

Have just discovered your extensive site – to a newcomer it is almost overwhelming in scope. I am a (ten yr ago) convert to Eastern Orthodoxy from the confusions of Protestantism. My wife has recently returned to her RC roots after many yrs as a skeptic. I really appreciate the clarity brought to issues separating our two historic branches of the Church, as well as the courtesy and charitableness demonstrated in your discourse. I am willing to now reconsider the Petrine/Papacy historical issues and whether the EOC needs to at least be more openminded – thanks in part to your input.
Orthodox layman 2-99
I just love your site, Well, who doesn't, it's the best on the web bar none :-).
Protestant (evangelical) layman, 2-24-99

I am a Protestant, but I feel like you do. I was awe-struck when I saw your web-site – outstanding material!!!! I feel like a kid in a candy store! Again, thank you for your work; I'm sure it will be much blessed by the Lord. I am studying for a PhD in Philosophy and Apologetics, so I am very interested in reading your discussions. I'm sure I will learn a lot.
Protestant layman, 3-8-99

Congratulations on a great web site. I stumbled across your apologetic articles while doing research on Catholicism in connection with a project I am doing in my ministry to seamen. I appreciate your insights and clear explanations of Catholic theology.
In my work with sailors (freighter, container vessels) I meet many who come from Catholic backgrounds. Although I am an evangelical and share my personal faith with them, I realize my goal is to also encourage them in their personal walk with God. Your writings help me understand them.
Protestant layman, 3-17-99

What a great site you have! I am not Catholic, but I always seek truth . . .
Protestant layman, 3-20-99

Hello! I am a Canadian Seminary student who came across your site by accident and I must say, I am totally impressed. You have excellent links and your site is easy to get around in. While I am a Protestant, I think you have done a great job of presenting Catholicism and Protestantism in a very balanced view. I just want to say thank you for all the time and energy you placed into your site; it has helped my studies. I have also passed it on to a lot of my friends.
Protestant seminarian, 4-18-99

I am not a Catholic myself but I am to my core a Christian. It's great to see stuff like this on the WWW . . . I myself feel called to go out to Jehovah's Witnesses, and some of the articles you carry are great . . .
Protestant layman, 4-21-99

In my opinion, you did an excellent job of pointing out some of the objections to the usual defenses of the perspicuity of Scripture. I've seen some of the same objections elsewhere, but yours were well presented.
Protestant laywoman, 5-5-99

We have reviewed the web site for Creation, Creationism, and Empirical Theistic Arguments and are impressed with the service and information that it provides for those interested in the topic of science and faith. BOOKS & CULTURE has recently expanded its science coverage and we are setting up a list of related links on our web site for the benefit of readers interested in varying perspectives on science and faith . . . B&C; is published bimonthly by Christianity Today, Inc. The goal of the publication is to provide an intellectual home for Christians engaged in the world of ideas. While this engagement is theologically motivated and guided, the subject matter itself is much broader than theology per se, intersecting with the diverse disciplines which affect the life of the church-history, philosophy, psychology, science, sociology and literature, to name a few . . . You can review the B&C; web site at http://www.booksandculture.net . . . Thanks again for providing such a worthwhile web site. Your web pages are really an amazing resource. Keep up the good work!
Protestant evangelical organization / magazine (Christianity Today), 5-21-99

I'm a deacon of the Ecumenical Patriarchate and I just stumbled across your site. Really excellent! It's good to see a spirited Roman Catholic defense [against] the absurd, triumphalist garbage that all-too-many Orthodox are eager to dish out. I signed up for the list. Now I'm going to go back and look around the site some more!
Orthodox deacon, 5-28-99

I found your website perchance, while seeking sites about Kierkegaard (a brilliant Christian mind) and it's one of the best websites I've ever encountered! I am a Romanian Orthodox but I have a strong admiration and esteem for the Catholic Church, and especially for the Pope John Paul II, who visited my country a month ago. He was, along with Ronald Reagan, the Western man who most contributed to the fall of the communism in Eastern Europe, and I think we should be grateful to them. I was born in 1972 in Bucharest and I know only too well what communism is – it is hell on earth . . . I think it is our duty, as Christians, disregarding the denominations, to set a moral example by power of which to turn the world's glorious march toward self-destruction into the humble way of renaissance. In this respect, your job is a great one and I congratulate you wholeheartedly!
Orthodox layman, 6-9-99

Whoa! This is exactly what I've been looking for in a web page. I am a 21 year old Protestant Christian who has been seeking to follow God's lead for three years though in the Protestant (non-denominational church.) . . . I realize now, my individualistic faith towards Christianity, though used by His grace, was not founded or protected by the authority that he created Christians to be blessed with under the Catholic Church. It makes sense to me now why, though I pleaded with God for the truth regarding issues such as eternal security, calvinism, arminianism, scriptural authority, assurance of salvation, baptism and the forgiveness of post-conversion sins, I never "got an answer" in the sense that I was expecting one. Anyway, in the past week I have been spending nearly all of my time searching the web sites concerning Catholicism. I am sure now (at 11:23pm), even on the basis of truth, that I need to join the Catholic Church . . . Anyway, that you for helping me make up my mind. In light of what I know scripturally and with the encouragement of the Fathers, the Catholic Church seems to come the closest to the truth, so I must join it.
Protestant layman (apparently soon to convert), 6-20-99

I found your website to be most interesting and stimulating. However, as a Reformed theologian (and former Catholic!), I reject your soteriology. You make many excellent observations regarding Protestantism; many of which, Protestants themselves war against.
Reformed theologian, 7-2-99

I recently discovered your website . . . I have to congratulate you that it perhaps the most extensive site on such topics that I have ever come across! . . . I have always felt drawn to the Catholic church . . . I have also tended to radicalism – though perhaps paradoxically, have rarely acted on it in any substantial way. Perhaps the strong (even pungent) climate of anti-Catholicism in the modern Church would yield a "radical" place for me within the Catholic church – the eloquence and scholarship with which your site explains just how very 'biblical' Catholic doctrine is, could prove to be a defining factor in my spiritual journey.
Methodist layman 7-99
Although I am not a Catholic, I can appreciate your page on the Protestant Inquistion. Too many times, I have heard about the horrors of the Catholic church but RARELY heard anything about the killings, backbiting and downright evil in the Protestant camp. In dealing with those who swear by the Reformation, the information you provide puts these so-called men of God in a whole new light . . . I plan to read your page thoroughly and check your sources myself . . . I feel that for any Protestant to thumb their noses at Catholics for the murderous history of their church yet call themselves "Calvinists", "Lutherans" or whoever that participated in the bloodshed you documented is rather HYPOCRITICAL! Thanks for the eye-opening history lesson.
"Protestant" laywoman, 7-13-99

Just a note to say "thanks" for putting up such a comprehensive site. I come from an evangelical
background and am largely unfamiliar with some of the sacraments, etc. pertaining to the Roman
Catholic Church. I need to know all I can about my brothers and sisters in the Lord. I'm especially interested in how we're similar rather than different. Thank you especially for the straightforward and honest way you present your material.
Protestant layman, 8-26-00

As someone from a non-Catholic family who is keen to know more about
Christianity and to find the truth, I have been fascinated to read your
website and the excellent links. The amount of information you have been
able to provide has been truly amazing and greatly beneficial to my quest.
Protestant ("Anglo-Catholic background") layman, 8-31-00

I enjoy reading your material because you are so readable. And I generally have enjoyed
discussing with Catholics because I have found them mostly to be objective and amiable even in
disagreement . . . At any rate, I thought you might like to know the reason behind my interest in your work. It makes for readable, accurate, and accessible information about your beliefs. Fine work! Thank you again for being so conciliatory!
Protestant ("Reformed") laywoman, 9-7-00

As an ecumenical Presbyterian who may one day convert to Catholicism, I am very grateful for your work on the web. Your information about Malcolm Muggeridge has been very helpful . . . I am also very appreciative of your comments in defense of your decision to include Protestants as some of the authors whose works you sell and quote. Truth is on that side too as you so eloquently state. May God bless you in this ministry.
Presbyterian layman, 10-30-00

I truly appreciate your candor and your vast knowledge on these issues and am not at all ashamed to call you my brother in Christ . . . I am ashamed however of some who denounce YOUR faith as heretical and am consistently battling them in my own home church . . . This was meant just as a note of encouragement as I am sure your work goes either unnoticed or derided by many in "my" camp.
Reformed Presbyterian layman, 2-4-01

Hard to explain how helpful your extensive, deep and encompassing web pages are . . . I go to your site often. Currently, I am downloading Tract 90 of J.H. Newman, one of my "heroes." Please keep up your good work. I'm sure that there are hundreds like me out here, relying on you.
United Methodist minister (retired), 7-6-01

I have recently had the opportunity to view some of your extensive site; very well done! . . .
It is honestly exciting to again realize the vast amount of "common heritage" we share as
followers of the LORD Jesus Christ!!! . . . indeed our common predecessors are numerous.
Just wanted to drop you a note with sincere encouragement for you to continue on in your efforts – apologetics are terribly important, polemics distract us from both it and evangelism.
Protestant layman, 8-7-01

Dear Brother in Christ Dave,
Thanks for your honest struggling with the (inane and inconsistent) Calvinists. Even though I am a Calvinist myself, I know there are a lot of ignorant judgmental boobs out there, even (perhaps especially?) pastors . . . I attend an Evangelical Presbyterian church, . . . and frankly I haven't met anyone there who would call Catholics non-Christian, only that one must have a personal faith in Christ (which not a few Catholics I know don't seem to have, but hey, lots of Presbyterians like that too…). I hope you'll continue your honest ecumenical discussions with trusted friends, particularly of a Calvinistical persuasion… God bless you as you follow Christ.
Calvinist (Evangelical Presbyterian), 8-11-01

We don't agree on many things about which you write, but your skill, care, and hard work are obvious. I don't judge a man by our disagreements, but by how he thinks and how he disagrees; also by how he responds to disagreement and attack.
Protestant layman, 9-23-01

I had to contact you and say thank you for writing your article My Respect for Protestants. God Bless you.
Anglican layman, 10-27-01

I'm an ex-Protestant minister . . . I'm still studying the Catholic Faith very seriously and intently. Your website has been an invaluable resource for me. I have read at least 100 essays from your site, and visit it often . . . Keep up the good work. There's no telling how many young pilgrims like myself you help as we struggle to find our way "home" to the "one holy, Catholic, and apostolic Church."
Former Protestant pastor, 11-30-01

I've been a Christian for five years now; I was baptized in 1996. I first began to question my
Evangelical Protestant faith about a year ago, and I found that I was more sympathetic to the Catholic faith, though I could not find any reason why. Since I've always held a high regard for reason, this troubled me and prevented me from converting to the Catholic faith; that is, until I discovered Catholic Answers, which dissolved more of my earlier doubts. Now that I've been attending Mass (as an observer, I suppose) for the last several months I'm fairly confident about joining the Catholic Church. I am, however, still constantly plagued with doubts; the mild Calvinism which I imbibed over the last five years has a sort of hold on me. I have, however, find your website, especially with its excellent Protestantism page, immensely useful in laying to rest some of my doubts. Especially after having heard about (and thereby lead to read) the canons of the Councils of Orange and Trent on justification, I can see that the Catholic faith does not contradict what is best in Calvinism, but fulfills it by placing it within its proper perspective (i.e., common sense). I've bookmarked your website and have come back to it many times, especially when I have any doubt or question about the teaching of the Catholic Church. It certainly makes conversion easier when you have resources like this to rely on. Thanks a bunch for the great site!!!
Protestant layman, 12-28-01

I am a Protestant. I have a good friend who is Catholic, and have appreciated for some years Catholic intellectual prowess in apologetics and theology. Recently I became embroiled for half a day with an objectivist (follower of Rand) who was pushing the Jehovah's Witness belief that hell is temporary in an attempt to discredit my own orthodox belief that it is eternal. I stumbled upon your website in desperation and found just the exact few paragraphs I needed to refute this. My opponent basically conceded. I just wanted to thank you for putting up such a great site. I intend to explore it in detail.
Protestant layman, 1-24-02

I wanted to let you know how much I appreciate all the work you have done and I also want you to know that God has used your writings to be an instrumental part in convincing me that to obey my conscience and be intellectually honest was to be willing to convert to Catholicism and swim the Tiber at its widest point (as another former Baptist, now convert, likes to say). Thank you for the time you have taken to be a blessing in the lives of so many people.
Southern Baptist laywoman, 2-10-02

We may not agree on everything, but we have common goals concerning many issues, and I
have gained a wealth of information from your site.
Reformed Presbyterian layman, 5-20-02

Your website is very interesting. I am not Catholic, but a few years ago I set about to ascertain whether it is true or not. I have decided that it is not, but in the process I learned a lot about the Catholic faith and realized that many Christians have not taken the time to really listen to what your faith really teaches. Also, there are many insights from Catholicism that have enhanced my faith.
Protestant layman, 5-22-02

I like your articles, and most of all, the loving, Christlike spirit I discern in what you are doing, and the fact that you receive all the brethren, as God through Christ has received us. I would like to meet you and talk to you in person.
Anglican layman, 5-23-02

Just wanted to write and tell you that I find your site very refreshing and very informative . . . I get so sick and tired of these "anti-everybody that's different from us" fundies . . . It's nice to find people who realize that being ecumenical doesn't mean ignoring important differences in doctrine, but rather means celebrating all that we have in common, while holding fast to all dogma. Your defenses of Catholicism are very well-written and very thought-provoking. I've
asked for a couple of your books from my wife for my birthday and am looking forward to reading them. God bless you!
Baptist seminary student, 5-24-02

I am a Christian college student attending Penn State who has a strong interest in the history of Christianity, theology, and also the differences between different denominations. I myself am a
Protestant who has had mixed experiences with Catholics and Catholicism . . . I just wanted to say
that I was very impressed with your website and what you are doing . . . I only stumbled upon [it] this evening, but I thank you for your time and dedication to trying to help non-Catholics understand Catholicism . . . I look forward to exploring the wealth of information provided on your website and hope to read your books some day . . .
Protestant college student, 6-15-02

I love your website, though I am an evangelical. Especially "Moral Theology" – a point of
contact between our differing faiths . . . I am sorry that I cannot send contributions at this time (going through some tough times), though I think your site and work is worth it. Keep up the great work my brother. Hopefully some day we could meet. Blessings in Christ.
Evangelical Protestant layman, 6-27-02

I just wanted to thank you for your website. I am particularly impressed by your accurate knowledge of the Lutheran position on the Lord's Supper which is (as you rightly contend) much closer to the Roman Catholic and Orthodox teachings. Like the Orthodox, we have been reluctant to define exactly how Christ's true body and blood are present. Nevertheless, we affirm that presence and we also hold that transubstantiation is certainly one way to explain it – though we are reluctant to make this doctrine binding on consciences since it relies more on Aristotle and Thomas than on Scripture – this is not to say that it is un-Scriptural. We would certainly not condemn anyone who holds to it. The important thing for us is that the communicant is really getting the body and blood, not a mere sign or symbol (ie., Zwingli and Calvin). I only wish present-day Lutherans were more aware of our teaching on the Lord's Supper. Although I teach it diligently, we still have many Protestants among us who just don't get it.
Lutheran pastor, 9-18-02

I know that you are a busy man, but it would be a rare author who did not appreciate a compliment, especially a compliment from a fellow Christian (if not a Catholic) who thinks the other is right on target. I enjoyed your sentiments very much [in my What's New? update of 17 September 2002], and I think you well speak for all of us out there trying to employ Christian apologetics in our own ways. There is no need to reply to this letter: I simply wanted to compliment you and inform you that you do not speak alone – there are others of us out here who walk the same road, or perhaps "tight-rope" would be the better metaphor.
Nazarene layman, 9-18-02

I am 20 years old, currently a Methodist/Evangelical Christian . . . Over the past two years . . . I've become very aquainted with G.K. Chesterton, thanks to C.S. Lewis, whom I've been becoming aquainted with for the past three years. Chesterton though, along with some other circumstances, has forced me to seriously look into Catholicism (something that I've never done before). Aside from Chesterton, though, I've yet to read any books in defense of Catholicism. Your website, however, along with CatholicAnswers.net, have been extremely helpful, and I thank you for that. And since your website has been so useful so far, I've decided to go ahead and get your books in word document format . . . for my own searching as well as to share information with my other Christian (some of whom are very anti-Catholic) and non-Christian friends . . . I just want to let you know that you are doing an amazing job and I look forward to seeing more of the work you do to the glory of the Lord. God bless and grace be with you.
Evangelical layman, 12-22-02

I'm going through your testimony right now over on the Coming Home Network – very
inspiring – I am coming to many of the same conclusions you have and I find your articles very helpful and 'evangelical friendly' in how you put things. It really helps to bridge the gap.
Evangelical layman, 1-23-03

Let me say what a blessing your books on the biblical evidence for catholicism is a godsend. I am a United Methodist minister who is very catholic and may one day find myself unable to stay in my church, though so far I'm not ready to leave. Your points are iron-clad in my view . . . I personally have received great spiritual strength . . . [from] the Blessed Mother . . .
United Methodist minister, 3-12-03

I am impressed with your breadth of work. I am also glad to read of your respect for Protestants . . . [and I respect] your knowledge and commitment to truth . . . I am a listener/student of Dr. Bob Morey in So. Cal.
Protestant layman, 5-7-03

While I am a Protestant, I have found the content of your papers and dialogues to be rich in thought and biblically-grounded theology. Your arguments flow logically (even when I personally disagree with your point of view), and the presentation of your papers is very well done. Thanks for making your writings available and for taking the time to present them in an easy-to-follow
format.
Protestant layman, 6-18-03

I am a Protestant (Baptist, specifically) exploring the possibility of becoming Catholic. Your site is a fantastic resource; thank you for putting it together.
Baptist layman, 7-7-03

I was researching the Remonstrance for an upcoming sermon, and came across your apologetics pages for the first time. All the Reformed web sites are quick to add the Synod of Dort slant to the whole issue, which left me wondering if there was much out there that could be trusted in presenting a balanced view of the Arminian perspective. Reading your article Observations on Arminianism certainly presented a completely different take on the whole matter. I appreciate your effort to be fair.
Baptist pastor, 7-8-03

[I] write for the web site: http://answering-islam.org. We actually link to your Trinity and Jesus is God articles, which I thought were superb, by the way. I wanted to say that I have looked over your material and am truly impressed. I have also read some of your run-ins with some of the apologists and have been truly intrigued with the exchanges.
I am committed to reading both sides of the issues in the desire to be as honest to God and his inspired Scriptures as I possibly can. This is why I am reading your stuff since I think it is the most thorough and perhaps the best defense of Catholicism out there.
I have read all his stuff on the Deity of Christ and the Trinity, which I thought was quite superb, masterful. I have read much of his stuff on Sola Scriptura, the first part of his first lengthy debate with Dr. White, some of his stuff with you, and planning to read some more as time permits. I have had many run-ins with Dave via email and he has been nothing but respectful and kind to me. He has shown me great respect despite knowing full well that I disagree with him on the essential issues.
Sam Shamoun, "Reformed evangelical" layman who specializes in apologetic outreach to Muslims, 7-20-03 and 12-18-03 and 1-16-04 (writing to a severe critic of mine)

Thank you for such an encouraging note I must keep it in my encouragement file. Looking forward to reading your material and I know I'll be blessed and informed by it!
Former pastor (Baptist) and college professor, 9-28-03

I just found your website and it appears to be a wealth of information that I look forward to exploring . . . Thank you so much for your website. I can hardly wait to explore more.
Anglican layman (?), 10-12-03

I am currently in the process of "coming home" to Catholicism. I had been a practicing Anglican, specifically an Episcopalian for 30 years. The recent crisis in the ECUSA regarding ordaining it's first openly gay bishop brought about for me an examination of the Episcopal church's authority, teachings, etc like no other time in my life. Some friends accuse me of being homophobic, I am leaving to escape gays etc. This is far from the truth. The truth is everything points to Catholicism.
Your site is awesome and overwhelming! As I and my family are starting the process RCIA of am making candidacy to the church, the hunger for knowledge abounds. I realize that so many of my "beliefs" were underdeveloped, half baked, some heretical, some valid etc. I literally feel as though I am sorting through my beliefs and examing each one to insure clarity in what it
is I subscribe to believe and practice. I am so excited. I feel strangely new and old all at once.
I just wanted to say thanks for your site and by the way two weeks ago I bought a Catholic Answer Bible and am happy to hear you are the author of the [answers to] apologetic questions in it.
Anglican layman; soon to convert, 12-16-03

Soon you should receive my request for your second book, via snail-mail, as I have immensely enjoyed your first one (and believe it has helped me significantly on my journey towards finding the pillar and foundation of truth within Christendom, so I'd like to personally thank you once again).
Evangelical layman, 12-29-03

Your website has deeply impacted our journey toward the Catholic Church. Thank you! We're not there yet – it's been a four-year journey (so far). We can't look back . . . You always address the difficult topics – really appreciate that! We especially loved the 150 Reasons [Why I am a Catholic]. Our spirits resonated with it. Amen! Can't wait until we can truly come home!
Evangelical lay couple, 1-4-04

I have been Protestant all my 31 years because I was raised that way by my paternal grandparents and was too lazy to question what the Methodists and Baptists taught me. However, through various life circumstances over the last three years I was beginning to have doubts about what I thought I knew. I have contacted the local parish and started RCIA classes last week and the girls and I attended Mass for the first time ever on Sunday. That was amazing. The reverential nature of the service was so different. I have spent hours over the last couple of weeks studying different scripture and books the parish loaned to me – certainly more time than I spent in the last two years as a Baptist. When I received a link to your site from a posting on a forum, I almost didn't read it. But I did – the whole thing. And it explained to me aspects that I wasn't even aware that I was questioning which now seem silly. Thank you so much for putting your faith onto paper so it could lead someone like me down the right road. I think this is truly going to be a long journey before my whole family is "through the gates of Rome," but I feel very comfortable with what I/we are doing.
Baptist laywoman (soon-to-convert), 1-13-04

I'm an Anglican (ECUSA) laywoman who found out about your site through a Catholic friend. I've really enjoyed going through your site, and have especially enjoyed your apologetics, Celtic, and CS Lewis links. You've got a very special ministry, and I pray that you'll be able to continue doing God's work for a long time.
Episcopal / Anglican laywoman, 1-21-04

You are one of the most thoughtful and careful apologists out there. The issues I have with what you do are issues I have with the whole enterprise of apologetics (not just Catholic apologetics -Lewis and Chesterton are about the only apologists I can stand and even in their case their most conventionally apologetic work is their poorest, in my humble opinion). That doesn't mean that apologetics is illegitimate – simply that I think some people like me, need to act as gadflies. I know that this involves being annoying at times, and I deeply appreciate your general failure to get too annoyed.
Edwin Tait: Anglican layman and doctoral candidate (Church history), 1-24-04

I am a former Southern Baptist; former thanks in large part to YOU!
Catholic laywoman and convert, 2-5-04

I appreciate very much your work. I am a classics teacher at a private school that, since my conversion to Christianity, have moved from Mainline Evangelical to Calvinistic/Baptist to Reformed Baptist to Anglican. The more I study Church history and seek to live a holy Christian life, I find myself having an awfully hard time accepting Protestant arguments against Catholicism. I trust that, in time, I will finally be in great agreement with many of your perspectives. It's amazing how ignorant Protestants are, and how much damage we've done. Thanks again for your work.
Anglican layman, 5-30-04

I just felt compelled to pass on my compliments concerning your rich and informative pages. We left the Episcopal tradition when Robinson was confirmed as Bishop (see my letter to the editor in the December 2003 issue of Christianity Today, if you have a copy handy) and migrated to the Lutheran denomination. There is still a distinct perception, however, that we are not where we are necessarily supposed to be. Over the course of writing an essay entitled "Respice Finem" concerning the moral and ethical implications of some new research regarding population trend analysis, the consistency of the Catholic Church in regards to the battle between the Culture of Death, as Pope John Paul II put it, and the people of God struck me like a load of bricks. I can't believe the negativity of some intelligent Protestants towards the Catholic Church . . . I agree with nearly everything I have read of yours . . . We are seriously considering converting to the Catholic tradition . . .
Lutheran layman, 6-8-04

I am a Christian and I attend an evangelical Pentecostal church. I just found your site today and it is quite extensive. I can appreciate all of the work that has gone into your research. I also appreciate the manner in which you approach your apologetics without being insulting to the reader (an exercise of grace). Consequently, I do plan on purchasing a couple of your books . . . I have been doing research into the Catholic faith to better understand it as well as to better understand what I believe as a Protestant . . . I really don't know if I will convert to Catholicism, but I have most certainly gained a greater appreciation for it as well as become a more devout Christian. I simply want the truth . . . You have made some very convincing arguments on some topics/doctrines, but the jury is still out on others. Respectfully, [name]
Evangelical Pentecostal layman, 6-10-04

My calling is in this area, though I am at the front edge (M.A. in Theo.). I will be teaching Apologetics this fall to college soph. in Bible College. Appreciate any help, including being on your e-mail list. I am a big GKC fan (who shouldn't be?) having done my MA thesis on his apologetics for marriage and the family . . . Thank you for your service. Though I am not a Catholic, I am quite taken with what the Catholics have given, and continue to give, to the Christian mind and to the world.
Protestant layman, 6-17-04

Dave, Thanks for your kind respect for Protestants. Reformed Baptists and Calvinists also respect all other groups that agree on the Trinity . . . you do a great job on the Trinity and apologetics against Islam and Jehovah's Witnesses and Mormons' false doctrines and you are very challenging to Protestants on the history of the church issues and you are a gifted writer and challenging in the Socratic "pin the opponent against the wall" method in writing. I appreciate your stand for morality and stands against abortion and homosexuality and I also appreciated your stand for Just War.
Ken Temple, Reformed Baptist, on my blog, 11-22-05

Dave Armstrong of Cor ad Cor Loquitur, a convert to Roman Catholicism, has some very kind words about his respect for Protestants [he links to my paper on that topic]. Take it as a model for what ecumenical Christianity ought to look like.
Darrell Pursiful, former pastor, 12-27-05, on his blog

I've followed Dave Armstrong for years, and I've always appreciated his perspective on the faith and his gracious interaction with those who differ with his theology.
"Craig," responding to the above, 12-28-05

I want to congratulate you on the updating of and additions to your excellent website C.S. Lewis: 20th-Century Christian Knight. Before you made those changes, it already was an excellent, valuable resource for studying Lewis, one to which I sent students as a starting point if they wanted to do a research paper involving Lewis. The changes have made it even more easily usable, more up-to-date, and more thorough and reliable. Best wishes as you continue your scholarship and writing on the Inklings and on Catholic apologetics.
Peter Schakel, English professor at Hope College, Holland, Michigan, and author on Lewis (The Way into Narnia: A Reader's Guide, Grand Rapids, MI: Eerdmans, 2005), 2-16-06

A Site to See: Cor ad cor loquitur
At an old site of mine I once marveled at the volume of apologetics produced by convert to Catholicism Dave Armstrong. I continue to wonder if the man ever sleeps. As an author, debater, and blogger at his site Cor ad cor loquitur he is one of the new generation of former Protestants who found their old ecclesial homes lacking and concluded the truest expression of the Christian faith is to be found in Rome. Having decided to swim the Tiber, he has been a tireless apologist and author for the Catholic faith. Whether you agree with his conclusions or not (I agree with much but not all), his enthusiasm and dedication cannot be questioned.
Albert (Anglican), 2-25-06, on his blog, Christian Book Reviews

My father, who was staunchly Roman Catholic and one of the most exemplary Christians I have ever had the pleasure of knowing, recently died, and, myself being extremely interested in theology and the like, I began to browse through his massive book collection. I happened upon A Biblical Defense for Catholicism, and have quite enjoyed it. I left the Catholic church on my own when I was about 17 (am now 22) and since went through my own spiritual journey which included being out of church completely, then getting married, them attending the non-denominational church my wife went to, then we both became disillusioned with the charismatic movement and left, then a Methodist church where we are presently. After reading your book, we are both toying with the idea of Catholicism as a real possibility at some point in the future. I just wanted to say that your book (and a few others I have read since) has turned our hearts back to the Catholic Church, and I fancy myself to be like C.S. Lewis, who, although he couldn't fully accept becoming Catholic, still remained very Catholic in his theology. I know one thing for sure, and that is that no matter if I formally become Catholic or not (which only comes from the fact that I am having a difficult time reconciling some of the evils that the Church has committed against humanity) my heart will always be with the Church's theology. So thanks.
Methodist layman, 3-9-06

I do like your web site and have been reading it quite a bit.
"Classic Wesleyan Methodist" layman, 4-8-06

I appreciate your commitment to adhering to the academic approach, and I feel bad that you apparently had to take so many unfair jabs from Protestants who obviously lacked the sensitivity in their approach. God bless you, bro!
Protestant layman, 4-12-06

I just wanted to drop a note to tell you just how much I have enjoyed your website. My wife and I are on the road to joining the Catholic Church. We hope to officially join the Church next Easter and we start classes in the fall. Your website has provided a wealth of information and viewpoints. My wife comes from a very conservative Protestant background and the website has provided much information. Her eyes have been truly opened, as well as mine. Again, thank you!!
Protestant layman (probable convert), 4-18-06

Just a quick note to thank you greatly for the work that you are doing. As a young third-generation Methodist who has been on a journey for the past few years of grappling with the thorny questions of theology between Protestantism and Roman Catholicism, your fair, lucid, explanations of Catholic dogma and doctrine vs. Protestant doctrine and dogma (especially your critiques of "sola scriptura" and the role of tradition) have been a great guide for me as I navigate the waters that will probably see me "swimming up the Tiber" in the future.
I pray that the Lord will continue to use the work that you do in apologetics as well as in your ecumenical endeavors to help to show Protestants just exactly what Catholic Christianity is all about instead of the caricatures that we seem to hear from the pulpit by pastors who do not even bother to read first hand sources to give us an informed opinion.
With warm regards and thanks in the Lord,
Protestant layman (probable convert), 3-28-08

[I didn't collect these comments during this period]
[I had written: "the anti-Catholics toss around so many caricatures and false images of me that I could see why anyone who believed even a tenth of the hogwash would despise me. This is how gossip and propaganda works. It's very effective in its aim. There are hundreds of people out there who believe the lies that James White and his buddies have literally been spreading about me for 20 years now. I'm a narcissist, schizo, psychotic, of "evil character" etc. Just a few of 'em . . ."]
You're right, Dave. If people believe 10% of what others [i.e., anti-Catholics] say, they WON'T like you. I'm a prime example! Before I met you, I heard about you through Triablogue, Pyromaniacs, and fanboys of James White. Then, a funny thing happened. I decided to forget what I heard and read your stuff. Then I couldn't figure out what the heck those guys were talking about. You are always spot on and very well-reasoned. You're one of the apologists I recommend to others with no reservations.
Cory Tucholski, Facebook, 8-8-15
Dave, I love your dialogs/debates as they have helped open my eyes, or at least forced me to look at another perspective as I slowly make my journey across the Tiber. I just finished A Biblical Defense of Catholicism (fantastic, by the way) and your writings on Purgatory have really helped clarify Church doctrine to my wife. Thanks for all the work you do.
Yancy Evans, Facebook, 9-1-15
*****
Meta Description: Unsolicited feedback (dating from 1997) on Catholic apologist Dave Armstrong's writing, from non-Catholics.
Meta Keywords: Catholic apologist Dave Armstrong