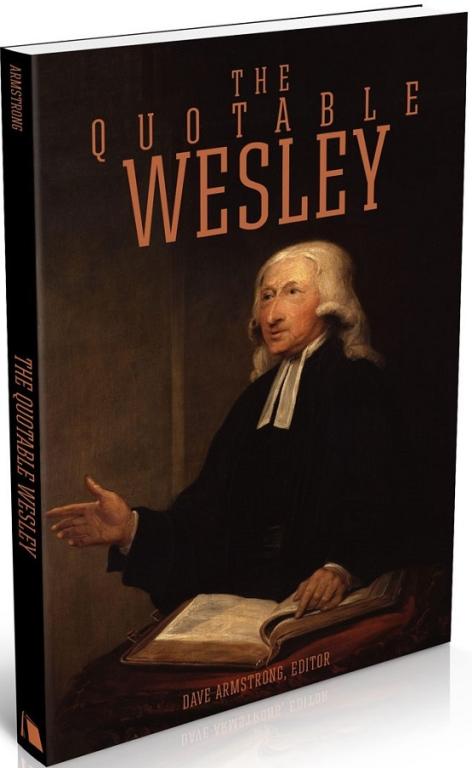 [288 pages. $18.99 list price for the paperback. Completed on 2 May 2012. A contract with the Protestant / Wesleyan publisher Beacon Hill Press was signed on 17 December 2012. Published on 1 April 2014. Portrait by William Hamilton (1788) that I used on my original back cover (see below) ]
***
[cover design by Robbie Knight]
***
— for purchase information, go to the bottom of the page —
***
Introduction (p. 5) [read below]
Brief Biography of John Wesley (p. 9) [from Encyclopaedia Britannica, 1911]
Bibliography and Abbreviations (p. 15)
Quotations (p. 19)
Index of Topics [see below]
***
I have long felt an immense admiration for John Wesley, as a person of extraordinary "missionary zeal" and devotion to the gospel and Christianity: the man who is said to have delivered more than 40,000 sermons, and traveled more than 250,000 miles on horseback (almost the distance to the moon). As an apologist and (to some extent) evangelist myself, Wesley's sterling example has always been a great inspiration.
*
My background is broadly Wesleyan / Arminian, and I was raised initially in the United Methodist Church, though I hasten to add that in those days (up to age ten) I was quite ignorant of theology. In any event, my subsequent evangelical (and "moderately charismatic") Protestant theological and spiritual development was not all that different from what Wesley or Methodism would teach. I even had an uncle (very sadly murdered at age 40) who was an Anglo-Catholic priest.
I entered the (Roman) Catholic Church in 1991. I mention this only for the sake of "full disclosure." My intention is to present Wesley's full theology and spiritual outlook, as a detached editor (as much as one can possibly be). I'm simply being open and honest upfront about my own possible biases.
John Wesley (it may surprise some to discover) never ceased being an Anglican. My own favorite writers are all either lifelong or initial Anglicans (C. S. Lewis, John Henry Cardinal Newman, G. K. Chesterton, Malcolm Muggeridge, and Thomas Howard). John Wesley is also among these Anglican writers and thinkers that I respect so much and love to read.
My first goal in my selection of Wesley's writings is to provide the reader with Wesley's theological views as he expressed them, and to locate (to the best of my ability, in my editor's judgment) the most representative and best-expressed portions of his writings in order to fulfill that purpose.
The second, lesser aim (in harmony with the first) is ecumenical. Much of what Wesley held and expressed can be enthusiastically accepted by those from a wide spectrum of Christianity: Arminians, Catholics, Lutherans, Orthodox, Baptists, charismatics and non-denominational Christians, or self-described "evangelicals." Even Calvinists (the traditional opposition to Wesleyans / Arminians) disagree mainly on a relatively small number of theological points.
In a broad sense, the theology and thoughts of John Wesley are treasures for all Christians. He was a great man, whose thinking and teachings ought to be more widely known and appreciated; and that is my third goal in compiling this book.
The quotations are categorized into 245 topics (see the Topical Index at the end), with entries drawn from the entire range of Wesley's writing: his famous journal, letters, treatises, tracts, biblical commentary, and the "Minutes" of various Methodist conferences (dominated by Wesley, and certainly reflective of his own views). They are arranged chronologically within the categories, with dates (to the day, where known) and primary and secondary bibliographical documentation.
My sincere hope is that readers will benefit from these quotations from Wesley as much as I have in finding and sharing them. May his evangelistic zeal and Christian integrity and "heart for God" spread like wildfire.
Anglicanism: Faithfulness to 17
Anglicanism: Opposition to Separation and a New Denomination 20
Anglicanism: Persecution of Anglican Methodists 23
Anointing the Sick with Consecrated Oil 25
Antinomianism (Falsity of) 26
Apocrypha (Deuterocanon) 27
Atonement, Limited (Falsity of) 28
Authority, Obedience to 35
Baptism and Being "Born Again"36
Baptism and Justification 38
Baptism and Original Sin 38
Baptismal Regeneration 40
Bishops, Liberal or Nominal 41
Bishops (Opposed in Methodism) 42
Bowing (at the Name of Jesus) 42
Calvinism: Criticisms of 44
Catholicism (Roman); Catholics 46
Celibacy and Singleness 48
Cheerfulness (and Christianity) 49
Christianity and Secular Knowledge 52
Communion, Holy: Daily Reception 54
Communion, Holy: Means of Grace 55
Communion, Holy: Preparation and Fitness for Reception 57
Communion, Holy: Real Presence 58
Communion, Holy: Transubstantiation (Falsity of) 58
Communion, Holy: Weekly Reception 59
Ecumenism; Religious Tolerance 65
Education, Secularization of 72
Election, Unconditional (Falsity of) 73
"Enthusiasm" (Opposition to) 74
Eucharistic Adoration (Wrongness of) 79
Evangelism and Preaching, Lay 80
Examination of Conscience; Self-Examination 82
Extreme Unction (Falsity of) 84
Faith Alone (Falsity of) 87
Faith and Justification 87
Faith: Bold and Confident 94
Gifts, Extraordinary: Cessation of 101
God: Sustainer of Creation 109
Grace: Degrees or Greater Measure of 115
Grace, Falling Away from (Apostasy) 115
Grace, Irresistible (Falsity of) 120
Hades; Sheol; Paradise; Intermediate State 125
Hardening of the Heart 128
Heartfelt Conversion; Wholehearted Devotion to God 130
Heathens and Salvation 133
Henry VIII (and His Destruction of Church Buildings) 135
Holy Spirit: Being Filled With 135
Holy Spirit, Indwelling of 137
Holy Spirit: Testimony and Witness of 138
Jesus Christ: Creator 141
Jesus Christ: Divinity of 141
Jesus Christ: Savior and Redeemer 141
Jesus Christ: Sustainer of Creation 142
Justification and Absolute Assurance of Pardon; Fiducial Faith 146
Justification and Being "Born Again" 147
Justification and New Birth 147
Justification and Present Assurance 147
Justification and "Receiving the Holy Spirit" 148
Justification and Regeneration 148
Justification and Sanctification 148
Justification by Faith 149
Justification by Grace Alone 151
Justification, Imputed 152
Justification, Infused 154
Marriage: Not a Sacrament 162
Mary: Perpetual Virginity of 163
Methodism: Danger of Liberalism and Nominalism 167
Miracles, Cessation (Falsity of) 169
Miracles: Unreasonable Demand for, as Proof of Methodism 170
Music (Superiority of Melody to Harmony) 172
New Birth and Sanctification 177
New Birth: Wesley's Own 178
Ordination (Holy Orders); Priesthood 187
Orthodoxy (Correct Beliefs) 189
Pelagianism; Works Salvation (Falsity of) 194
Perfection (Entire Sanctification) 195
Perseverance, Unconditional (Falsity of) 202
Polemics; Controversy 203
Popularity (in Old Age) 205
Preaching and Opposition (Riots, Etc.) 211
Preaching in the Fields 212
Predestination: Conditional 217
Purgatory; Preparation for Heaven in the Afterlife (and This Life) 218
Reformation, Protestant 223
Reprobation: Unconditional (Falsity of) 225
Riches; Love of Money 233
Righteousness of Faith 235
Saints, Intercession of 240
Salvation and Invincible Ignorance 241
Salvation: Assurance of Final (Falsity of) 242
Sanctification and Salvation 248
Satan and His Demons (Fallen Angels) 248
Scripture and Learning 253
Scripture and Patristic Interpretation 253
Scripture: Chapter Divisions 254
Scripture, "Difficulties" in
254
Scripture: Formal Sufficiency
254
Scripture: Hermeneutics (Interpretation)
254
Scripture, Inspiration and Infallibility of
255
Scripture: Material Sufficiency 256
Scripture: Old Testament 256
Scripture: Unreasonable Demand for Explicit Proof Texts 257
Society and Christianity 262
Unconditional Election (Falsity of Calvinist Version) 271
Whitefield, George (Calvinist Differences) 272
Works and Grace; Co-Laborers with God 273
Works (in Grace) and Salvation 276
***
[all from Facebook]
***
John Wesley on Scripture and Patristic Interpretation
John Wesley Regarded Luther's Commentary on Galatians (Emphasizing "Faith Alone") as Blasphemy
John Wesley Was Opposed to Experiential "Enthusiasm"? Yes, He Was
Wesley's Reductio ad Absurdum Argument Against Calvinist Unconditional Election
John Wesley's Remarkable Tolerance Towards Catholics (Ecumenism)
John Wesley Explains Exactly What He Means by Perfection or Entire Sanctification
John Wesley on the American Revolution
John Wesley's Remarkable Observation About Christianity and Secular Learning
John Wesley on Polemics and Controversy
John Wesley: Unconditional Reprobation is Contrary to God's Justice and Mercy
Wesley on Sanctification and Salvation
Last revised on 15 October 2019
***