[subtitle] ". . . Classic Rock Discographies, Commentary, and Mono vs. Stereo Analysis"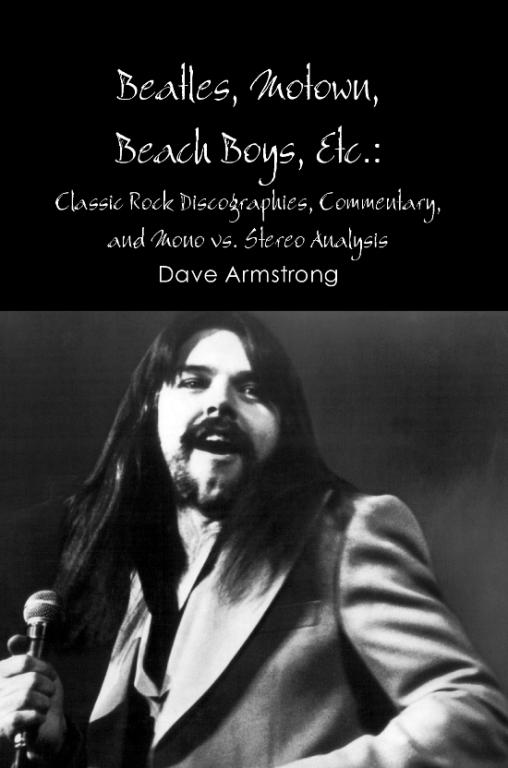 [213 pages; completed on 12 May 2012 and published the same day at Lulu]
***
[cover design by Dave Armstrong. Photo of Bob Seger is of unknown origin and in the public domain]
**
— for purchase information, go to the bottom —
***
*
Dedication / Nostalgic Reflection (p. 3)
[read below]
*
THE BEATLES
1. Beatles Heaven: Review of the 2009 Remasters (p. 7)
2. The Ultimate Mono vs. Stereo Beatles Discography (p. 17)
*
3. Beatles Recordings: Chronological Master List (p. 31)
4. Review of The Capitol Albums, Volume 1 (American Versions) (p. 45)
5. The Beatles Are Still Around!: Paul McCartney Produces the Best Solo Beatle Album Ever (Electric Arguments) (p. 53)
*
6. Review of Two Beatles Imitation Groups: 1964-The Tribute and The Fab Four (p. 55) [read online version]
MOTOWN / DETROIT ROCK
7. The Ultimate Collection of Chronological Motown Discographies (p. 61)
8. The Best-Sounding Motown Recordings and 11-CD Compilation Set: 1959-1998 (p.105)
9. Detroit "Blue-Eyed Soul": Bob Seger (p. 119)
10. Discography: Very Best of Detroit Rock: 1965-1975 (p.125)
BEACH BOYS
11. Beach Boys Recordings: 1961-1989: Chronological Discography (p. 129)
12. A Musical and Personal Miracle: Brian Wilson's New [2004] Smile Album (p. 151)
*
MISCELLANEOUS
13. The Great R&B; Songs of Van Morrison: 42 Sizzlers from 1964-2003 (p. 157)
14. Rockabilly: "White Man's R&B;" (p.161)
15. Buddy Holly: Comprehensive Discography of His 50 Greatest Recordings (p. 167)
16. Sam Cooke: Two-CD Collection of His Best 55 Songs (p. 173)
17. My 2009 "Pilgrimage" to Historic Blues and Country Sites, in the Mississippi Delta, Montgomery, Alabama, Memphis, Nashville, and Detroit (p. 177)
18. Neil Diamond and the Glorious Year of 60+ Old Men in Rock Music (p. 189)
19. My Favorite Rock, Pop, and R&B; Singles (p. 191)
20. The 50 Best Rock Albums: 1964-1997 (p. 209)


DEDICATION / NOSTALGIC REFLECTION
*
To my late brother Gerry Armstrong (1948-1998), who did the "60s thing" of being in a "blue-eyed soul" garage band in 1967, playing the organ for songs like Good Lovin', 96 Tears, To Love Somebody, In the Midnight Hour, and their own original Miniskirt, thus causing our illustrious neighbor to call the police, in vain hopes of stopping the glorious sounds being produced in our dining room in working class southwest Detroit.
I got to play the drums and organ (not with the band!) and learn what "reverberation" was, by toying with the amplifier buttons. A "Motown scout" even came to the house one day, around 1970 or so. It came to nothing, but it was wonderful just the same. My sister Judy's 45 records would fill the air, including, notably (and among many scores of great pop hits), Day Tripper, California Girls, Summer in the City, Beauty's Only Skin Deep, But it's Alright (J. J. Jackson), and Heavy Music (local hero Bob Seger).
I watched (during those happy formative years of my life) American Bandstand, Shindig, Hullabaloo, and Swingin' Time, from Windsor, Ontario, across the river (Gerry and his band actually appeared on it one night). Of course, I was also there (all of five-and-a-half) watching with baited breath, The Ed Sullivan Show in January [actually February] 1964, to see a certain new band from Liverpool, England. My three favorite songs still are (unsurprisingly) from the quintessential year of American Top 40: 1967: all of a soul / R&B; style, and one even by a Detroiter (Jackie Wilson): most appropriate for a Motown native like myself.
*
Motown native and baby boomer Dave Armstrong (born in 1958) provides a goldmine of information in this homage to classic rock, with massive, fact-filled discographies of songs by Motown artists, The Beatles, The Beach Boys, Detroit Rock (1965-1975), Buddy Holly, Sam Cooke, and Van Morrison: including data concerning stereo and mono versions, recording dates, producers, songwriters, Billboard chart positions, best-sounding recordings, and many other facts.
*
Also contains chapters on the topics of rockabilly, a "blues and country musical pilgrimage" to the South, recent landmark albums by Paul McCartney and Brian Wilson, selected Beatles mono recordings (deemed as superior to their stereo counterparts), a review of Beatles imitation groups, Bob Seger, classic rock artists 60 years or older, and favorite singles and albums from the classic rock era.
*
A distinctly nostalgic tone is evident throughout. Any fan of classic rock (especially residents of Michigan and Detroiters) will love the musical reflections.
*
[smaller text at bottom]:
Lifelong metro Detroit resident DAVE ARMSTRONG grew up in southwest Detroit in the classic Motown era and "Golden Age of Pop" in the 1960s. He majored in music at Cass Technical High School (nationally renowned for its music program), playing trombone in the orchestra and band, and ushering at Detroit Symphony Orchestra concerts (his first job). Dave loves music of all kinds, has a vast personal collection, devours music biographies, and has played eight different musical instruments, including a mean blues harp.
 ***
Front cover photograph
:  Bob Seger in 1977 (unknown photographer): the year I first saw him in concert at Cobo Arena in Detroit (where
Live Bullet
was recorded in 1975, and where my high school graduation was held in June 1976), and just after he had finally hit it big nationally with his album,
Night Moves
;
public domain per the Wikipedia file page.
Back cover photograph
:
Hitsville USA building (Motown) on West Grand Boulevard in Detroit, Michigan; taken on 19 June 2006 by Chris Butcher (cropped and greater contrast added); public domain per the Wikipedia file page.

***
***
Last updated on 25 September 2020.