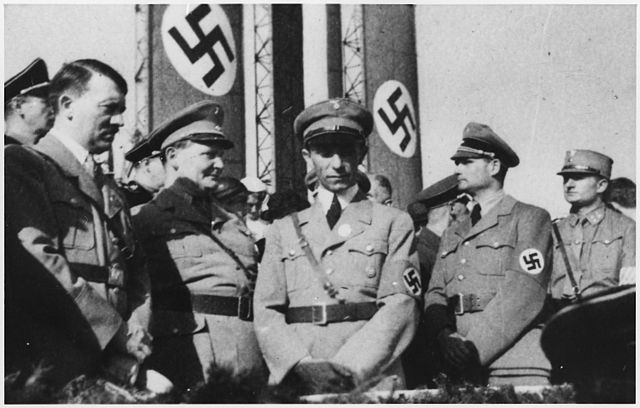 Evil tyrants intent on conquest may be morally opposed.
[public domain /
Wikimedia Commons
]
***
***
[cover design by Dave Armstrong]
***
196. Permissibility of Just War
*
196-1. Did Jesus allow self-defense?
*
Luke 22:36
. . .
he that hath no sword, let him sell his garment, and buy one.
*
196-2. Did Jesus ever use military analogies in His parables?
*
Luke 14:31-33
Or what king, going to make war against another king, sitteth not down first, and consulteth whether he be able with ten thousand to meet him that cometh against him with twenty thousand?
[32] Or else, while the other is yet a great way off, he sendeth an ambassage, and desireth conditions of peace. [33]
So likewise, whosoever he be of you that forsaketh not all that he hath, he cannot be my disciple.
*
196-3. What did John the Baptist recommend for Roman soldiers?
*
Luke 3:14 (RSV) Soldiers also asked him, "And we, what shall we do?" And he said to them, "Rob no one by violence or by false accusation, and be content with your wages."
*
196-4. Are military heroes in the old covenant praised as great examples of faith?
*
Hebrews 11:32-34
And what shall I more say? for the time would fail me to tell of Gedeon, and of Barak, and of Samson, and of Jephthae; of David also, and Samuel, and of the prophets:
[33] Who through faith subdued kingdoms, wrought righteousness, obtained promises, stopped the mouths of lions, [34] Que
nched the violence of fire, escaped the edge of the sword, out of weakness were made strong, waxed valiant in fight, turned to flight the armies of the aliens.
*
196-5. Does St. Paul compare the Christian life to being a soldier?
*
2 Timothy 2:3-4
Share in suffering as a good soldier of Christ Jesus.
[4]
No soldier on service gets entangled in civilian pursuits, since his aim is to satisfy the one who enlisted him.
*
196-6. Does "Thou shalt not kill" mean to not murder?
*
Matthew 19:18-19
He saith unto him, Which? Jesus said, Thou shalt do no murder, Thou shalt not commit adultery, Thou shalt not steal, Thou shalt not bear false witness,
[19]
Honour thy father and thy mother: and, Thou shalt love thy neighbour as thyself.
*
196-7. Are negotiations and diplomacy always to be tried before recourse to war?
*
Deuteronomy 20:10-12 When thou comest nigh unto a city to fight against it, then proclaim peace unto it. [11] And it shall be, if it make thee answer of peace, and open unto thee, then it shall be, that all the people that is found therein shall be tributaries unto thee, and they shall serve thee. [12] And if it will make no peace with thee, but will make war against thee, then thou shalt besiege it:
*
196-8. Is just war undertaken to protect the innocent?
*
Genesis 14:14-16 And when Abram heard that his brother was taken captive, he armed his trained servants, born in his own house, three hundred and eighteen, and pursued them unto Dan. [15] And he divided himself against them, he and his servants, by night, and smote them, and pursued them unto Hobah, which is on the left hand of Damascus. [16] And he brought back all the goods, and also brought again his brother Lot, and his goods, and the women also, and the people.
*
196-9. Was a soldier characterized as "devout"?
*
Acts 10:1-2 There was a certain man in Caesarea called Cornelius, a centurion of the band called the Italian band, [2] A devout man, and one that feared God with all his house, which gave much alms to the people, and prayed to God alway.
*
196-10.
Did St. Paul utilize an extended military metaphor to represent the Christian walk?
*
Ephesians 6:10-17 Finally, my brethren, be strong in the Lord, and in the power of his might. [11] Put on the whole armour of God, that ye may be able to stand against the wiles of the devil. [12] For we wrestle not against flesh and blood, but against principalities, against powers, against the rulers of the darkness of this world, against spiritual wickedness in high places. [13] Wherefore take unto you the whole armour of God, that ye may be able to withstand in the evil day, and having done all, to stand. [14] Stand therefore, having your loins girt about with truth, and having on the breastplate of righteousness; [15] And your feet shod with the preparation of the gospel of peace; [16] Above all, taking the shield of faith, wherewith ye shall be able to quench all the fiery darts of the wicked. [17] And take the helmet of salvation, and the sword of the Spirit, which is the word of God:
***