. . . "Case Study" of the Novena to Our Lady of Perpetual Help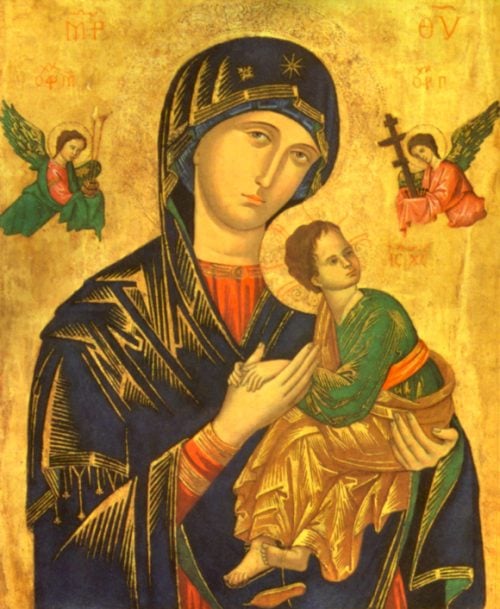 Our Mother of Perpetual Help, a 15th Century Marian Byzantine icon. [public domain / Wikimedia Commons]
(originally posted on 11 January 2013 on Facebook)
* * * * *
Protestants habitually object to "flowery" Marian devotions, thinking that they teach an "idolatrous" and "blasphemous" notion of Mary being equal to Jesus in power or prerogatives. On one occasion, the Novena to Our Lady of Perpetual Help was critically scrutinized by a Protestant. Here are portions of it that are regarded as particularly objectionable:

Be therefore my refuge and my hope.
Mary, help me, Mother of Perpetual Help, permit me not to lose my God.
. . . thy name is the help of the living and the salvation of the dying.
Dear Lady, delay not to come to my assistance whenever I call upon thee . . .
. . . thou art the dispenser of every grace that God grants us in our misery . . .
In thy hands I place my eternal salvation; to thee I entrust my soul.
He [Jesus] is appeased by a single prayer from thee.
1. The Bible says that "the prayer of a righteous man has great power in its effects" (James 5:16), giving the example of Elijah, who caused it not to rain for 3 1/2 years.
2. The idea of mediatorial intercession in prayer and of grace and even of salvation itself, is a very common theme in Scripture (especially in St. Paul); for example:
". . . thus save some of them" (Rom 11:13-14; RSV); "Wife, how do you know whether you will save your husband?" (1 Cor 7:16); "I have become all things to all men, that I might by all means save some" (1 Cor 9:22); "If we are afflicted, it is for your comfort and salvation" (2 Cor 1:6); "For it [his many sufferings: 4:8-12,17] is all for your sake, so that as grace extends to more and more people" (2 Cor 4:15); "the stewardship of God's grace that was given to me for you" (Eph 3:2); "for by so doing you will save both yourself and your hearers" (1 Tim 4:16); "Therefore I endure everything for the sake of the elect, that they also may obtain salvation in Christ Jesus" (2 Tim 2:10).
Thus we see that God used the Apostle Paul and indeed, many Christians, to spread His grace and salvation. Therefore, we Catholics believe that He especially uses Mary to do so, since she is the Mother of God the Son. What better human being to utilize? How many have borne God Himself? No biggie at all: it's an explicit biblical concept.
3. As with all Marian prayers, they have to be understood within the context of Catholic theology and piety. Anti-Catholics love to pick the most "shocking" prayers (to Protestant ears) like this one. Invariably, however, anti-Catholics neglect to inform those whom they try to persuade with these tactics, that the same prayers almost always ground the whole thing in the primacy of God and Jesus. I documented this in my book on Mary: using some of the examples most cited (e.g., St. Alphonsus de Liguori). I showed how they repeatedly stressed that Mary was Jesus' servant.
4. We see this even in the above excerpt, but many critics of these prayers are blind to it, because they only see what they want to see (Mary supposedly being put in God's place): "thou art the dispenser of every grace that GOD grants us"; "He hath made thee so powerful"; "Thou art the Advocate of the most wretched and abandoned sinners" [i.e., advocate, or intercessor before God, just like Moses, Abraham, and others were]
Now, Protestants still don't like the devotion, but it is indisputable that this is a Christ-centered prayer. Redemption comes from Him; He gave us Mary as an aid and help (just as Paul and Moses and Peter and a host of other holy people were).
What I detest is the ignoring of things like this, that show that these prayers presuppose that Jesus is Lord and the source of answered prayer, not Mary: who is an intercessor (albeit the most powerful one among creatures). It's intellectually dishonest to deliberately hide a key aspect of these devotions. It misrepresents the entirety or totality of Catholic teaching. Mary intercedes.
When prayers state that she "saves" or "redeems" us, etc., it is language used in the same sense as in the Bible (see above verses), where Paul says he saved someone, or where the wife can "save" the husband, etc. Protestants use this language in referring to evangelism: "Preaching to save sinners," "witness in order to save souls," etc. It's no different. It's understood that it is in an intermediary or intercessory "vessel of God" sense, and that all grace and salvation comes from God. This is Catholic teaching.